The Art of Storytelling: The Canadian Perspective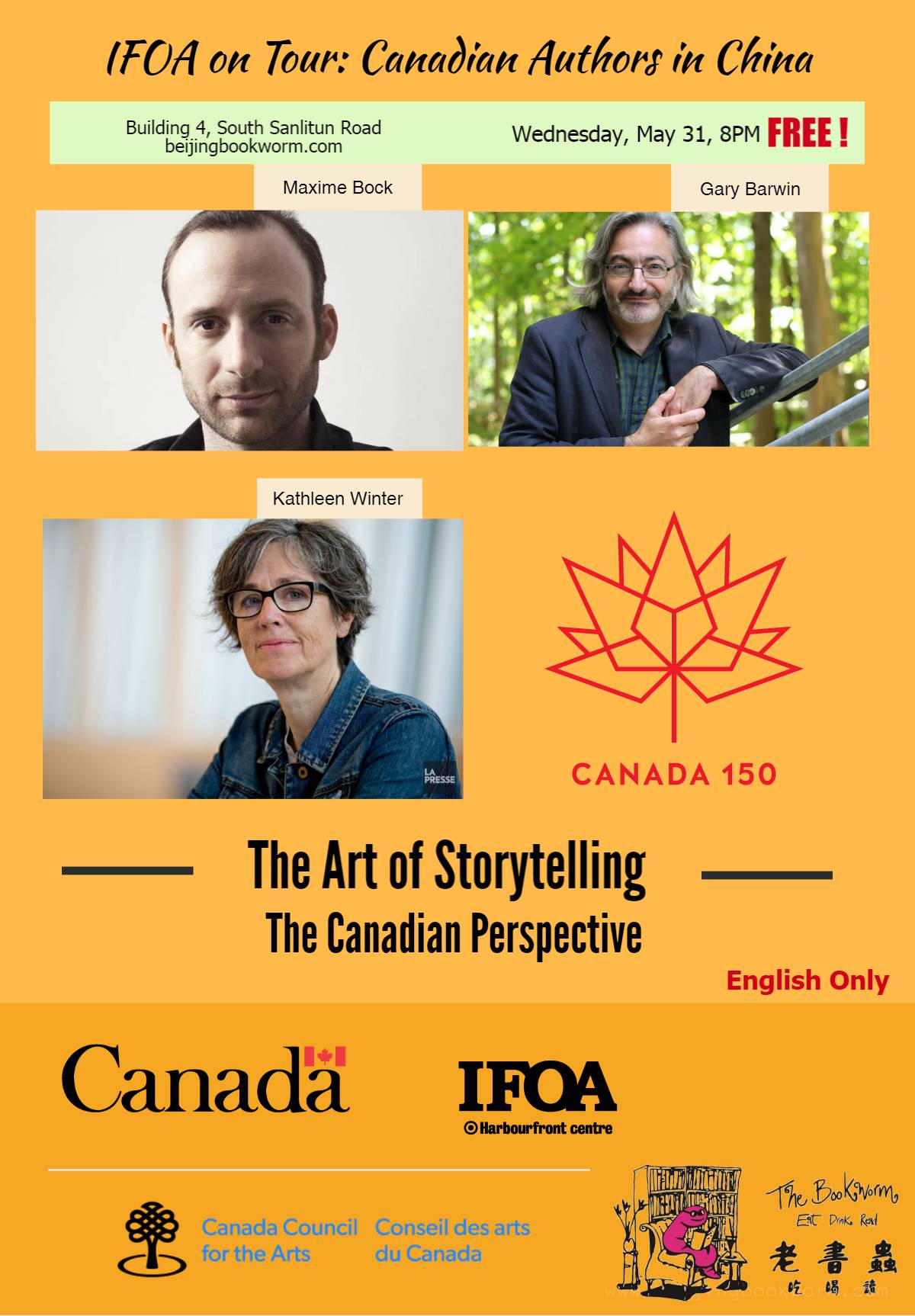 For decades, Canadian writers have been "punchingtheir weight" on the global literary scene, with books that reflect the country's history, its land, its peoples and their journeys. Contemporary Canadian literature continues to explore rich and evolving themes to ensure a collection of varied and compelling writings, which generate wide appeal that knows no borders. Come enjoy an evening with Gary Barwin, Maxime Bock and Kathleen Winter – three award-winning, impassioned writers whose works are charged with lyrical and shimmering prose.
Gary Barwin is the author of 21 books of poetry, fiction and books for children. His latest book is the poetry collection No TV for Woodpeckers (2017) and his recent bestselling novel, Yiddish for Pirates (2016), which was a finalist for the Governor General's Award for Fiction and the Scotiabank Giller Prize, and recently longlisted for the Leacock Medal. Other recent works include the short fiction collection, I, Dr. Greenblatt, Orthodontist, 251-1457 (2015), and Moon Baboon Canoe (2014), a book of poems. A finalist for the National Magazine Awards (Poetry), he is a three-time recipient of Hamilton Poetry Book of the Year, has received the Hamilton Arts Award for Literature, and co-won the bpNichol Chapbook Award and the K.M. Hunter Arts Award. Gary Barwin has taught creative writing and has been a writer-in-residence at several post-secondary institutions.
After pursuing sports and music and studying creative writing Maxime Raymond Bock published Atavismes (2011), which won the 2012 Prix Adrienne-Choquette for outstanding short story collection. Its English translation Atavisms was released in 2015. Bock has published two novellas, Rosemont de profil (2013), and Des lames de pierre (2015); the latter was released in English translation under the title Baloney (2016).
Kathleen Winter is a short story writer and novelist who began her career as a script writer for Sesame Street before becoming a newspaper columnist. Her debut short story collection, boYs (2007) won the Winterset Award and Metcalf-Rooke Award. Her novel Annabel (2010) won the Thomas Head Raddall Award, was shortlisted for the Scotiabank Giller Prize, the Rogers Writers' Trust Fiction Prize, and the Governor General's Award for Fiction, the Orange Prize for Fiction and chosen for the Canada Reads competition. In 2014, a second book of short stories, The Freedom in American Songs, was released along with a nonfiction book, Boundless: Tracing Land and Dream in a New Northwest Passage. Boundless was shortlisted for the Hilary Weston Writers' Trust Prize for Nonfiction. This fall, her novel , Lost, based on the letters of General James Wolfe to his mother, will be published.
About IFOA: Toronto's International Festival of Authors (IFOA) has welcomed more than 9,000 authors from over 100 countries, including 22 Nobel Laureates and countless other award winners, since its inception in 1974. IFOA presents the finest international novelists, poets, playwrights, short story writers and biographers, and provides Canadian writers with an internationally recognised forum in which to present their work.
English only
FREE ENTRANCE
Wednesday, May 31, 8PM
@BeijingBookworm