From no clients to maxing out!!
This article is strictly only for people that may consider or be considering walkingdown the pathway of coaching/consulting others or launching a personal development business. It can include Spiritual/Relationahip/Life/Executive/Business Coaches Personal Trainers, a Startup CEO launching a Personal Development business.

Being a professional Coach at any level may seem really cool and it can be.
On the surface, it looks like we just have a fun conversation, get high makingsomeone's life great. Then bill for 500-4000 RMB a session.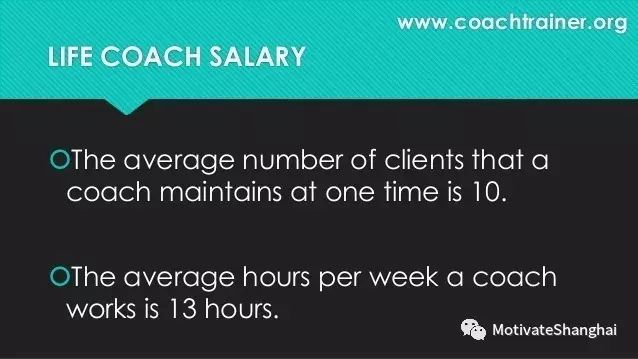 Trust me, if you havent done it already, earning 5-10,000 RMB in a day feels great. Earning 500-4000RMB for a session (1 hour to a whole day for some coaches) can be wonderful. When your clients have results and break throughs, YES I LOVE IT. Two out of two sessions I had today resulted in HUGE breakthroughs and we celebrated!

This morning I had a present delivered to my door from a busy business owner who wanted to say thank you! I LOVE my clients, my team.

Sadly, in Shanghai I imagine the average life/performance coach spends more time marketing and traveling around the city then actually coaching/consulting with their clients.

The average weekly pay for a life coach in Australia, is less then someone that cleans the floors at KFC.
While an Expat English teacher may earn 100-300RMB an hour in an organisation, the hours are backed up, some what guaranteed and regular.
For a Expat Coach they may earn between 500-400RMB an hour but the actual length of time that goes into developing the coaching skills, developing the business skills, getting the client, getting coaching time with the client, by the time you actually do 1 hour of coaching, there may be XYZ hours spent hussling for that tiny 1 hour with the client.

The reality for the majority of coaches is not 13 hour weeks or '6 figures'. Especially if you compare the pre-planning, energy, time, and opportunity cost.
The real problem as I see it.

Coaches share 2 common traits with entrepreneurs.

1. They would rather spend 60 hours a week working for themselves than 40 hours for someone else.

2. They also often prefer to be thrifty with money and save it rather than spend it hiring a coach that has achieved what they want.

This magnifies the real problem.

"Nice guys finish last"
Nice Coaches, nice consultants may be great at what they do, but generally they don't have the business skills. The systemisation skills. I feel a great coach is a P - Perceiver not a J-Judger. (I've had thousands of people do my free MYBTI personality assessment).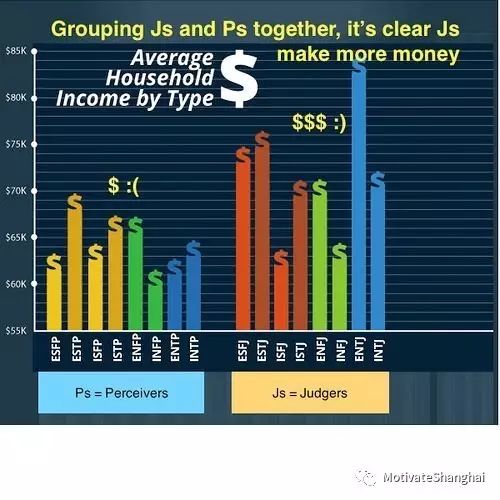 If you want to quickly check your personality style

http://adriancahill.com/freepersonalitytest/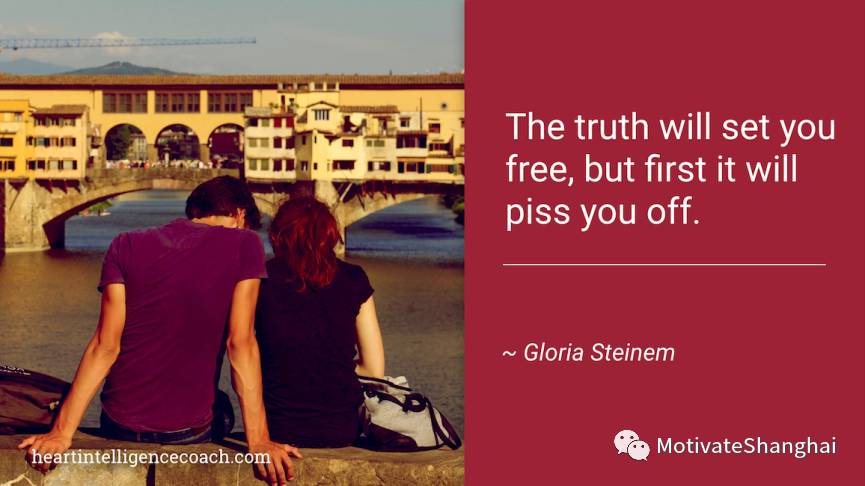 If it wasn't for the fact I created passive cashflow first and I've had world class trainers and coaches advising me, I would have given up a long time ago.
I honestly take my hat off to EVERY COACH developing themselves and going 100%. I am. Because I am, I've done the professional Coaching Courses, the NLP, even PSYCH-K, Heartmaths, taken up a leadership position with the ICF. And because I take my coaching 100% seriously I'm eager to help other cut their learning time in half by sharing the secrets from my business coaches and trainers.

Coaching Skills Weekend.

With at least 3 other established coaches we are spending all Saturday developing Coaching Skills, and Sunday developing the Coaching Business Skills.

(Personal Development lovers, Physical Trainers, or Startups in Personal Development are welcome).
I'm going to share why 90% of coaches fail.

And we are going to collectively come up with 50 ways to over deliver to clients.

10 better ways to get someone into thefirst session with you.

We're going to look at and change your money beliefs.
We are going to increase our comfort with much higher numbers, although you may still charge whatever you like, but you won't choke or stumble as much in the money conversation.

We are also looking into individual and collective marketing.

New channels that are opening.

And creat NEW TEAMS AND ALLIANCES with other coaches in the room.
Scan the flyer to book tickets now.
ONE WEEKENDONLY IN BEIJING 13-14 May
https://yoopay.cn/event/05719040 Beijing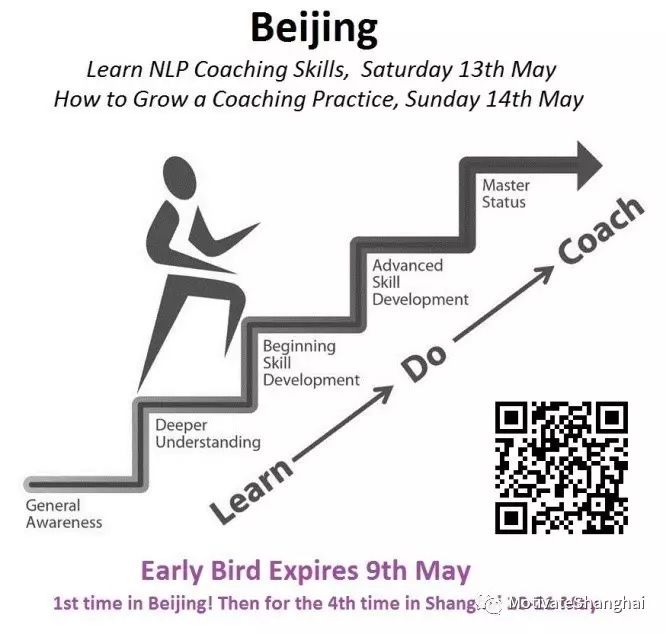 THEN INSHANGHAI 20-21 May
https://yoopay.cn/event/83546183 Shanghai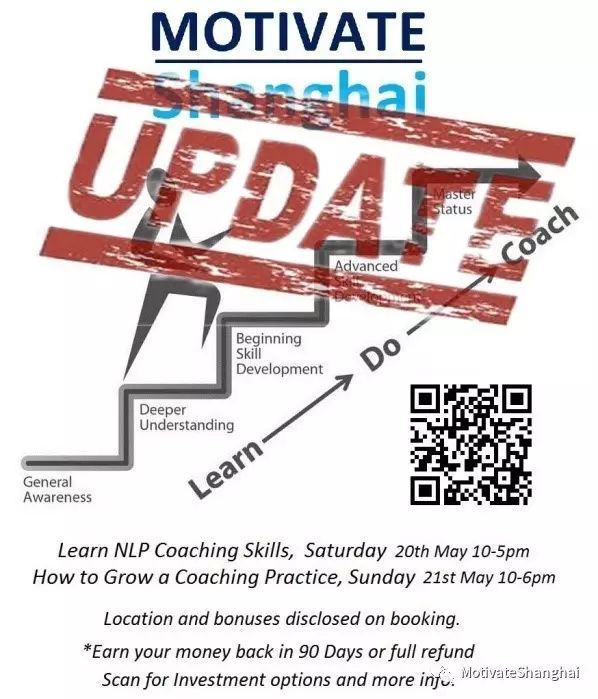 Written by Adrian Cahill
Wechat ID: Adriannqld
Australia/China