GAC MOTOR PROMOTES NIGERIA-CHINA GOVERNORS' INVESTMENT FORUM
On April 13, 2017, the First Nigeria-China Governors' Investment Forum kicked off in Guangzhou. A great many political and business people attended the forum, including 9 governors from states like Zamfara State, Abia State and Benue State of Nigeria, Consul-General Shakirundeen Adewale Oloko at Consulate-General of the Federal Republic of Nigeria in Guangzhou, Vice Mayor of Guangzhou Cai Chaolin, Chairman of GAC Group Zeng Qinghong and General Manager of GAC MOTOR Yu Jun, and made speeches on development of trade cooperation of both China and Nigeria. Representatives of both countries in the forum launched an in-depth discussion and case sharing by focusing on the theme "sustainable cities and people's livelihood". GA8 and GS8 served as designated reception cars of the forum, leaving a deep impression on guests present by virtue of luxurious and comfortable riding experience, unique original design, ingenuity and cutting-edge technologies.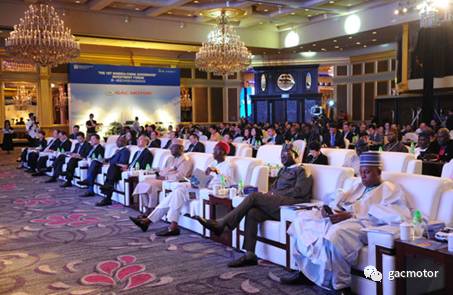 The First Nigeria-China Governors' Investment Forum was held in Guangzhou
Building cars system, GAC MOTOR realizes leap-frog development
Vice Mayor of Guangzhou Cai Chaolin extended a warm welcome to people from political and business sectors of Nigeria, saying Nigeria, as one of the largest economies in Africa, is located along the line of "The Belt and Road", and Guangdong Province and Nigeria have complementarity and cooperation potential in manufacturing, agriculture, culture and infrastructure. Guangzhou Municipal Government has always set great store by all-round cooperation with Nigeria, hoping that the forum can deepen the profound friendship between China and Nigeria to erect a bridge for investment of both countries. In particular, he mentioned that Guangzhou enterprises represented by GAC MOTOR is expediting layout of overseas marketing and service systems and taking international development as the priority in strategy. He hoped that excellent Chinese enterprises like GAC MOTOR can bring more good products and services to Nigeria, thus further strengthening the exchange and cooperation between both countries.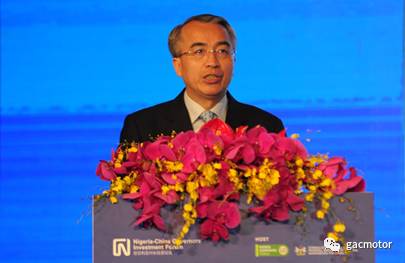 Vice Mayor of Guangzhou Cai Chaolin delivered a welcome speech at the forum
Zeng Qinghong, chairman of GAC Group, made a speech on "global layout based on sustainable development through 'The Belt and Road'", providing an outlook of GAC Group's global development strategy. Meanwhile, Zeng gave a simple description on GAC Group's development achievements and main business sectors, stressing that GAC MOTOR will be dedicated to providing Nigerian consumers with quality products and satisfactory service. He said that GAC Group's own brand GAC MOTOR in recent years has established stable sales channels and achieved good sales in Nigeria. GAC MOTOR can provide better driving experience and life quality for local consumers. With automobiles as a link, GAC MOTOR has brought intangible wealth like management and technologies to Nigeria while offering the country with excellent products and services, creating more jobs for locals and realizing resource integration, technical innovation and sustainable development.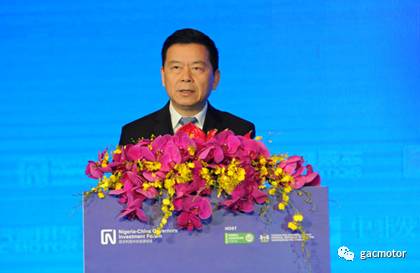 GAC Group Chairman Zeng Qinghong made a speech at the opening ceremony
General Manager of GAC MOTOR Yu Jun shared the company's brand development and international strategy as well as experience on achievement made in Nigeria, saying GAC MOTOR realized terminal sales of over 380,000 units last year, a year-on-year increase of 96%, and achieved leap-frog development with a compound growth rate of 85% for 6 years in a row. In the first quarter of this year, GAC MOTOR's total sales exceeded 121,000 units, up 68.4% from a year earlier and its development speed and profitability ranked top among Chinese brands. GS4, a star model of GAC MOTOR, ranked top two among SUVs with its year-on-year growth of 35.5%, becoming the SUV whose sales exceeded 500,000 units first among its counterparts. In addition, the upgraded model GS8 with supply failing to meet demands constantly hit more than 10,000 units in sales in March, creating the best sales performance among counterparts, breaking the ceiling price of 200,000 yuan of Chinese auto brands and becoming a leader with breakthroughs in upscale market and sales growth.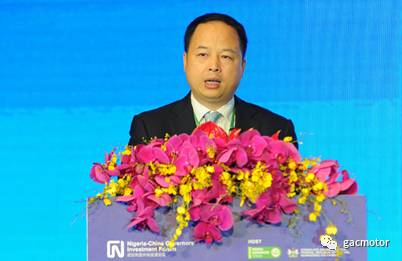 General Manager Yu Jun shared GAC MOTOR's brand development and international strategy
Yu said GAC MOTOR has competed layouts in 14 countries of five sectors including Middle East, Southeast Asia, Eastern Europe, Africa and America. With the product strength of good quality, the company has also phased breakthroughs in overseas markets such as Nigeria. Meanwhile, it is actively planning global strategic layout and making preparations for establishment of GAC North American R&D Center. The company is expected to make inroads into North American no later than 2019.
According to J.D.Power's IQS report, GAC MOTOR, in terms of quality and innovation, has topped the ranking of Chinese brands for 4 years in running and ranked No.5 in the industry last year, achieving historic breakthroughs of Chinese brands. In North American International Auto Show (NAIAS) this year, GAC MOTOR has become the first Chinese brand entering the showroom of NAIAS with a history of over a century. GS7 made a global debut and received the "Impressive Worldwide Debut: GS7 SUV" from Forbes and "A New Generation Blockbuster SUV" from The New York Times, demonstrating the world the glamor and strength of China's high-end manufacturing.
Penetrating regional markets, GAC MOTOR is promoting global strategy steadily
Located in the core area of China's "The Belt and Road" Initiative, Guangzhou is also an important hub of Guangdong-Hong Kong-Macao Bay Area. Benefiting from this, GAC MOTOR can be able to be involved in global strategy. To build GAC MOTOR into a world-class auto brand and an international auto enterprise, GAC MOTOR, under the overseas strategy of "brand coming before sales", has completed its layouts in 14 countries of five sectors including the Middle East, Southeast Asia, Eastern Europe, Africa and America, and established preliminary global marketing networks and service systems. GAC MOTOR has made phased breakthroughs in overseas markets by virtue of its product strength of superb quality. In the Middle East, GAC MOTOR made a foray into Kuwait, Dubai, and Bahrain, with its middle and high-end products, and leads sales of Chinese auto brands in local market, becoming the "best Chinese brand" among consumers. For example, GAC MOTOR has occupied 40% of the market share of Chinese auto brands in Kuwait, maintaining top spot of Chinese brands. Furthermore, GAC MOTOR in Bahrain has become the Chinese brand with the best sales, three times over that in 2015, and been praised by media and car owners. In the future, GAC MOTOR, while tapping and consolidating traditional "emerging markets", will actively strive to open up markets in Europe, America, Japan and South Korea and markets in other developed countries.
As one of Africa's largest economies, Nigeria has a growing middle class and good market prospects as well free and open business environment. Nigeria is the first country that GAC MOTOR entered in African market and there are two outlets. In December 2014, GAC MOTOR's first 4S store in Lagos, Nigeria's commercial center, was officially opened. GAC MOTOR has introduced such models as GA3, GA3S, GS5, GS5 Super and GS4, which are highly recognized by local markets ad consumers. In 2016, GAC MOTOR ranked No.1 among all exported Chinese passenger cars.
Last year, GAC MOTOR, through joint efforts with local distributor CIG, has set SKD plant in Nigeria, becoming the first Chinese auto brand that completes parts assembly in Nigeria. Recently, SKD Project has passed the review of National Automotive Design and Development Council (NADDC) of Nigeria, marketing that GAC MOTOR has become NADDC's first choice in purchasing cars.
With outstanding quality and safety performance, GAC MOTOR won bulk orders of the Police Station of Lagos as well as state governments and banks, building the image of a medium and high-end brand. In the Magic Viewers' Choice Awards (AMVCA) dubbed as Africa's "Oscar", GAC MOTOR showed social celebrities and African people its enterprising spirit and fully demonstrated its brand stature and determination to go global on the international arena. Late last year, GS4 was grandly launched into Nigeria, getting praises of people from literature, art, fashion and financial sectors. Aside from that, GAC MOTOR has actively carried out diversified brand activities and participated in Abuja International Motor Fair and Lagos Motor Fair—the largest auto shows in Nigeria, demonstrating GAC MOTOR's international brand image in a comprehensive manner.
Planning global strategic layout to create the first world-class Chinese brand
With global landscape tending to be regional globalization, GAC MOTOR is also actively mapping out global strategic layout. At present, building of GAC North American R&D Center is in full swing. After establishment, the center will be responsible for pooling talents and researching state-of-the-art technologies, etc., which is GAC MOTOR's first step into North America and a brand-new milestone in brand internationalization. Meanwhile, GAC MOTOR has preliminarily established overseas teams with consummate system and plans to enter North American no later than 2019.
GAC MOTOR will stick to brand building and cultivate a trustworthy brand by superior product quality and better services. Yu revealed that GAC MOTOR will bring GS8—a luxurious flagship 7-seater SUV, into Nigeria. Featuring aggressive appearance but soft interior, super-large space, sufficient power and high-tech intelligent interconnection, GS8 is one of GAC MOTOR's important strategic models and has been so popular in the market since it was launched that the supply fails to meet demands. In the future, GAC MOTOR, with a foothold in Nigeria, will expand its business to West Africa and the whole continent of Africa, thus providing consumers with more traveling options and better driving experience.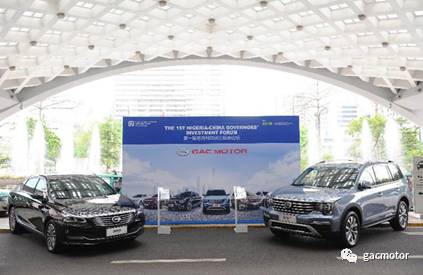 GA8 and GS8 served as designated reception cars of the forum, receiving high recognition due to luxurious and comfortable driving experience and unique original design
At the forum, leaders' present and state governors of Nigeria had an in-depth understanding of GA8 and GS8 on the scene with particular interest. Of the two models, GS8 had attracted much attention for its original design in appearance, luxurious and comfortable interior and various technical configurations. Many people expected that GAC MOTOR can introduce more such models as well as new energy vehicles. They also hoped that GAC MOTOR can increase its investment in Nigeria and further strengthen cooperation in the coming days.
Facing the future, GAC MOTOR will continue to provide global consumers with more high-quality products and services beyond expectations. Also, the company will spare no effort to build GAC MOTOR into a leading Chinese auto brand and strive to be the most valuable and influential world-class brand favored by customers.