GAC MOTOR'S VISIT TO SUPPLIERS IN JAPAN
On March 20, GAC Group General Manager and GAC MOTOR Chairman Feng Xingya and GAC MOTOR General Manager Yu Jun led a delegation to visit and exchange ideas with the world's top auto parts suppliers in Japan, such as Aisin Seiki, Aisin AW and DENSO. Meanwhile, they made a discussion on international strategic cooperation as well as conducted extensive and in-depth exchanges in development situation of domestic auto market, GAC MOTOR's development, cooperation and work of next stage.

With the rapid development of product layout and continuous improvement of market competitiveness, GAC MOTOR is under the spotlight of the world. International top auto parts suppliers are seeking to establish a more comprehensive and further strategic cooperation with GAC MOTOR in parts supporting, product R&D, technology sharing, cost control and market development, in an effort to broaden the market space. The visit of GAC MOTOR's high-level executives is aimed at strengthening exchanges with many world-class supplier giants in Japan, so that they can work together better during GAC MOTOR's rapid development and grasp golden opportunities to achieve win-win results.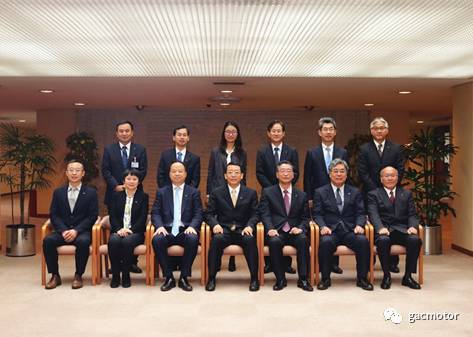 (GAC Group General Manager and GAC MOTOR Chairman Feng Xingya (right 4th), GAC MOTOR General Manager Yu Jun (right 5th) and President of Aisin Seiki Yasumori Ihara (right 3rd), et al.)
While meeting with President of Aisin Seiki Yasumori Ihara and his party, General Manager Yu Jun said, "GAC MOTOR achieved good sales performance and increased its target of sales and marketing for several times, during which Aisin Seiki worked closely with GAC MOTOR to improve supply quantity and meet its demands wherever possible. We are very appreciated for Aisin Seiki's support of GAC's self-owned brand GAC MOTOR." Feng Xingya, general manager of GAC Group and chairman of GAC MOTOR, also said,"we will be appreciated if Aisin Seiki can provide GAC Group with more premium supporting products and both sides can constantly deepen cooperation and enhance strategic cooperation. Meanwhile, we hope that both sides can take practical actions in in-depth cooperation such as capital cooperation and local production and new-energy sector in Guangzhou." When learning that GAC MOTOR has outperformed GAC Toyota by its rapid development, President Yasumori Ihara was very happy, saying "GAC MOTOR has been on a par with international brands in product strength. Despite rapid growth of sales, GAC MOTOR is still of great development potential by virtue of its excellent quality in products. It is a great honor for Aisin to be one of the first batch of strategic partner candidates of GAC MOTOR. We will, as always, provide strong support for GAC MOTOR in development, especially in technology, quality and cost, etc. Meanwhile, we will start the discussion on strategic cooperation of both sides as well as on the supply mode supporting GAC MOTOR's production scale of 1 million units, thus providing strong guarantee for GAC MOTOR's development of next step." After the meeting, Feng Xingya and Yu Jun, accompanied by Yasumori Ihara, visited Aisin Seiki's R&D center and museums as well as made a detailed discussion in new technologies and products. Through in-depth communication and exchanges, the two sides further strengthened mutual recognition and the willingness to cooperate.
(The visit of the delegation led by GAC Group General Manager and GAC MOTOR Chairman Feng Xingya and GAC MOTOR General Manager Yu Jun)
During the visit, Mutsumi Kawamoto, president of Aisin AW, escorted Feng and Yu around Aisin AW's work site and provided a detailed description on 6AT transmission's manufacturing technology and quality control process. Since 2010, Aisin AW has partnered with GAC MOTOR and began to provide dedicated 5AT transmission to GA5. Since then, the two sides have established close communication and friendly cooperation. Thanks to support of excellent suppliers like Aisin AW in parts supply and supply chain building, GAC MOTOR has achieved rapid development in these years, said Feng when he visited Aisin AW. Yu made an in-depth exchange with Mutsumi Kawamoto on both sides' further strategic cooperation, enhancement of supply level and quality, reduction of cost as well as bilateral adjustment mechanism of exchange rate. Mutsumi Kawamoto said "we expressed our thanks to GAC MOTOR for presentation of excellent cooperation award to Aisin AW in the suppliers' annual meeting at the end of last year, and we also congratulated GAC MOTOR for good sales of GS4 and GS8 in Chinese market. To meet GAC MOTOR's supporting demands, Aisin AW will do its best to cooperate with GAC MOTOR to ensure the quantity and quality of products provided. "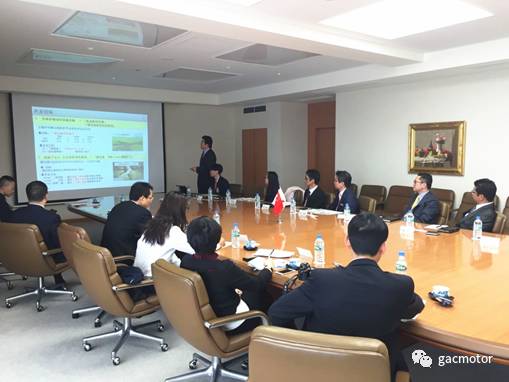 (Seminar scene at DENSO's headquarters)
After that, the delegation visited DENSO's headquarters and held cordial exchanges with President Koji Arima. Yu introduced GAC MOTOR's future product planning, saying, "the company will launch highly competitive models such as GS7 and GM8 in 2017 to realize the sales goal 500,000 units and achieve production and sale scale of 1 million units in 2020, all of which must be supported by international top suppliers like DENSO." Feng said "we hope DENSO, while ensuring GAC MOTOR's development schedule of supporting technologies and product performance as well as providing GAC MOTOR with the best products, can have more cooperation with GAC MOTOR in technology field like new energy". "After learning GAC MOTOR's forward-looking strategic planning in new energy and intelligentization, President Koji Arima said, "DENSO is willing to establish more cooperation with GAC MOTOR in these new technological fields. GAC Group made painstaking efforts in its self-owned brand and we highly recognized GAC MOTOR's development philosophy of "quality first". Also, we congratulated GAC MOTOR for performance achieved during high-speed development in these years. DENSO set great store by the cooperation with GAC MOTOR and will continue to provide it with premium products as well as endeavor to do a good job in supporting products and cost control, thus providing better services for GAC MOTOR. "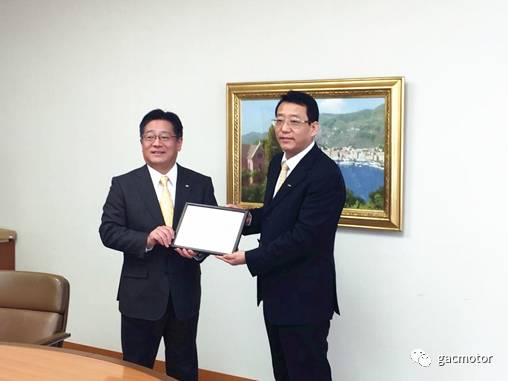 (GAC Group General Manager and GAC MOTOR Chairman Feng Xingya exchanged souvenirs with DENSO President Koji Arima)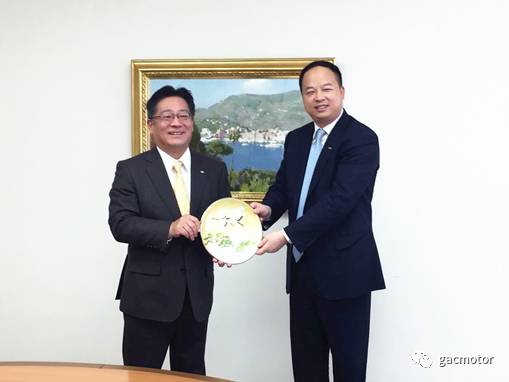 (GAC MOTOR General Manager Yu Jun and DENSO President Koji Arima presented souvenirs to each other)
In recent years, GAC MOTOR constantly improves its product strength and keeps abreast of the market, maintaining a very strong growth momentum. In 2016, GAC MOTOR sold 380,000 cars, achieving quality and high-speed development with compound annual growth rate of 85% for 6 years running. In Jan.-Feb. of 2017, GAC MOTOR's total sales hit 79,075 units, a year-on-year increase of 85%, leading the auto industry in growth rate. GS8 gained popularity when it was available in the market, making the supply fail to meet the demand. In Jan.-Feb. this year, 16,423 units of GS8 were sold and the sales of GS8 in Feb. and GS8 ranked No.2 in sales of medium and large-sized SUV in China and created the best sales performance among its Chinese counterparts. In this way, GS8 became the Chinese high-end SUV that can compete against J&V brands. In addition, the star model GS4 has reached over 510,000 units in total sales since it was launched into the market. Aside from that, GAC MOTOR has topped the ranking of Chinese brands for four years in a row and ranked No.5 in the whole industry in 2016, according to J.D.Power's IQS report. In terms of quality, GAC MOTOR's products can be on a par with world-class brands. GAC MOTOR's high-speed development and good brand reputation should be attributed to support of numerous international outstanding suppliers.
Through the visit and exchanges, GAC MOTOR has further reinforced the parts supplier giants' understanding and recognition of the brand's development philosophy as well as strengthened their confidence and determination to further cooperate with GAC MOTOR, paving the way for GAC MOTOR's greater success.