In 2017 NAIAS, GAC MOTOR debuted three brand-new models including EnSpirit, GS7 and GE3. GS7 has recently received awards from two authoritative media—"Impressive Worldwide Debut: GS7 SUV" presented by Forbes and "A New Generation Blockbuster SUV" by The New York Times, which showed the world the glamour of China's high-end manufacturing by virtue of strength.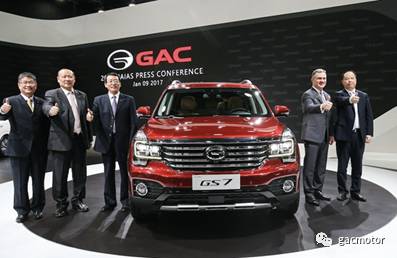 (GS7 made a global debut at NAIAS)
Each year, NAIAS, as one of the world's five auto shows, becomes the trend of global auto market as well as an arena for carmakers to showcase new models and exchange ideas on new technologies, playing a leading role in auto industry. GS7 stood out at NAIAS and won awards from Forbes and the New York Times, which was undoubtedly a recognition to "created in China".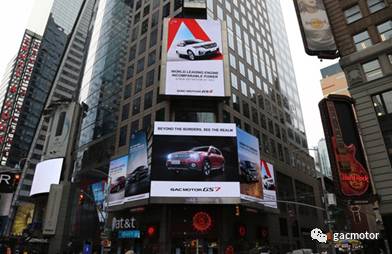 (GAC MOTOR's billboards appeared at New York Times Square during 2017 NAIAS)
Meanwhile, GAC MOTOR, with GS7 taking the lead, has triggered a range of "GAC MOTOR effects" and advertised GS7, GS8 and GS4 on Reuters and Nasdaq LEDs, drawing public attention in America. In the same period, GAC MOTOR's participation in NAIAS has become a hot topic on social media like Facebook, Twitter and Instagram and thousands of fans left messages on their willing to purchase GS7 or distributors to seek cooperation. In addition, GAC MOTOR was reported and praised by domestic and overseas media like CCTV, Xinhua, The Wall Street Journal, Associated Press, Bloomberg, AFP, Fox News, NBC, Auto News and Detroit News, which set off a climax of public opinions on automobiles in the world.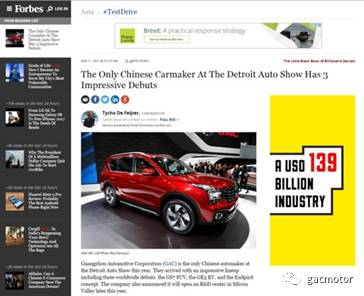 (Forbes reported GAC MOTOR as the only Chinese carmaker at Detroit Auto Show has 3 impressive debuts)
Forbes published an article titled The Only Chinese Carmaker At The Detroit Auto Show Has 3 Impressive Debuts, saying GAC MOTOR is the only Chinese carmaker at the Detroit Auto Show and arrived with an impressive lineup including three worldwide debuts. As for GAC MOTOR's goal of making a foray into America no later than 2019, the article pointed out that GAC MOTOR's boasted far-sighted global strategy, competitive models and world-leading manufacturing standard, which would drive the rise of Chinese auto brands.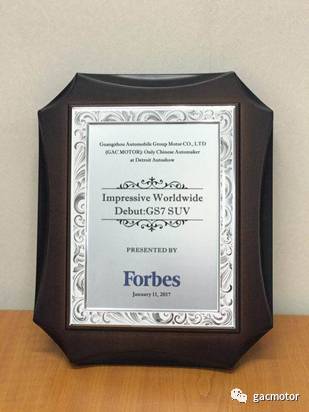 (Forbes presented the "Impressive Worldwide Debut: GS7 SUV" to GAC MOTOR)
As an another high-end model created by GAC MOTOR on the independently-developed brand-new C-class platform by utilizing global advanced technologies and top manufacturing procedures, GS7 mainly serves fashionable, young, and optimistic consumers and is designed to provide users with more superb driving experience. GS7 has been integrated with four core values (aggressive and luxury style, comfortable and wide space, intelligent entertainment system and strong power control), catering to modern young consumers.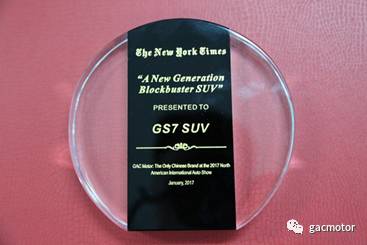 (The New York Times awarded "A New Generation Blockbuster SUV to GS7")
Since last year, GAC MOTOR has started high-end brand strategy and rolled out high-end models such as GA8 and GS8, exhibiting Chinese automobile's strength and fruits in high-end manufacturing. As GAC MOTOR's third high-end model, GS7, with different product positioning of GA8 and GS8, cannot only meet more consumers' traffic demands, but also further consolidate GAC MOTOR's leading position in the upscale market. It is believed that GAC MOTOR, with continuous improvement of high-end product layout, is bound to stun the world with more and more world-class products and grow into an auto brand with global reputation.