GAC MOTOR FIRST INTERNATIONAL DISTRIBUTOR CONFERENCE
GAC MOTOR FIRST INTERNATIONAL DISTRIBUTOR CONFERENCE was held at the bank of Hangzhou West Lake on April 22, 2017, which was attended by GAC Group's Vice President Li Shao, Vice-director of GAC Group Executive Committee, GAC MOTOR General Manager Yu Jun and Vice President of GAC Automotive Engineering Institute Zhang Fan as well as many representatives of GAC MOTOR's overseas distributors from around the world.
With the theme of "cooperating to shape future", the conference reviewed GAC MOTOR's achievements made in overseas markets and its leap-frog development history and further made definite the company's goal of building itself in to a world-class Chinese brand and international enterprise with global production, marketing and R&D. Meanwhile, the company, by referring to its investigations of overseas markets in 2016, has made tailored international strategy layout in brand building, cooperation mode, team training and product introduction, etc.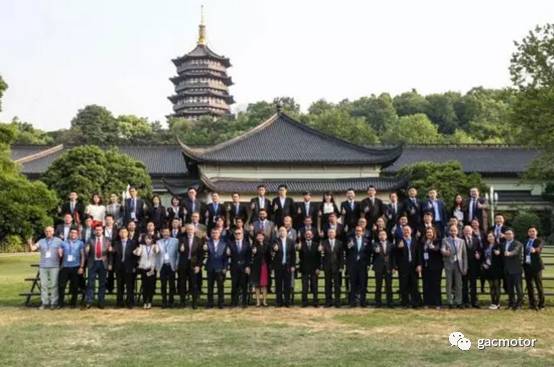 GAC MOTOR FIRST INTERNATIONAL DISTRIBUTOR CONFERENCE
With parallel operation of domestic and overseas markets, GAC MOTOR achieved win-win results in brand and sales
Yu Jun said in the conference that "as a wholly-owned subsidiary of GAC Group, GAC MOTOR since its establishment has always insisted on medium and high-end brand positioning, international standard and forward development, making its product quality widely recognized and trusted by consumers worldwide. Over the past year, GAC MOTOR sold more than 380,000 cars, with a year-on-year increase of 96%, achieving leapfrog development with a compound growth rate of 85% for 6 years in a row. In the first quarter of this year, GAC Motor continued to keep its growth at high speed, selling 121,000 vehicles in accumulation and rising 68.4% compared with the previous year. Its growing speed and profitability took the lead among brands in China, wherein, GS4 steadily stood in the second place in the industry. At the Auto Shanghai that was opened lately, GAC MOTOR held an independent news conference of auto show for the first time in the theme of 'craftsmanship and excellence' at which six brand new vehicle models debuted and ushered in the most powerful exhibition formation in the history of brand in an attempt to fully present its extraordinary image and strength as a leading automobile brand in China by this world-class automobile stage of global attention. "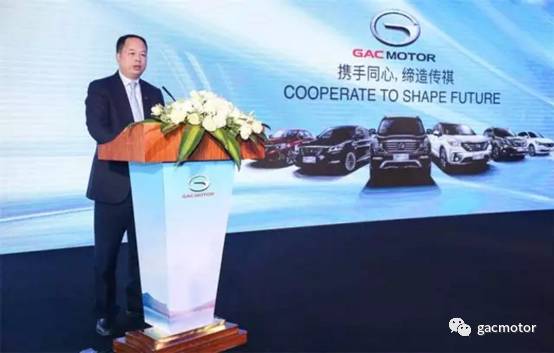 Address of Yu Jun, General Manager of GAC MOTOR at the GAC MOTOR FIRST INTERNATIONAL DISTRIBUTOR CONFERENCE
Guided by the overseas strategy of "building a brand before increasing sales", GAC MOTOR has taken the brand new opportunity provided by China's "Belt & Road" strategy. At the moment, GAC MOTOR has successfully made a layout in 14 nations in the five sectors including the Middle East, Southeast Asia, Eastern Europe, Africa and America, initially constructed a GAC MOTOR global marketing network and service system covering Kuwait, Bahrain, Lebanon, UAE, and Qatar and achieved staged breakthrough on overseas market. In Kuwait, UAE and other states and regions in the Middle East, the brand of GAC MOTOR has been successfully admitted to market by its medium- and high-end products, got favorable reception of media and vehicle owners by its solid product quality and service reputation, become "Best Chinese Car Brand" among consumers and occupied the first position among Chinese brands on overseas local market.
At the North American International Auto Show in 2017, GAC MOTOR even became the first Chinese brand admitted to the key exhibition hall in 100 years' time and the GAC MOTOR GS7 that debuted on a global scale was awarded with "impressive worldwide debut" of Forbes and "a new generation blockbuster SUV" of the New York Times, revealing China's premium manufacturing strength to the whole world. At present, preparation of GAC North America R&D Center is underway, which is scheduled to access to North American market ahead of 2019.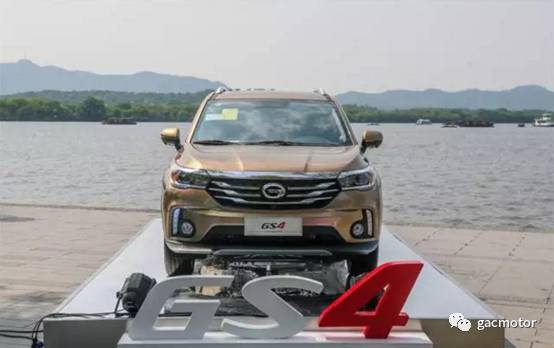 GAC MOTOR GS4
Alliance, Steady Acceleration of International Layout
GAC MOTOR is expected to accomplish annual sales of 500,000 and 1,000,000 by 2017 and 2020 respectively. It is expected to accomplish annual sales of 5,000 and 60,000 overseas by 2017 and 2020 respectively and aim at reaching 1-2% in share of all overseas markets. Hereby, concerning overseas markets, GAC MOTOR is expected to comprehensively enhance its international market layout, gradually carry out as planned, and implement complete-built-unit export and SKD where appropriate. In the future, it is expected to explore and develop CKD (completely knocked down) and found overseas plants in proper occasion.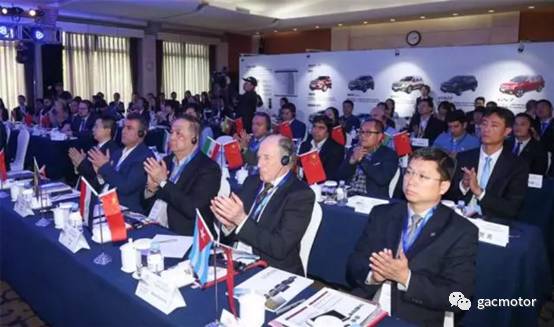 Numerous overseas distributor representatives and partners of GAC MOTOR from across the world took part in this conference.
In 2016, General Manager Yu Jun led his team in person to conduct field surveys in overseas markets and master problems and opportunities facing markets in an in-depth way, laying a solid foundation for the following international market development plan. In the future, GAC MOTOR is expected to mobilize more resources to international business sector, increase support for distributor partners concerning business policies, advertising promotions, introduction of new vehicle models, etc., particularly accelerate product introduction and brand investment, greatly back overseas distributors to organize debut of new vehicles and other activities, cultivate overseas distributor echelon, accomplish joint growth and work together to compose new chapter of global development of GAC MOTOR in the future. GAC MOTOR has planned to introduce GA8, GS8 and other premium vehicle models to overseas markets and provide better products and services for global consumers.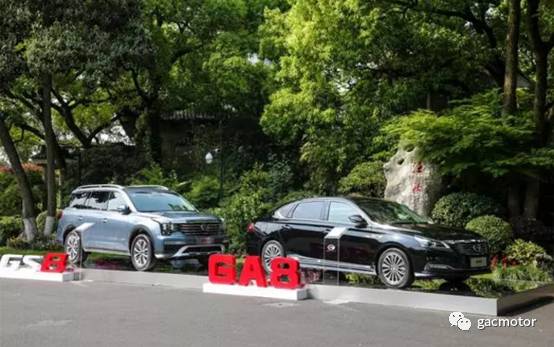 GAC MOTOR GS8 and GA8
At this Auto Shanghai, GAC MOTOR has signed strategic cooperation agreements with ten globally leading suppliers such as Denso, Continental, and Aisin Seiki to make closer technical cooperation, jointly leading technological and quality standards in the industry and facilitate the implementation of strategy of global development of GAC MOTOR by establishing a strategic alliance.
As further expressed by Yu Jun the General Manager, in the future, GAC MOTOR is expected to continue to insist on brand construction and create trustworthy brand of GAC MOTOR by sound product quality and service beyond expectation on its journey of internationalization. Meanwhile, GAC MOTOR is planned to insist on its dual-track mode to explore international market. In other words, it will both explore and consolidate traditional "emerging markets" and actively develop "developed markets in Europe, America, Japan and South Korea"; it will both manufacture "left-hand-drive vehicles" and develop "right-hand-drive vehicles"; it will both sell traditional energy vehicles and gradually introduce new energy vehicle models.
The Year of 2017 is the year of brand upgrade of GAC Group and year of comprehensive soar of GAC MOTOR. According to General Manager Yu Jun in the end, GAC MOTOR is full of expectation and confidence about its route of internationalization. In the future, GAC MOTOR will build a complete overseas business system of international competitiveness, realize a reasonable layout of industry chain on a global scale, select markets, break through those focused, optimize both side and benefit of overseas business, and further to spare no effort to make GAC MOTOR a leading automobile brand in China and a world-class brand of the highest brand value and the most influence well favored by customers.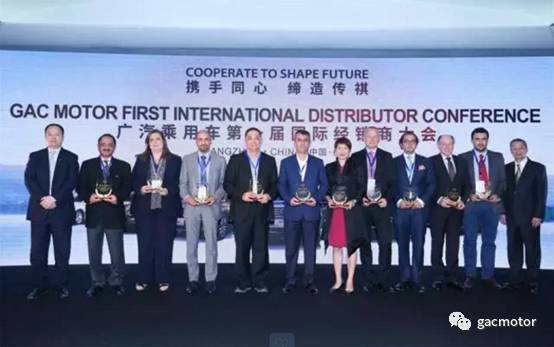 Outstanding Distributors Awarded at the GAC MOTOR FIRST INTERNATIONAL DISTRIBUTOR CONFERENCE
At GAC MOTOR FIRST INTERNATIONAL DISTRIBUTOR CONFERENCE, numerous overseas distributor representatives actively shared the current situations of development and opportunities facing different markets and made in-depth communications and discussions on future international strategy by area and period. This conference wound up successfully in the end, indicating that GAC MOTOR will continue to advance at full speed on its journey of internationalization.