Missing Chinese student in US likely kidnapped by white man
Press "PandaGuidesOfficial"!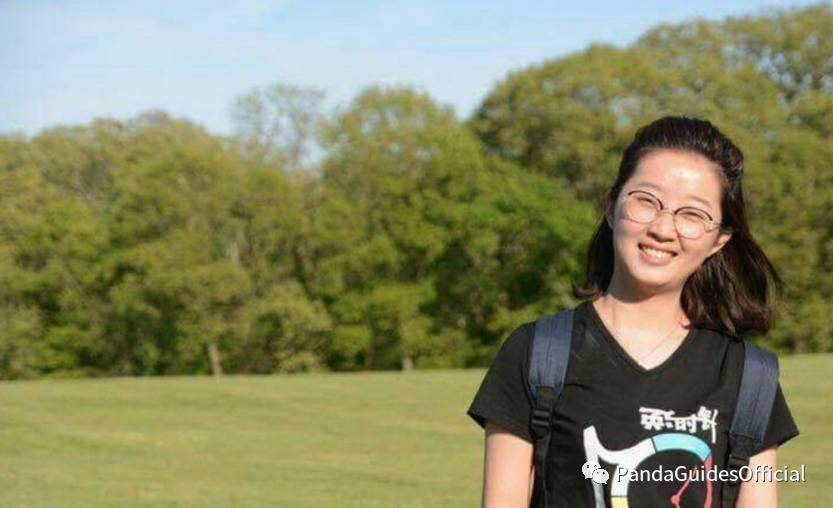 A man in a black car circled the quiet streets of a small American city before deciding on his target, stopping and talking to a young Chinese woman, inviting her into his vehicle and then kidnapping her.
This is the scenario the FBI is presenting as a massive police search is underway in Urbana, Illinois, for the Fujian province-born student Zhang Yingying.

Zhang, 26, has been missing for six days. She was last seen on Friday afternoon, getting into a black Saturn Astra hatchback in Urbana, police say.
The FBI are treating her disappearance as a kidnapping case.
The suspect is a white man who circled the area in the car that afternoon before stopping to talk to Zhang, the US law enforcement agency said.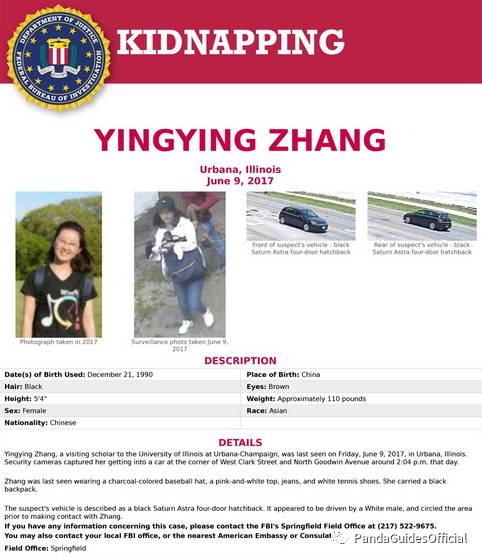 An FBI notice appealing for information about the disappearance of Zhang.
Security footage released to YouTube by the police shows Zhang talking to the driver of the vehicle for a few minutes on a quiet avenue in Urbana just after 2pm before getting into the car.
Urbana is a city in Champaign County, Illinois, with a population of just over 41,000.
The FBI, Illinois State Police and the University of Illinois Police Department are working together to investigate her disappearance.
"This is a very complex search and investigators are working hard to follow up on a large amount of information," the University of Illinois Police Department wrote on its website.
"We are deeply troubled anytime we believe a member of our campus community may be in danger, but we are very grateful for our community's support for Ms Zhang. We are doing everything we can to search for her."
Zhang arrived in the United States just over a month ago and is a visiting scholar at the University of Illinois at Urbana-Champaign's department of natural resources and environmental sciences.
Zhang was last heard from at 1.30pm on Friday when she texted a property manager to tell them she would be late to sign a lease for a flat, police say. Zhang never showed up and attempts to contact her since have been unsuccessful.
Police said earlier in the week they were investigating whether Zhang had used a ride-hailing app such as Uber.
The Chinese consulate general in Chicago has been in touch with the police, her college and Zhang's parents, helping them get an emergency visa to come to the United States, the China Daily reported.
The newspaper also reported that Zhang's boyfriend, Hou Xiaolin, was working to raise awareness about his girlfriend's disappearance.
"I wish the search process in the US could be faster," Hou was quoted as saying. "Everything is moving too slow."
Robin Huang at the Chinese Students and Scholars Association said the group was using all its resources to help find her.
"We really hope that we can make it faster and we really hope the girl is safe," Huang told the local news website Illinoishomepage.net.
People using the social media site Reddit have discussed previous occasions when a man in a black sedan approached a girl in the same area.
More than 66,000 people have signed a petition on the US government's petition site We the People, urging the government to help find Zhang.
"We sincerely hope that the US government can pay more attention to help us to find her," the petition said.
Zhang earned her master's degree in environmental engineering at Peking University last year.
She also holds a bachelor's degree from Sun Yat-Sen University in Guangzhou.
Source: https://www.scmp.com
Editor's Picks
25 most difficult languages to learn in the world


Top 10 countries with the most beautiful girls in the world


Fake US embassy shut down after 10 years


Japan's porn industry is in crisis

Seven websites to learn Chinese for free


Premarital sex in China: new survey paints surprising picture


Fake alcohol in China and how to avoid it


China to be hit with coldest winter in 4 years


Those with work visas can skip the line at immigration


7 of the best websites to watch Chinese and foreign movies

Love is in the little things


15 sentences that will change your life
☞ Below is a paid advertisement
We are an English teacher supplier who sends native experienced English teachers to Chinese homes for private tutoring.

Please note that we recruit the teachers from the following countries ONLY: USA, UK, Canada, Australia, New Zealand, Ireland and South Africa.
If you are a native teacher now based in any city in China, please don't hesitate to add WeChat: 12753351 for inquiry.