Chinese Mom Sent Her Baby to Orphanage by Mail in Plastic Bag
Tap "ChinaWire" !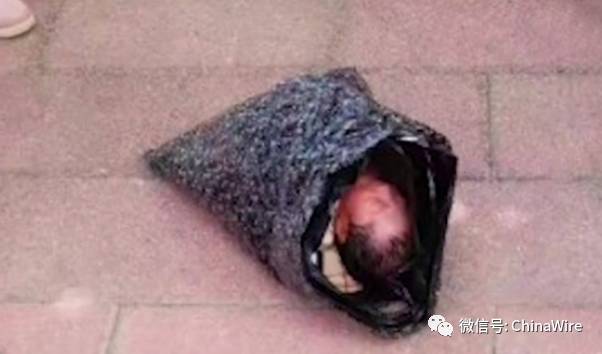 source: carbonated.tv

Police in China have taken into custody a woman who reportedly wrapped her newborn baby girl in plastic bags and tried to courier her in an orphanage.
The mother, identified only as Lou, called a courier to pick up the plastic bag, refusing to let him check what was packed inside.
As the courier set on his way, he felt the package moving and heard some noises coming from inside, The Beijing News reported. When he opened the bag, he was shocked to find the live baby.
The incident happened in Fuzhou in Fujian province.
The baby is currently in a stable condition at a local hospital and has been returned to her home, a move that prompted even more outrage from people following the story.
Child abandonment is a huge problem in China. While the government puts the number of orphans in the country at 600,000, independent groups estimate it could be closer to a million.
"Why should the baby be returned to her parents? To be abandoned a second time?" one person commented according to South China Morning Post.
"The child is lucky to be alive. Her parents should be punished ... the baby should be sent to the orphanage who will find parents to adopt her," said another.
Check out www.echinawire.com for more content!
---
Subscribe by scanning below QR codes to get started.


A convenient way for foreigners and Chinese to buy real foreign imported products while living in China. Stay with ShopWire as we expand our products range. You can use either WeChat wallet or PayPal to purchase our products!
---

ChinaWire is the largest English WeChat Official account in China with over 150k subscribers. We post articles related to china and around the world as well as a survival mandarin section to help foreigners improve their Chinese skills.
---

WorldWire is a diversified account which mainly publishes breaking world news, entertainment, lifestyle, culinary and sports news from around the world.
---

Shop在線 is the Chinese version of ShopWire mainly for Chinese Customers. You can also use it if you are a foreigner with great chinese skills or introduce it to your Chinese friends. We guarantee only real imported products are sold on our shop.