Domestic TDI Market will Gradually up in 2017 H2

1. Domestic TDI Market Trend in 2017 H1
In first half of this year, domestic TDI market remains weak running at high prices. After the Spring Festival, the market gradually picks up with a peak season coming, and then go down slowly since mid-March. TDI market slows down to around RMB 23,000 yuan/ton up to the end of June, down about RMB 4,500 yuan/ton compared with the beginning of this year. In July, because of the overhauls of domestic main factories in May and June, factory inventory and spot market inventory remain a low level, and the price go up suddenly, recording the highest price level in weak season. At present, spot market runs at around RMB 32,000-33,000 yuan/ton.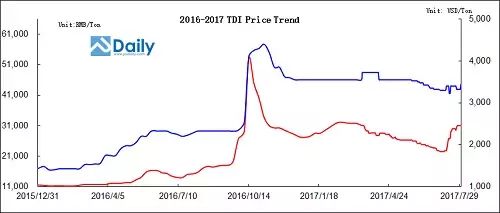 2. China TDI Imports & Exports
In terms of imports, the total domestic TDI imports volume in the first half of 2017 is 18kt, a year-on-year increase of 96.79%. Specifically, the import is around 12kt from Korea, 4kt form Japan, and about 1kt from Hongkong. In addition, there is also a little import quantity of TDI from Germany, Hungary and the US.
In terms of exports, the total domestic TDI exports volume in the first half of 2017 is about 57kt, down slightly by 0.46% over the same period of last year. Top five exports destinations are USA, Pakistan, Indonesia, Taiwan and India. Specifically, Asia's TDI consumption accounts for 58% which is the most majority of China's TDI, followed by Africa and Latin America, respectively accounting 11% and 9%.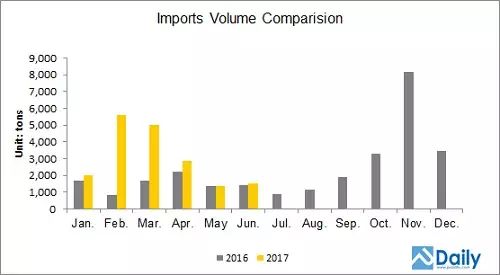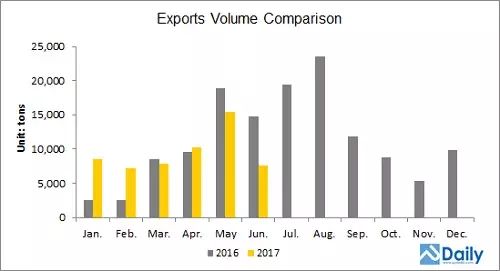 3. Downstream performance
Furniture
Building materials market remains weak running at low prices in the first half of 2017. The national building materials home boom index (BHI) keeps falling down in June, arriving at 91.63, a year-on-year decrease of 15.52%. National building household furniture store over the scale sales volume totaled 407.12 billion yuan in the first half of 2017, a year-on-year decrease of 25.34%. Domestic building household industry has difficulties going forward, due to the constant tightening national real estate market regulating policy, transformation and upgrading of building materials industry, and increasingly strict environmental inspection.
Automobile
The automobile production and sales volume in the first half of 2017 is respectively 13.53 million and 13.35 million, year-on-year increase of 4.64% and 3.81. The growth rate decreased by 1.83% and 4.33%. Specifically, the passenger vehicles production and sales growth rate is smaller than last year, while growth rate of commercial vehicles is more optimistic, with year-on-year increase of 12.30% and 15.52%.
4. Market Outlook for 2017 H2
Domestic TDI market is expected to fluctuate at high prices in the second half of 2017, and now it is already at a high level. The whole Asia, Middle East and Africa markets start the uptrend with the price arriving at USD 3,500-3,600/ton. As for Europe, the market will also run at high prices due to Covestro Germany equipment's overhaul plan in September. Domestic and international downstream demand is about to recover gradually from second half of August, and TDI suppliers may offer firmly in this critical moment, making domestic TDI market price up gradually.