First Ever Panda Born to Wild and Captive Parents
Tap "ChinaWire" !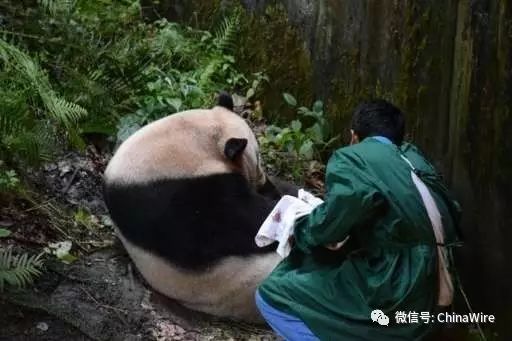 source: phys.org

China has welcomed the world's first giant panda cub born to a mixed pair of captive and wild parents, the official Xinhua news agency said.
Palm-sized and pink, covered in a downy layer of white fuzz from its tiny claws to its long tail, the cub was born early Monday morning in southwestern Sichuan province to 15-year-old Cao Cao, who had mated with a wild male panda in March.
The cub's birth is the result of researchers' efforts to boost the health and genetic diversity of captive pandas by getting them to mate with their forest-dwelling counterparts, Xinhua cited Zhang Zhizhong of the China Conservation and Research Center for the Giant Panda (CCRCGP) as saying.
With only 471 captive pandas worldwide as of the end of last year, the species is at risk of inbreeding, Xinhua said.
Cao Cao, who has lived in captivity since she was two, was released back into the wild for a two-month stint in March wearing positioning and recording devices around her neck.
The recording device showed that after going into heat on March 11, she mated with a wild male panda for a minute and 30 seconds on March 23.
Her baby weighed in at a hefty 216 grams—exceeding the typical newborn panda weight of around 150 grams thanks to Cao Cao's good appetite during pregnancy.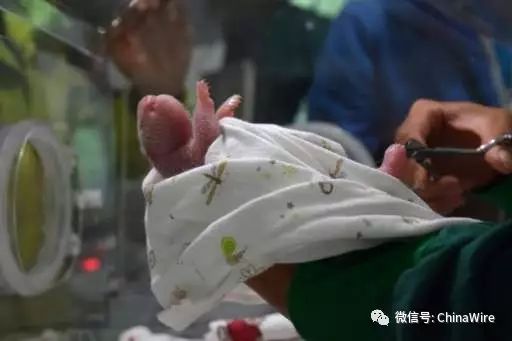 Check out www.echinawire.com for more content!
---
Subscribe by scanning below QR codes to get started.


A convenient way for foreigners and Chinese to buy real foreign imported products while living in China. Stay with ShopWire as we expand our products range. You can use either WeChat wallet or PayPal to purchase our products!
---

ChinaWire is the largest English WeChat Official account in China with over 150k subscribers. We post articles related to china and around the world as well as a survival mandarin section to help foreigners improve their Chinese skills.
---

WorldWire is a diversified account which mainly publishes breaking world news, entertainment, lifestyle, culinary and sports news from around the world.
---

Shop在線 is the Chinese version of ShopWire mainly for Chinese Customers. You can also use it if you are a foreigner with great chinese skills or introduce it to your Chinese friends. We guarantee only real imported products are sold on our shop.