Maldives VP Arrested for Trying to Kill The Maldives President
writer: Nicola Smith source: theaustralian.com.au

Ahmed Adeeb, the vice-president of the Maldives, has been arrested on suspicion of being linked to a plot to assassinate President Abdulla Yameen by blowing up his speedboat.
The south Asian paradise was shocked in late September by the attack on Yameen's boat, which left the president unharmed but injured his wife and two others.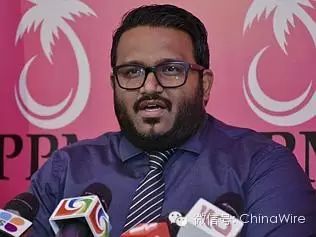 Maldives Vice-President Ahmed Adeeb.
Adeeb, 33, is being held in custody, accused of high treason. He denies any link to the explosion. Ten days ago the defence minister was sacked over the incident.
The boat exploded as the president disembarked in the capital, Male. He was returning from a hajj pilgrimage to Saudi Arabia.
President Yameen appealed for calm in the wake of the arrest of his deputy and says the decision was made in the best interests of the country.
Adeeb was appointed only three months ago after Yameen impeached his former running mate, Mohamed Ahmed, also on charges of treason.
The holiday paradise has been in political turmoil since the ousting of President Mohamed Nasheed in 2012.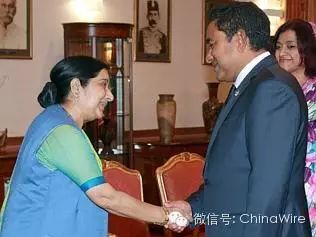 Indian Foreign Minister Sushma Swaraj left, shakes hands with Maldives' President Abdulla Yameen.
He is serving a 13-year sentence after being found guilty of terrorism for ordering the arrest of a senior judge three years ago.
Last month the UN said Nasheed's detention was unlawful and politically motivated.
His case has been taken up pro bono by a team of international human rights lawyers including Amal Clooney.
Pitted against her is Cherie Blair, whose consultancy, Omnia, has defended the stance of the Maldivian government.