Girl Students Forced to Lie Under Blankets in the hot Sun
source: echinacities.com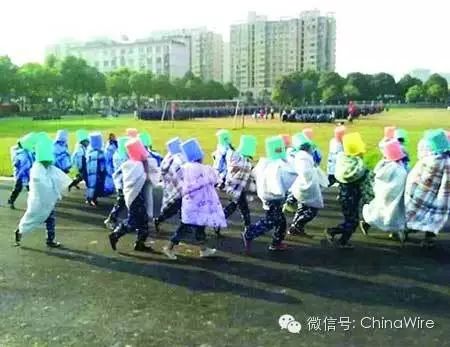 Photos of students wrapped up in blankets, lying on the ground in the sun, and running wrapped in blankets with buckets on their heads during military training recently went viral on the Chinese internet.
The students, from Hunan Foreign Language Vocational College, were forced to wrap themselves up in thick blankets and lay in the sun as punishment. Freshman Liu Min said that the instructors made sure the quilts were covering the students, but that the students were made to lie there, "no more than 10 minutes."
The head of the school's department for student work said that the students were being punished because their dorm was not well cleaned. They had been warned previously to improve their standards, but nothing had changed.
Before being made to lie in the sun wrapped in a blanket, dozens of students were forced to run wearing plastic buckets on their heads while wrapped in blankets, while other students looked on.
"I feel that punishing girls in this way is inappropriate," said school administrator Xie Tong. Xie said that he had communicated this to the chief military instructor and that the school will arrange for psychological counseling for the punished students.