Chinese Town: "Get Rid of Your Pets or We'll Kill Them for You"
writer: Tracy You source: Dailymail.co.uk

A Chinese government is planning to kill the dogs of pet owners who refuse to get rid of them in an attempt to keep its region clean.
Officials in Dayang New District, in the east of the country, said stray dogs and pets that have been registered and vaccinated will be killed 'on the spot' in a bid to keep order in the region.
An order released earlier this week states the cull is for the maintenance of environmental hygiene and 'everyone's normal lives'.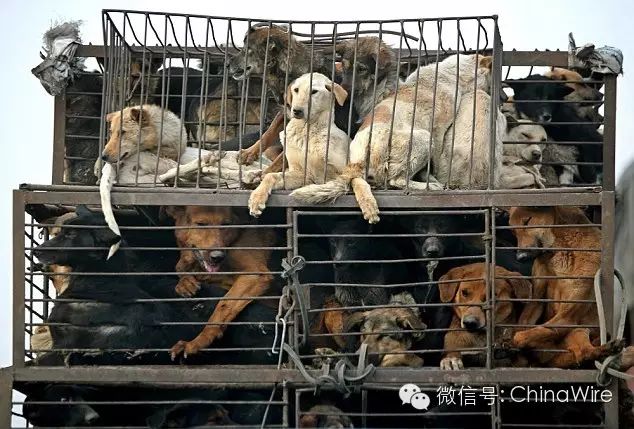 A Chinese government is planning to kill the dogs of pet owners who refuse to get rid of them in an attempt to keep its region clean. Above, dogs are taken away under different circumstances in a cage in Beijing
No one was available for comment at the government office on Friday.
But an unidentified worker from the village committee insisted the order was the will of the majority of the district's 1,000 residents.
He said: 'Dogs are always defecating all over the place and bothering people. A lot of people were complaining so we wrote a public notice to avoid a conflict.'
The order underscores continuing weaknesses in China's legal system, particularly when it comes to police powers and private property protections.
It also points to the lack of rules on pets in public, such as leash laws and fines for not cleaning up after them.
The country has previously been criticised for ordering culls due to a concern about rabies.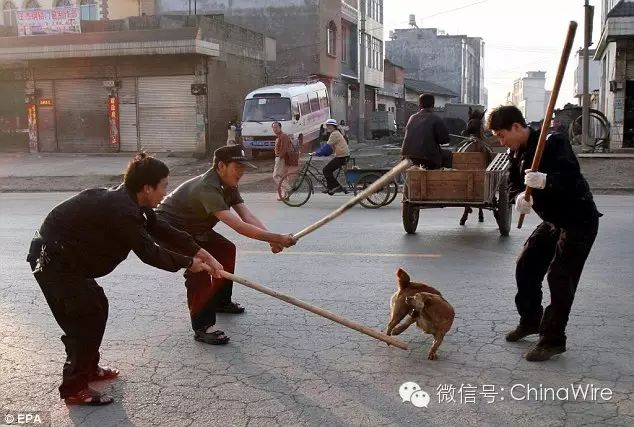 Three officials used wooden sticks to beat a dog to death on a street in Luoping county in 2006
Several districts have previously told residents they must rehouse their pets or have them killed in a bid to stop the disease, which kills around 2,000 people a year in China, from spreading.
Officials have also been reported to beat dogs to death with bats during hygiene drives.
The keeping of dogs as pets was effectively outlawed during the first decades of the People's Republic.
But during the last 20 years, dog ownership has grown despite continuing restrictions on large dogs in urban areas.
A VILE DOG-EATING FESTIVAL THAT HAS LEFT THOUSANDS OF DOGS SERIOUSLY SICK
Around two-thirds of the dogs rescued from China's dog-eating festival in June have died or are seriously sick, a recent report revealed.
At the Sanduo Life Guarding Garden, the rescue centre where the saved pooches were sent to in July for care-taking, dogs are dying on a daily basis due to sickness, according to People's Daily Online.
The lack of financial support and volunteers seem to be the main causes.
During the annual Yulin Dog Meat Festival, as many as 10,000 dogs are slaughtered for the market held deep in the largely rural Guangxi Zhuang Autonomous Region to mark the summer solstice.
Right before this year's festival, a group of 11 Chinese animal rights activists spent 50,000 Yuan (£5,100) on buying 1,381 dogs from butchers in Yulin.
In recent years, the canine-eating festival has drawn criticisms in China and around the world.
Activists including celebrities such as British comedian Ricky Gervais and Brazilian supermodel Gisele Bundchen have called for an end to this year's festival, which took place nonetheless on June 21 and 22.