Iraq Seeking Chinese Help in Railway Sector
By Saba Zahid
The war torn nation of Iraq is all set to develop its infrastructure back. China is known for its best railway system in the world and therefore, Iraq is seeking help from China to build its railway network. Iraq is aiming to build a huge expansion of railway networks in the major cities like Baghdad and Basra, Iraqi Prime Minister, Haider Al-Abadi stated in his recent interview while his visit to China. He stressed that the key role of railways in Iraq and said that he plans to expand it with the help of China to about 5000 km. Iraq has played a major role in the trans-Eurasia Silk road and therefore, it is important to develop the same route again to boost commerce and trade.
The Prime Minister of Iraq, Haider Al-Abadi stated in a recent interview that Iraq can act as a bridge between Europe and Asia for trade and once the railway system is expanded, the silk route will be back on the track. A joint statement released on Tuesday specified that the two governments have agreed upon this development to bind the ties for strategic economic development.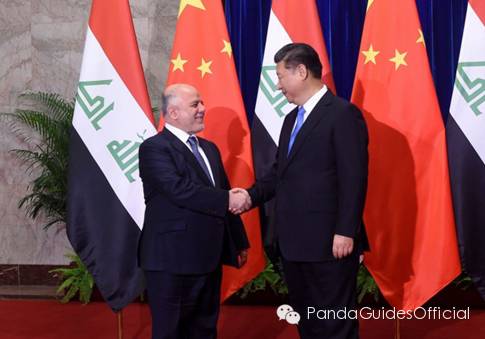 The Iraqi budget heavily relies on the oil exports. Iraq is aiming now to build better economy through investments in other sectors especially infrastructure, telecommunications and insurances. Iraq is now focusing more on the economic ties and modernizing the living standards of Iraqi citizens to compete with the world. The vision of the Iraqi Prime Minister on his recent one day visit to China clearly focused on bringing in investments by trading oil. "They can bring me their technology. I think they can expand the network in Iraq," he said, adding that the expanded network can act both for the people and for the governments.
WeChat ID:PandaGuidesChina
Long press or scan the QR CODE below !