|

2015-04-22
Author:BBCNN

|

|
This South Indian dish goes well with seafood and vegetables. Curry leaves are used frequently in this part of India. When you find a fresh bunch, put them to dry on a towel on top of the boiler, then place them in an airtight jar to use as needed.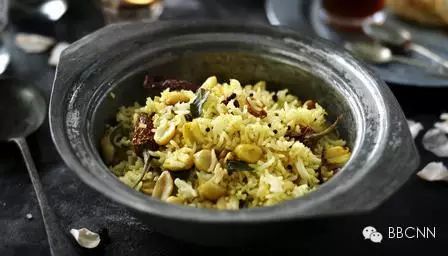 Ingredients
2½ tbsp vegetable oil

½ tsp mustard seeds

pinch fenugreek seeds

1 tsp split chana dal (also called Bengal gram lentils)

1 tsp split black gram (also called urad dal or black lentil)

2-3 dried red chillies, left whole

1 rounded tsp chopped fresh ginger

¼ tsp ground turmeric

4 tbsp roasted peanuts

10 curry leaves, torn in half

salt, to taste

3 tbsp lemon juice, or to taste

350g/12oz freshly cooked basmati rice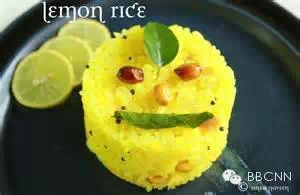 Preparation method
Heat the oil in a large non-stick frying pan and add the mustard and fenugreek seeds, the chana dal, black gram and the chillies and stir fry until lightly browned.

Add the ginger, ground turmeric, peanuts, curry leaves and salt, to taste, and cook for about 40 seconds.

Stir in the lemon juice and cook for another minute before adding the rice. Stir fry to heat through, being careful not to break up the grains too much.

To serve, place the rice onto serving plates.