Woman urinates on American flag in Facebook video
Press "PandaGuidesOfficial"!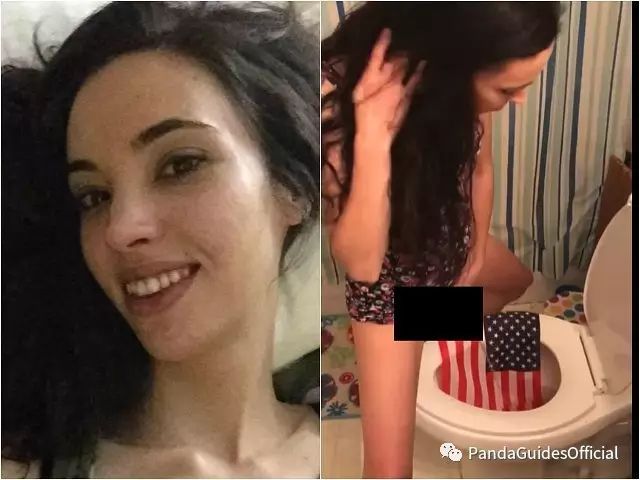 A woman who shared a video of herself urinating on an American flag has asked that people stop targeting her family, saying they do not support her actions.

Emily Lance received online threats of murder and rape after posting the video during Independence Day celebrations.
Her account is no longer on Facebook but she previously posted that her father and his workplace had also been "targeted", reports say.
Desecrating a US flag is not illegal due to strong freedom of speech laws.
In the video, Ms Lance is seen standing over a toilet on which a US flag is draped, and urinating on it with the aid of a device that allows women to do so standing up.
She captioned it with: "F*** your nationalism. F*** your country. F*** your stupid f****** flag".
Later she made a plea for her opponents not to "take your anger out on the wrong people", saying no-one in her family "agrees with my shenanigans".
"They've got nothing to do with my decisions," she continued.
She did not explain how her father and his workplace had been "targeted".
"What don't you people understand? You're celebrating freedom while damning me for doing the same. You can't have it both ways," she said.

Lance is a self-described anarchist and has previously posted photos that claim the 9/11 attacks were an 'inside job'.
Her Facebook likes include memes, marijuana, Anarchism and Vermont senator Bernie Sanders.
Source: http://www.bbc.com
Editor's Picks
25 most difficult languages to learn in the world


Top 10 countries with the most beautiful girls in the world


Fake US embassy shut down after 10 years


Japan's porn industry is in crisis

Seven websites to learn Chinese for free


Premarital sex in China: new survey paints surprising picture


Fake alcohol in China and how to avoid it


China to be hit with coldest winter in 4 years


Those with work visas can skip the line at immigration


7 of the best websites to watch Chinese and foreign movies

Love is in the little things


15 sentences that will change your life
☞ Below is a paid advertisement
We are an English teacher supplier who sends native experienced English teachers to Chinese homes for private tutoring.

Please note that we recruit the teachers from the following countries ONLY: USA, UK, Canada, Australia, New Zealand, Ireland and South Africa.
If you are a native teacher now based in any city in China, please don't hesitate to add WeChat: 12753351 for inquiry.