The Hanging Coffins of Chongqing
Tap "ChinaWire" !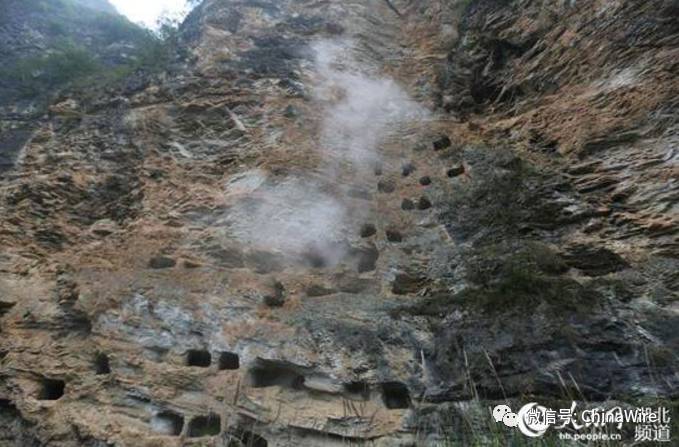 source: tribune.com.pk

Wong How Man, who began his career as a journalist with the National Geographic, has been an enthusiastic explorer of hanging coffins in China. He first discovered a cluster of coffins resting on the edge of a cliff face in southern Sichuan, to the north of Guizhou in 1985 during an expedition to map the Yangtze River from mouth to source.
These coffins are perched on cliffs around 30 to 90 metres (100 to 300 feet)the ground, and could be centuries old. They are known as hanging coffins, and can be found in central China, particularly in remote valleys south of the Yangtze River. Remnants of bones, ceramics and old clothes are found in and around the caskets.
The coffins have been placed upon cliffs in different ways. They can be seen embedded in the crevices in the cliff face, propped up on wooden stakes, set in rectangular spaces carved into the rock face or piled up high in caves.

The most ancient of these coffins are estimated to be 3,000 years old and are situated in the eastern province of Fujian. Early Tang Dynasty literature suggests that the higher the placing of the coffins, the greater the show of piety to the deceased. Other sources claim that the coffins were kept elevated in order to save them from animals and to keep land free for farming.
According to a 2015 report by the People's Daily newspaper, 131 hanging coffins were found in the central province of Hubei, set in man-made caves in a cliff 50 metres wide and 100 metres high.
"Experts haven't figured out how ancient people managed to transport the coffin, body and funeral objects – together weighing hundreds of kilograms – to the cliff caves," the report said.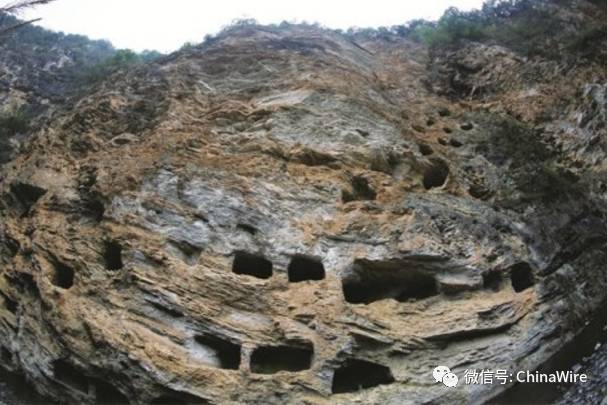 Curious to know more, Wong started to collect scholarly research regarding this practice. He published his first paper in a US archeology journal in 1991. In 2000, Wong founded the China Exploration and Research Society (CERS), which enabled him to travel up close to excavate a site called Washi in northern Yunnan.
Wong and his team descended the cliff face to examine the coffins, which rested precariously on rotting wooden stakes. The group built bamboo planks to protect the caskets, which also gave them the opportunity to explore their contents. The oldest coffins date back to the Tang dynasty, and several contained bones from multiple bodies.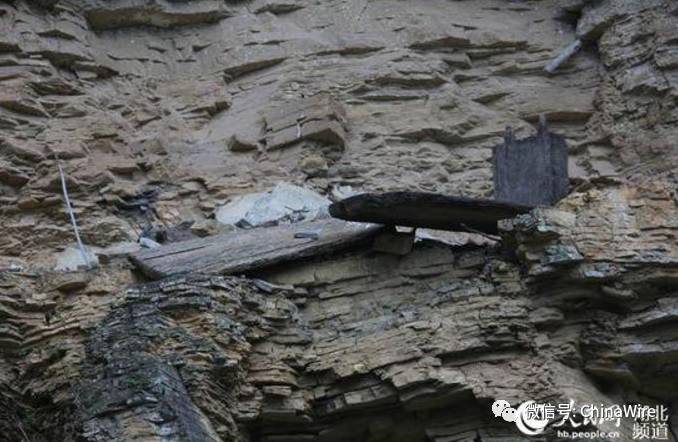 This led the team to conclude that the bodies must have been buried initially, with the bones having been put in the hanging coffins after the bodies decomposed.
The coffins seem to be dug out of solid wood and filled with sand, making them heavy.
"They must have known they would eventually fall down," says Wong.
Wong's research traces the burial custom back to the Bo people, who were a rebellious minority tribe living in the border region between present day Sichuan and northwestern Yunnan provinces. The Bo tribe is believed to have vanished during the rule of the Ming Dynasty when it faced persecution from China's Imperial Armies. However, Wong believes that they may have survived through assimilation into other minority groups. His research formed the basis of a 2003 Discovery Channel Documentary on the hanging coffins, in which the process of placing coffins up cliffs was reenacted.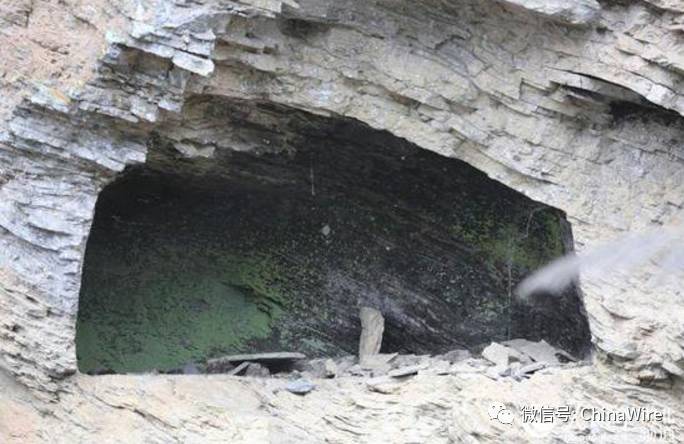 Some suggest the coffins were lowered down from above, while according to others they were transported up through scaffolding. Besides the immense effort required in transporting the coffins, its contrast from modern burial practices is what makes the custom fascinating.
The practice, however, is similar to the sky burials in Tibet and Mongolia, where dead bodies are cut up and offered to the vultures and other animals. Wong also traveled to the Philippines to examine cliff burials in Sagada, Luzon.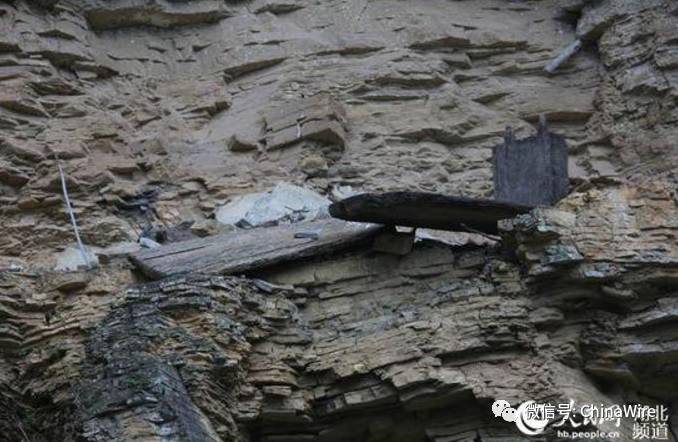 The site in Guizhou, China, is not protected well, as Wong observed that most of the coffins were disintegrating, with fragments of bones and clothing visible. He also said that a fire burned more than 300 coffins in an elevated part of the cave.
Some of the sites have been tampered with by visitors, for instance, a cigarette had been placed between the jaws of one of the skulls. Local authorities have erected fake coffins in a steep gorge down the river in order to entertain tourists and preserve the original site.
In 1999, Wong discovered that one of the most popular hanging coffins sites in Matangba, Sichuan, had been looted, even though it was 90 metres high and claimed to be protected.
"Going back 20, 30 years, yes China had different priorities and limited funding, but today China has such influence and (protecting these sites) would be small change. It's about the integrity of the their culture and cultural identity, " said Xu Jin, a researcher at Chongqing Cultural Heritage Research Institute.
According to him, keeping coffins at a height was a more viable option than burying them underground as the land was vulnerable to erosion and sinkholes.
Although there is ample funding for archeology in China, research regarding hanging coffins is limited.

"I'm sure if someone really wanted to do this they could," says Hein. "But you would need the cooperation of difference provinces and local governments, which is difficult, and requires a lot of energy," says Anke Hein, an archeologist at Oxford University.
The most comprehensive research in Chinese regarding hanging coffins has been conducted by a scholar named Chen Mingfang, but CNN was unable to trace her.
According to Wong, who has dedicated considerable time examining and protecting Chinese heritage, it will probably never be known why people chose to preserve the dead in that manner.
"We can only speculate," he says.
Check out www.echinawire.com for more content!
---
Subscribe by scanning below QR codes to get started.


A convenient way for foreigners and Chinese to buy real foreign imported products while living in China. Stay with ShopWire as we expand our products range. You can use either WeChat wallet or PayPal to purchase our products!
---

ChinaWire is the largest English WeChat Official account in China with over 150k subscribers. We post articles related to china and around the world as well as a survival mandarin section to help foreigners improve their Chinese skills.
---

WorldWire is a diversified account which mainly publishes breaking world news, entertainment, lifestyle, culinary and sports news from around the world.
---

Shop在線 is the Chinese version of ShopWire mainly for Chinese Customers. You can also use it if you are a foreigner with great chinese skills or introduce it to your Chinese friends. We guarantee only real imported products are sold on our shop.