Son Dresses as Dead Sister for 20 Years for Mentally Ill Mother
Tap "ChinaWire" !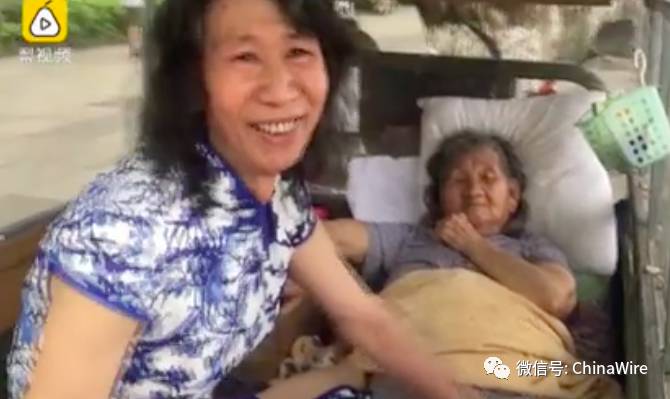 source: mirror.co.uk

A loving son decided 20 years ago to dress as a woman "to help his mentally ill mum cope with the death of his sister" – and he doesn't care what people think.
After his mother began showing signs of mental illness when her daughter died, the unnamed man made the extraordinary decision to drastically change his look.
His mum was immediately convinced that her daughter had come back.
The plan has been so successful that the man, from Guilin in the Guangxi region, now owns no men's clothing at all.
"She was so happy, so I kept on doing it," he said. "I've basically been living as a woman ever since."
In the video his mother refers to her son saying: "She is my daughter. When my other daughter died she became my daughter."
There has been a mixed response to the man's decision.
One person commented under the video: "I think he looks pretty as a woman."
And another viewer hailed the son as "a real man".
But another person said: "Has this mother not asked where her son has got to?"
Check out www.echinawire.com for more content!
---
Subscribe by scanning below QR codes to get started.


A convenient way for foreigners and Chinese to buy real foreign imported products while living in China. Stay with ShopWire as we expand our products range. You can use either WeChat wallet or PayPal to purchase our products!
---

ChinaWire is the largest English WeChat Official account in China with over 150k subscribers. We post articles related to china and around the world as well as a survival mandarin section to help foreigners improve their Chinese skills.
---

WorldWire is a diversified account which mainly publishes breaking world news, entertainment, lifestyle, culinary and sports news from around the world.
---

Shop在線 is the Chinese version of ShopWire mainly for Chinese Customers. You can also use it if you are a foreigner with great chinese skills or introduce it to your Chinese friends. We guarantee only real imported products are sold on our shop.