Amazing Ariel Footage of Most Dangerous Hike in the World
Tap "ChinaWire" !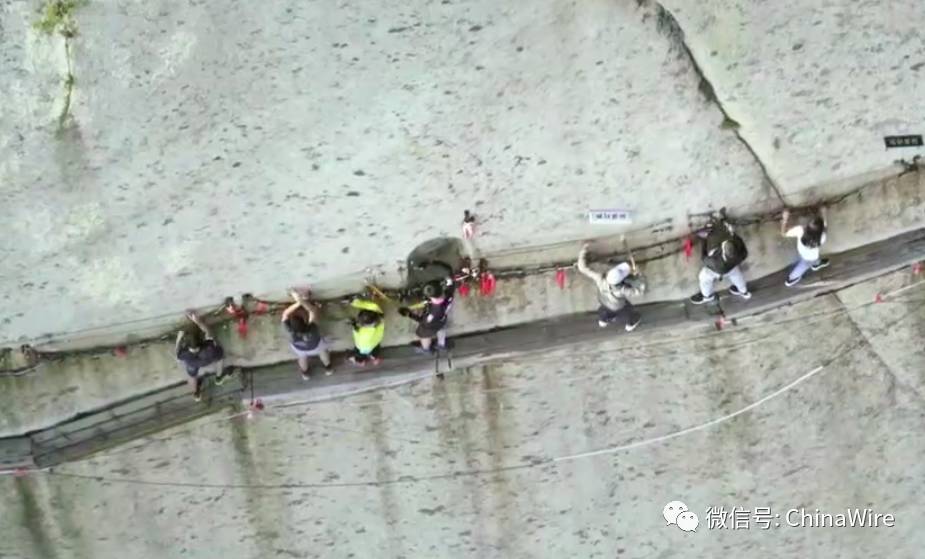 source: rt.com

If drone footage of China's Mount Hua skywalk makes you feel queasy, spare a thought for the ancient monks who would have taken the dizzying route on their journey towards religious enlightenment.
The network of wooden boards running alongside the 2,160-meter (7,000ft) holy mountain in Shaanxi province, are walked today by tourists with an appetite for adventure.
Hundreds of years ago, the wooden path, cobbled together on the side of the mountain's granite facade, would have been a key route for taoist followers attempting to reach the summit.
According to UNESCO, the area contains more than 300 stone tablets and 570 spiritual rock inscriptions, some dating as far back as 1,000 years ago.
Footage of the route, regarded by many as the "most dangerous" in the world, gives an indication of how one false move could have sent a hiker to their death hundreds of meters below.
Check out www.echinawire.com for more content!
---
Subscribe by scanning below QR codes to get started.


A convenient way for foreigners and Chinese to buy real foreign imported products while living in China. Stay with ShopWire as we expand our products range. You can use either WeChat wallet or PayPal to purchase our products!
---

ChinaWire is the largest English WeChat Official account in China with over 150k subscribers. We post articles related to china and around the world as well as a survival mandarin section to help foreigners improve their Chinese skills.
---

WorldWire is a diversified account which mainly publishes breaking world news, entertainment, lifestyle, culinary and sports news from around the world.
---

Shop在線 is the Chinese version of ShopWire mainly for Chinese Customers. You can also use it if you are a foreigner with great chinese skills or introduce it to your Chinese friends. We guarantee only real imported products are sold on our shop.