"Singlish" Speaking Traffic Cop Busts Foreign Students (Video)
Tap "ChinaWire" !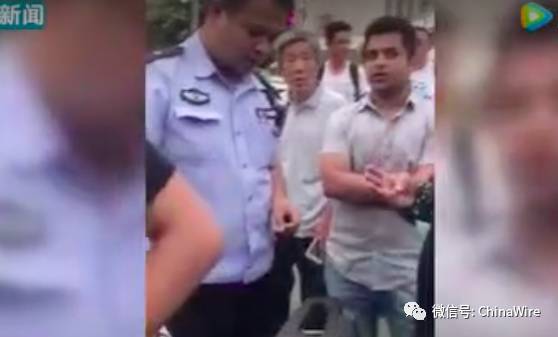 source: straitstimes.com

A video of a policeman in China speaking what sounds like Singlish (Singapore influenced English) has gone viral in the country, with several netizens applauding his skills.
Mr Li Yanqi, a traffic policeman in north-western China's Xi'an city, was on patrol on June 11 when he stopped some foreign students riding motorcycles without licence plates, Sina.com reported.
He told Chinese media: "I used Mandarin to ask them if they speak Mandarin, and they said 'no'."
Mr Li then tapped into his English skills which he had picked up while working in Singapore.
"I ask you a question," he says in a widely shared video. "You driving a car in your country you need driver licence or not?"
The man answered yes. They then engaged in a verbal tussle, with Mr Li peppering his speech with colloquialisms that would not be out of place in Singapore.
Eventually he concludes: "So bring your IC card. You got IC card or not. Can I also get... a passport? Student card?"
As for the foreign students' motorcycles, they were confiscated.
Mr Li later told China's news website The Paper that he had worked in Singapore for two years and picked up some English while he was there.
One netizen commented in Chinese that his Singlish was "simply spot on".
Another said: "Looks like learning English is of some use after all."
Check out www.echinawire.com for more content!
---
Subscribe by scanning below QR codes to get started.


A convenient way for foreigners and Chinese to buy real foreign imported products while living in China. Stay with ShopWire as we expand our products range. You can use either WeChat wallet or PayPal to purchase our products!
---

ChinaWire is the largest English WeChat Official account in China with over 150k subscribers. We post articles related to china and around the world as well as a survival mandarin section to help foreigners improve their Chinese skills.
---

WorldWire is a diversified account which mainly publishes breaking world news, entertainment, lifestyle, culinary and sports news from around the world.
---

Shop在線 is the Chinese version of ShopWire mainly for Chinese Customers. You can also use it if you are a foreigner with great chinese skills or introduce it to your Chinese friends. We guarantee only real imported products are sold on our shop.