GAC MOTOR'S MILLIONTH CAR ROLLS OFF THE ASSEMBLY LINE
On May 15, a white 4WD GS8 rolled off the general assembly line of No.2 Vehicle Manufacturing Department of GAC MOTOR's Guangzhou Plant, signifying that GAC MOTOR's total production volume exceeded one million units! Two leading groups of the company as well as relevant department heads and employees' representatives attended the off-line ceremony of the millionth car, including Yu Jun, deputy director of GAC Group Executive Committee and general manager of GAC MOTOR, Wang Qiujing, president of GAC Automotive Engineering Institute, Huang Xiangdong, consultant of GAC Automotive Engineering Institute, and Wang Lijian, secretary of the Party committee of GAC MOTOR and GAC Automotive Engineering Institute.
General Manager Yu said, "This is a landmark moment. Our millionth car had rolled off the assembly line in less than one year since last June when our 600,000th car was manufactured. Again, we use actions to show the world GAC MOTOR's development speed and the advantage of world-class car manufacturing system. That marks a comprehensive improvement of GAC MOTOR's production capacity and its entrance into a 'million unit era'. "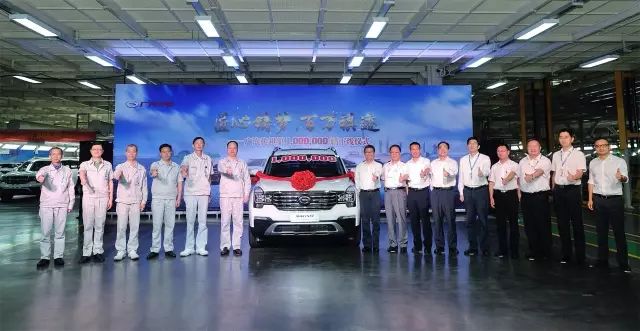 (Off-line ceremony of GAC MOTOR's millionth car)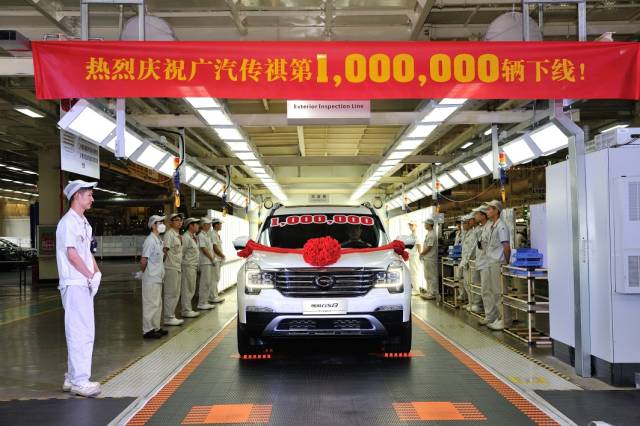 (GAC MOTOR's millionth car—a white 4WD GS8—rolled off the assembly line)
GAC MOTOR makes achievements in both quantity and quality by producing the millionth car
As one of the up-and-coming stars of Chinese brands, GAC MOTOR, after going public, has made its millionth car roll off the line within a short period of merely six and a half years, which is undoubtedly an important step on the company's development road and a legendary chapter for rapid growth of Chinese auto brands. GAC MOTOR registered quality and high-speed growth with compound annual growth rate of 85% by making its sales rise from 17,000 units in 2011 to over 380,000 units in 2016. Also, the company ranks top among Chinese brands in both development speed and profitability. In April this year, the company sold 41,700 cars, up 56.2% year on year, leading Chinese auto market in growth rate again. Among the models sold, GS4 ranks top two in sales among SUVs and GS8 fails to meet demand in supply. Meanwhile, GS8 realized sales of more than ten thousand units, becoming the "large 7-seater SUV" with the best sales and creating a new record of Chinese high-end brands.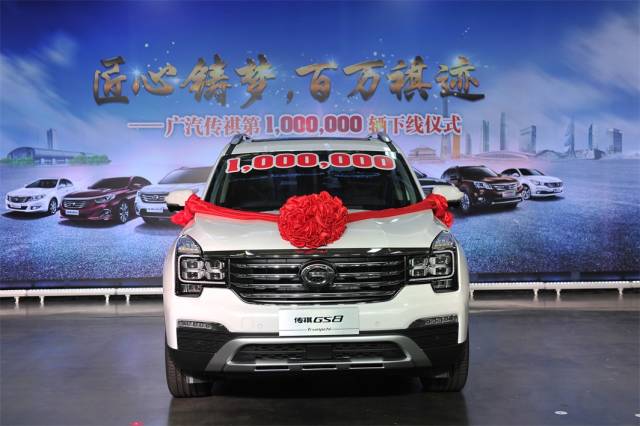 (The millionth off-line car)
GAC MOTOR does well from a single model with the best sales to the birth of its millionth car by virtue of manufacturing strength in R&D, technology and production as well as comprehensive performance in multiple aspects such as soft power of brand. Insisting on forward development and original design of China, GAC MOTOR, based on the whole system of innovation and its dedication to quality, constantly produces high-quality models. From its establishment, GAC MOTOR has directly focused on medium and high-end market, pursued improvements in quality and safety, and always insisted that supply of medium and high-end products meets the market demand, leading self-owned brands to make breakthroughs in quality and carving out a development path of "high-end orientation, quality first and innovation driving".
According to General Manager Yu, GAC MOTOR in 2017 will comprehensively implement the philosophy of "quality priority and customer first" by focusing on the policy of "refining systems, strengthening mechanisms, making innovations and reforms to achieve leaping development in business". Meanwhile, the company, on the premise of ensuring quality, will constantly reduce cost and enhance cost competitiveness. Yu underlined that the company aims to produce and sell 500,000 cars in 2017 and continues to maintain a high growth momentum as well as makes still further progress by taking the millionth off-line car as a good start. With its original intention, GAC MOTOR will be in pursuit of excellence and endeavor to realize the goal of producing and selling one million cars in 2020.
With powerful strength, GAC MOTOR becomes a new example of Chinese brands
As the representative of GAC MOTOR's millionth car, GS8, a luxurious flagship 7-seater SUV, has inherited the craftmanship and innovation of the brand and gained popularity for extremely great charm since launched into the market, creating a miracle of Chinese auto brands failing to meet the demand. Over the past two months, GS8 achieved sales of over 10,000 units, breaking the inherent market pattern of Chinese automobiles formed 30 years ago and strengthening Chinese brands' confidence to make collective high-end breakthroughs.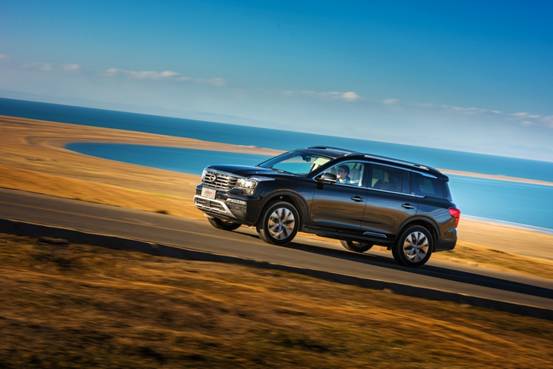 (Over 10,000 GS8 SUVs were sold in two consecutive months)
GAC MOTOR is not only widely praised and recognized by the market, but also lays a basis for the spread of brand reputation. With continuous high-speed and high-quality development, GAC MOTOR, as an excellent representative of Chinese brands, declared its selection by 2017 CCTV national brand plan. In this way, GAC MOTOR, through the national platform, will participate in global business competitions and cultural exchanges by representing Chinese brands and show the country's brand strength in a comprehensive manner. In addition, GAC MOTOR joined hands with the Administrative Office of Three-rive Source National Park and WWF at the end of last year to continually build an image of "warm and responsible carmaker", demonstrating the responsibility and obligation of Chinese brands.
By fulfilling its mission, GAC MOTOR is committed to building a world-class brand
GAC MOTOR's millionth car is of deeper significance, that is, encouraging Chinese brands to constantly forge ahead and take an active part in global competition more confidently. General Manager Yu said: "GAC MOTOR vows to build a world-class Chinese brand and grow into an international enterprise with global production, marketing and development, which is not only the company's goal, but also a mission of Chinese self-owned brands."

(Leaders and employee representatives attending the off-line ceremony of the millionth car posed for photos)
Guided by "The Belt and Road" Initiative, GAC MOTOR has currently completed its layouts in 14 countries of five sectors including the Middle East, Southeast Asia, Eastern Europe, Africa and America, and established preliminary global marketing networks and service systems, making phased breakthroughs in overseas markets. In 2017, GAC MOTOR is expected to sell 5,000 cars in overseas markets. Meanwhile, the company plans to make a foray into North America by the end of 2019 and endeavors to achieve annual sales of 60,000 units in 2020.
The millionth unit is a milestone and a new starting point. Against the context of strong growth momentum, GAC MOTOR will constantly forge ahead towards higher goals. In 2017, it will make an effort to realize the goal of selling 500,000 cars and actively roll out 9 new models. Besides, this year will see a great harvest of GAC MOTOR products. In the future, GAC MOTOR plans to focus on SUV, sedan and MPV and is projected to launch 20-30 models, striving for the goal of selling one million cars in 2020. It is worth pointing out that GAC MOTOR's millionth car rolled off the line, making clearer its goal of 2020 and providing the most powerful guarantee to create another legend. With a heroic posture, GAC MOTOR has ushered in a new age of one million units.