GAC MOTOR SHOWS BRAND STRENGTH BY SERVING AS PACESETTER OF "B&R"
Recently, 2017 Belt and Road Forum for International Cooperation under the spotlight of the world kicked off in Beijing.
The summit forum takes "strengthening international cooperation and co-building the 'Belt and Road' for win-win development" as the theme.
Under the government's strong support for the development of Chinese brand, Chinese automobile brands, led by GAC MOTOR, are forging ahead with irresistible trend and catching the world's attention with brand strength, thus becoming the pride of Chinese people!
Since its establishment, GAC MOTOR has adhered to forward development and international standards as well as made comprehensive innovations in systems and built a world-class auto manufacturing system centered on GAC Global R&D Network, GAC Production System and global supply chain system, thus forming core competitive advantages in sustainable development.
Meanwhile, GAC MOTOR endeavors to provide consumers with high-quality car life through innovations in technologies, products and services.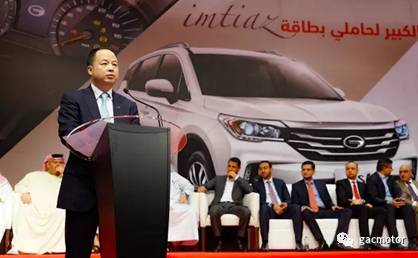 (GAC MOTOR General Manager Yu Jun made a speech at the launch event of GS4 in the Middle East)
By tapping the Middle East market further, GAC MOTOR launched GS8/GA8 in Qatar and Kuwait
Taking advantage of "The Belt and Road", GAC MOTOR has expedited its overseas market layout and launched flagship models GS8/GA8 in Qatar and Kuwait on May 21 and May 25 respectively.
As GAC MOTOR's high-end flagship products manufactured on C-class platform, GS8 and GA8 have integrated the world's top resources and international cutting-edge technologies, representing the high-end manufacturing level of Chinese automobiles.
In Qatar market, medium and large-sized GS8 SUV is the most popular model. And GS8's marketing in Qatar symbolizes the first official launch of the model in overseas market, bringing Qatari consumers with superb experience. In addition, GS8 is expected to be another star model following GS4.
Local distributor DOMOASCO plans to hold another launch ceremony of GS8/GA8 for consumers at the end of this August. In the future, with deepened cooperation with Qatar and even other markets in the Middle East, GAC MOTOR will have a wider development prospect in the region.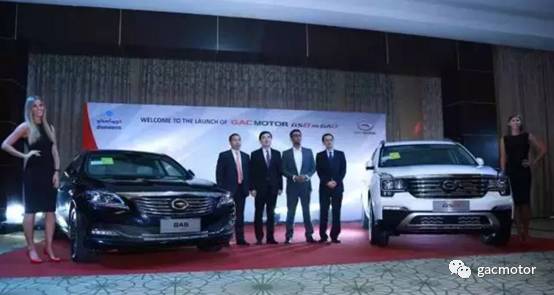 (GS8/GA8 was launched in Qatar)
GAC MOTOR, with the introduction of more superb products into the Middle East market, will further tap and deepen the market, and join hands with distributors to step up efforts in brand building, product launch, market positioning, service and accessories, so as to expedite GAC MOTOR's pace of entry into the global market.
The Belt and Road Forum for International Cooperation receives much attention from overseas people
During the event, GAC MOTOR was invited to take part in the "Suez Canal: the Gateway to the Silk Road—Egyptian-Chinese Investment Forum" and met with H.E. Tarek Kabil, trade and industry minister of Egypt.
Learning that GAC MOTOR has entered Kuwait since 2014, Bahrain and Qatar and introduced models such as GS5S, GA3S and GS4 into the Middle East, Minister Tarek praised the company for implementation of overseas expansion strategy.
Meanwhile, Minister Tarek provided a description of Egypt market, saying that Egypt plays an important role in the Middle East in terms of population and economic volume, and people's quality of life is improving. With wide market prospect, Egypt welcomes excellent enterprises and products.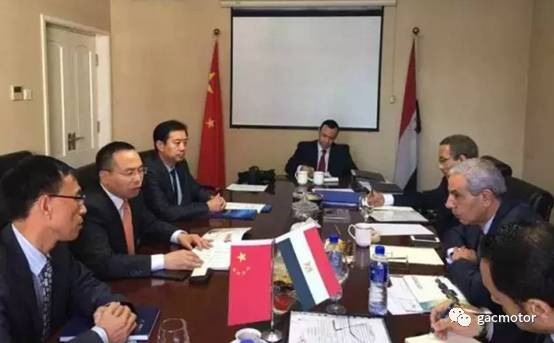 GAC MOTOR made a business discussion with officials from Egyptian Ministry of Industry and Trade
Aside from that, Mr. Gian Franco Terenzi, head of the Republic of San Marino's parliament and chairman of WASME, met and exchanged with Mr. Xiao Wunan, executive vice-chairman of Asia Pacific Exchange & Cooperation Foundation, during the forum.
During their talks, Chairman Xiao provided an introduction to Mr. Gian Franco Terenzi by focusing on GAC MOTOR, a representative of high-end manufacturing in Chinese automobile industry, which has achieved leapfrog development through innovation driving.
Mr. Gian Franco Terenzi also said that there should be more opportunities for cooperation among countries than ever before amid today's economic globalization, however, an important premise lies in a dialogue basis and cooperation desire.
In recent years, GAC MOTOR has registered high-speed leapfrog development and built a highly-recognized image of excellent Chinese brand, which provides a solid foundation and flourish vitality for Chinese enterprises to go global.
Besides, GAC MOTOR is hoped to enter San Marino and other countries, so as to advertise Chinese brands better and boost the exchange and friendship between China and San Marino.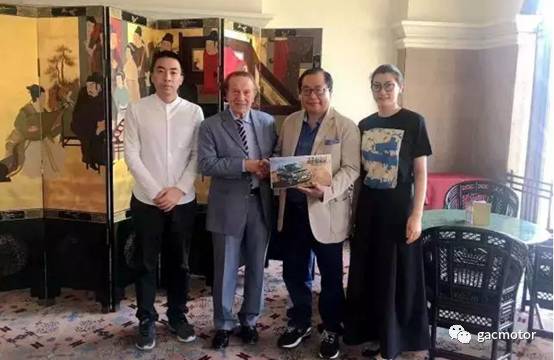 (Mr. Gian Franco Terenzi exchanged with Mr. Xiao Wunan)
Meanwhile, Chairman Xiao also met with Jack•Rosen, chairman of the World Jewish Congress and Jewish Federations of America, who said: "current situation of bilateral trade between China and America is good and the first-batch 10 consensuses of the 'Hundred Days Plan' cover financial and energy sectors, etc. Under the framework of trade balance, investments of both China and America present a rising trend and they may explore the possibility of greater cooperation in the future. I am very glad to see the rapid development of Chinese automobile industry in recent years. And I am also very willing and will try to promote GAC MOTOR's exchanges and cooperation in North America, hoping that excellent Chinese brands like GAC MOTOR can enter American market as soon as possible."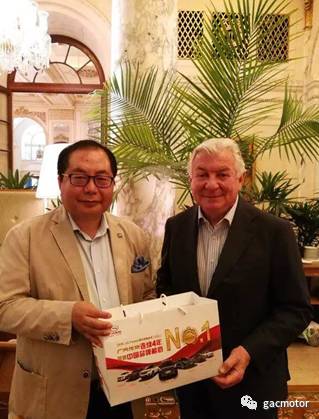 (Mr. Xiao Wunan exchanged with Mr. Jack Rosen)
With remarkable acceleration of layouts in international market, GAC MOTOR vows to build a world-class Chinese brand
As an outstanding representative of Chinese auto brand, GAC MOTOR has actively functioned as a pacesetter of "the Belt and Road" and showed the world its strength in fostering the first Chinese brand by continually quickening the international journey in recent years. GAC MOTOR is promoting its overseas strategy in a steady manner as well.
In 2017 North American International Auto Show (NAIAS), GAC MOTOR has become the first Chinese brand entering the showroom of NAIAS with a history of 110 years. GS7 made a global debut and received the "Impressive Worldwide Debut: GS7 SUV" from Forbes and "A New Generation Blockbuster SUV" from The New York Times, demonstrating the world the strength of China's high-end manufacturing.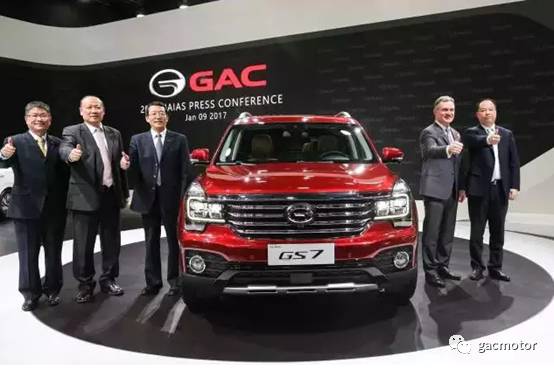 Currently, GAC MOTOR has completed layouts in 14 countries of five sectors including the Middle East, Southeast Asia, Eastern Europe, Africa and America, and established preliminary global marketing networks and service systems covering Kuwait, Bahrain, Lebanon, the United Arab Emirates and Qatar. With phased breakthroughs in overseas market, GAC MOTOR has made a foray into Kuwait, the United Arab Emirates and other countries and regions by providing medium and high-end products.
By virtue of uncompromising product quality and first-rate service, GAC MOTOR was reputed as the "Best Chinese Car Brand" by a great many authoritative overseas media such as Yahoo, CNN and Bloomberg.
Moreover, GAC MOTOR will invest more resources into international business segment and strengthen the support to distributor partners by centering on such aspects as business policy, advertising and introduction of new models.
In particular, GAC MOTOR will speed up product introduction and brand investment and step up efforts to support overseas distributors' launch event of new models as well as cultivate overseas distributor echelon to grow up together and join hands to realize GAC MOTOR's global development in the future.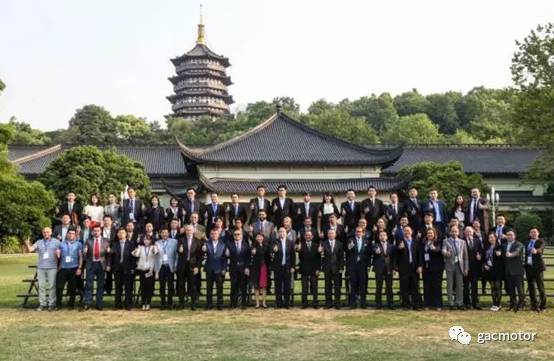 (GAC MOTOR's 2017 Overseas Distributor Conference was successfully held in Hangzhou)
It is worth pointing out that GAC has set up North American R&D Center which will serve R&D of state-of-the-art technologies, design originality and even product planning, as well as strengthen talent and technical reserve.
That is the first step for GAC MOTOR to enter the North American market. Also, GAC MOTOR has preliminarily established overseas teams with consummate systems and plans to enter North American no later than 2019, in an effort to cultivate GAC MOTOR's international brand image.
Facing the future, GAC MOTOR will build a consummate overseas business system with international competitiveness to realize rational distribution of the industry chain.
At the same time, GAC MOTOR will select markets, focus on major breakthroughs and reach the most optimal overseas business scale and efficiency, thus striving to build a leading Chinese auto brand as well as the most influential world-class brand, with the highest brand value, favored by consumers.