10/3 Shanghai-Singapore Business Forum 2017
|

2017-02-12
Author:SSBA

|

|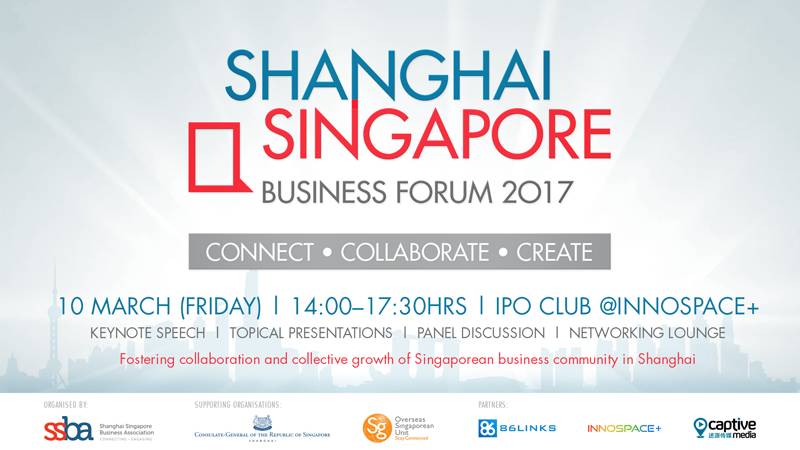 Connect. Collaborate. Create.
Shanghai-Singapore Business Forum 2017 serves as a platform for fostering collaboration and collective growth of Singaporean business community in Shanghai.
Organised by Shanghai-Singapore Business Association (SSBA), the forum will bring together 100 Shanghai-based Singaporean enterprises, professionals and senior executives.
Through a keynote speech, topical presentations, panel discussions and a networking lounge, the forum will address China-global economic issues close to the hearts of the community, and develop opportunities and partnerships for business growth and sustainability.
Why Should You Attend?
Opportunity to connect with business leaders and like-minded Singaporeans in Shanghai


Key findings from Eastern China's Singaporean SMEs Survey 2016


Insightful panel discussion with top minds across public, private and academic sectors for a multi-faceted perspective of challenges and growth opportunities for Singaporeans' businesses in China


Sneak peak at SSBA's online directory and business matching platform
Event Details
Date: 10th March 2017, Friday
Time: 1400-1730 hrs
Venue: IPO Club @InnoSpace+
77 Zhengxue Rd, Yangpu District 創智天地 楊浦區政學路77號
Register Now
If you are looking to engage in dialogue with enterprise leaders, to connect, collaborate with like-minded people, and to create growth opportunities beyond your comfort zone, this event is for you.
Registration Fee: Members @RMB 50 / Non-members @RMB 100
Payment by bank transfer upon registration:
Beneficiary Bank: 民生銀行徐家匯支行
Address: 肇嘉浜路
Account Name: LEE KIANG PIAW
Account Number: 6216-9102-0603-2671
Upon payment completion, please notify Lena: [email protected] to get a payment acknowledgement and registration confirmation email.
Register by 28 Feb 2017.
Seats are limited to 100pax only, on a first-come-first-serve basis.
Organised by:
Shanghai Singapore Business Association

Supporting Organisations:
Consulate-General of the Republic of Singapore in Shanghai

Overseas Singaporean Unit
Partners:
86Links

InnoSpace

Captive Media