Shanghai's best outdoor swimming pools

When the temperatures rise in Shanghai, there's only one place to go – the pool. And there's a fair few to choose from. But whatever your style or budget, Time Out has got you covered.
Holiday Inn Shanghai Pudong Kangqiao
Entry: 10,000RMB per year for a membership card.
Including: Access to pool and gym.
The 30 metre-long pool at the matter of factly named Holiday Inn Shanghai Pudong Kangqiao is just one design feature away from being merely another hotel pool in Pudong. Yet that design feature is a spectacular one. While not technically outside, the swimming pool, located on the 24th floor, juts out from the building with glass windows in the bottom, creating what the hotel dubs a 'pool in the sky' and a swimming experience that enables you to look down to the pavement below from within the water. It's a little unerring watching pedestrians taking photos of you as you swimtheir heads, but the hotel reportedly consulted aerospace designers and expert architects to ensure that the structure was safe, and it results in one of the most memorable swims in the city.
Holiday Inn Shanghai Pudong Kangqiao is at 1088 Xiuyan Lu, near Henghe Zhong Lu, Pudong (400 886 2255).
Shimao Riviera Garden
Entry: 200RMB for adults, 100RMB for kids.
Including: Access to indoor and outdoor pool, sauna and fitness centre.
Part of a posh Pudong residential complex, the Shimao Riviera Garden pool is situated inside a clubhouse which is largely used by the occupants of seven towers' worth of luxury service apartments. These surround the outdoor pool, and so along with the general footfall through the compound, it means there's little to no privacy when swimming al fresco. However, the space itself is appealing; the sort of place a Miami resort pool party might groove in, with an enormous aquamarine pool (plus wave machine), faux-beach, deckchair area, and bar. Inside there's also a smart and expansive pool, with a massive hot tub, sauna and steam room. Choose your visiting time wisely – given it's part of a residential property, the pools fill up with kids come evenings and weekends.
Shimao Riviera Garden is at Building 5, 1-2 Weifang Xi Lu, near Pucheng Lu, Pudong (6888 8108).
Sofitel Shanghai Sheshan Oriental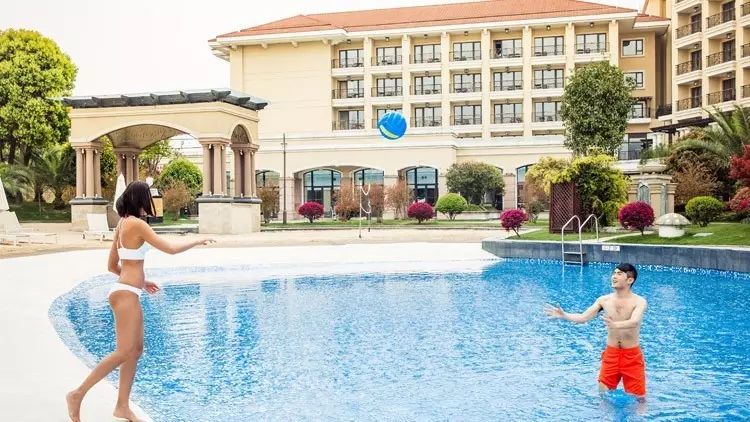 Entry: 300RMB.
Including: Access to indoor and outdoor pool, sauna, steam room and fitness centre.
It's hard to overstate the luxe factor at this lovely pool. A total 4,400 square metres of crystal-blue swimming territory awaits you, with outside pools surrounded by a man-made sandy beach, rows of loungers, bars, palm trees and faux-Mediterranean architecture. It's a little bit of a journey from the centre of town, but is walkable from Sheshan station on Line 9 and not being downtown only helps to add to its retreat vibes.
As you'd expect, everything inside is also rather wonderful, with shiny clean changing rooms, top-notch gym and general loveliness. But this level of decadence doesn't come cheap; entry is 300RMB just for the pool. A far better option is to get the brunch deal however; fork out 368RMB for the brunch buffet, and 568RMB to include free-flow Champagne and drinks, and you can get all-day access to the pool as well, dishing up plenty of tanning and indulgence.
Sofitel Shanghai Sheshan Oriental is at 3388 Sichen Gong Lu, near Jiasong Nan Lu, Songjiang district (3761 8888).
Grand Plaza Club House
Entry: 100RMB Mon-Fri, 150RMB Sat-Sun.
Including: Access to pool, Jacuzzis and squash courts; and free towel.
One of the most popular outdoor pools in the Former French Concession, the Grand Plaza Club House is situated inside same the compound on Julu Lu as Mexican restaurant Maya, thus is known by many as the 'Maya pool'. It's a small swimming area with not much surrounding floor space, and packs out quickly with sun-seekers – mostly groups of friends settling in for a day of drinking. Chilled and well-located (and open to non-residents all year round).
New Star
Entry: 88RMB.
Including: Access to outdoor pool, indoor baths, showers and upstairs chill out area.
The original branch of New Star is one of our favourite bathhouses in the city, but it may not seem like an obvious place to head to when temperatures outside are hitting the mid-30s with a hefty dose of humidity on top. Yet hidden out the back of the main bathing area is a great outdoor swimming area with a small section for kids, a medium-sized pool for adults and a handful of sun loungers on the side. It's not the biggest outdoor pool in the city, but it's rarely overly crowded.
New Star is at Lane 258, 1 Jinhui Nan Lu, near Hongquan Lu, Minhang district (3432 0777).
Mandarine City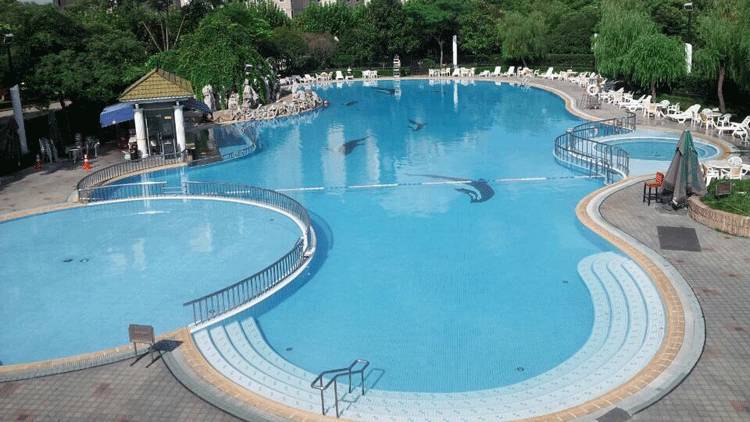 Entry: Adult 100RMB, children 60RMB.

Including: Pool entry.
Another pool located inside a housing complex, Mandarine City is popular with everyone – from families who live in the residence to Gubei daytrippers who get stuck into the pool bar, which serves both food and beer. It's a large pool, though, so everyone manages to swim in harmony, and it probably helps that the site is a pleasant spot in itself – the adjacent tower blocks are shielded by a thick plantation of green trees. The trip to Hongqiao is certainly worth the while, and lots of people know it – it fills up fast.
Mandarine City is at 788 Hongxu Lu, near Huaguang Lu, Minhang district (6405 0404 EXT 8612).
Call ahead to confirm opening hours.
More for Shanghai families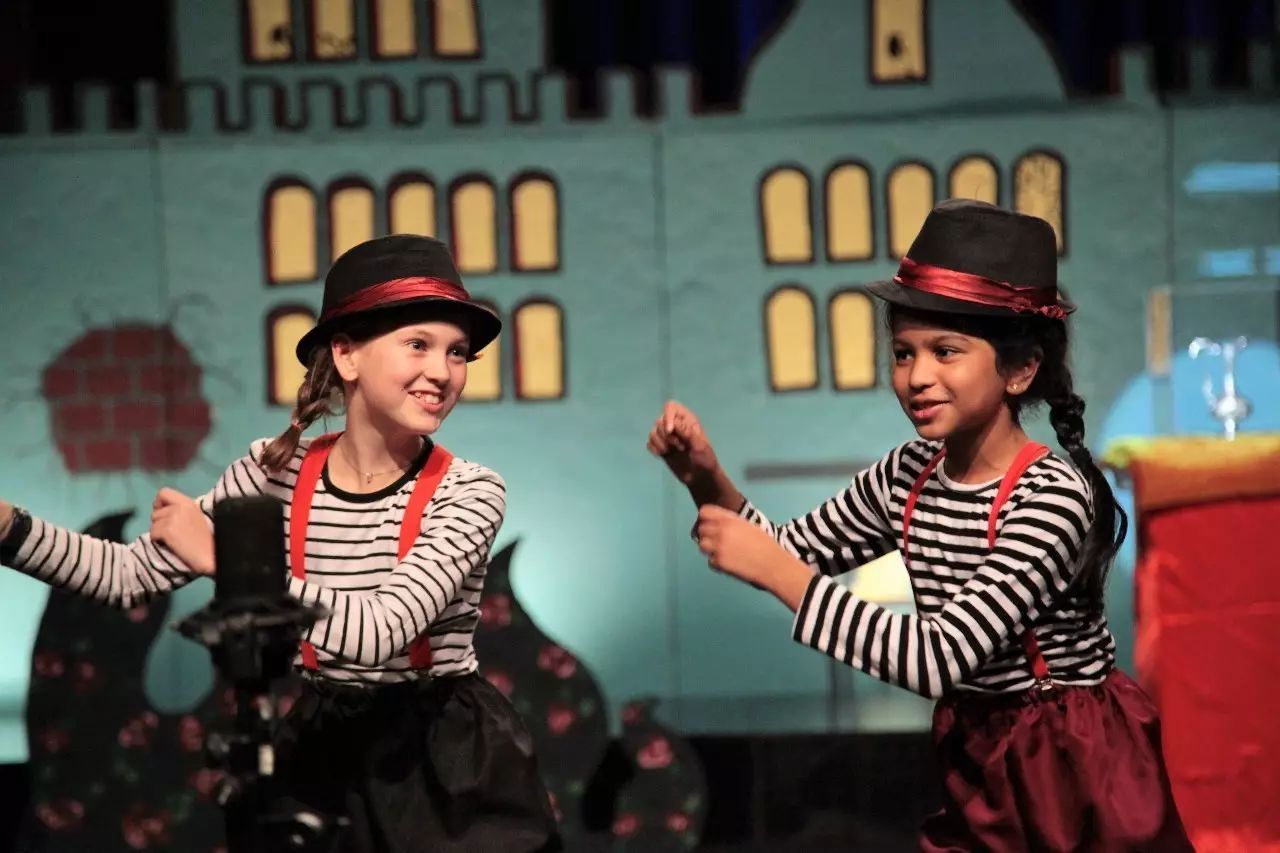 8 great summer camps to try in Shanghai this year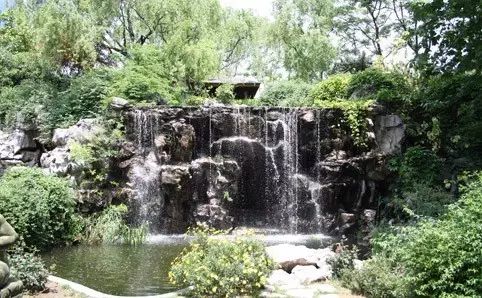 The best parks for picnic in Shanghai
Click below for tips on staying fit in the summer