3 Bright Palettes for Front Doors
Nothing welcome guests to your home better than a bold,beautiful color on the front door. Many peope have no trouble picking out a fun color to paint the door, but don't know what to do with the rest of the exterior. And what about the trim?

The key to working with bold colors is to limit them to elements you really want to stand out,which makes the front door the ideal place to feature a vibrant color. Then select supporting hues for the rest of the house that don't try to compete for attention.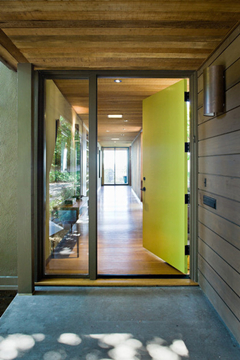 This acid yellow-green front door shouts"come on in !" and works nicely with the natural wood siding. If you have no choice but to paint your siding, you could go with a cooler brown/taupe shade to set off the brighter hue of the door.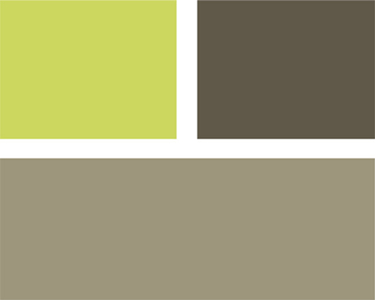 Example palette. Get a similer look with these colors (clockwise from top left,color code all from Glidden): Lime Sorbet GLG12 for the front door, Bronzed Ivy GLN23 for trim and Khaki Green ICI830 for the main house color.
I love this vibrant turquoise door against the dark sage-green house color. The white door trim makes it all look crisp.
Example palette. Get the same effect with (clockwise from top left, color code all from Martha Stewart Living): Lagoon MSL125, Lamb MSL225 and Bayou MSL237.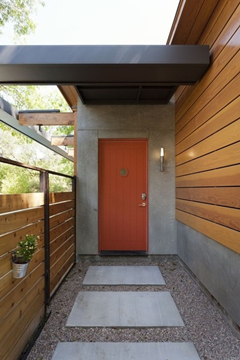 Red doors look fantastic on just about every house style, from traditional to contemporary. Let he door remain the star by keeping the main house color netural, ranging from white to cooler taupes or to gray. The cooler neutrals won't compete with the red, but instead will offer a nice, contrasting background.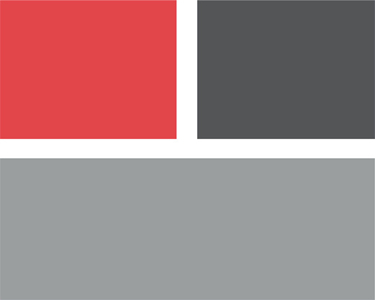 Example palette. Clockwise from top left (all color code from Sherwin-Williams): Red Tomato SW6607, Iron Ore SW7069 and Cityscape SW7067.
---Cite from Houzz.com