Street Magician Arrested for Using Tricks to Molest Women
Tap "ChinaWire" !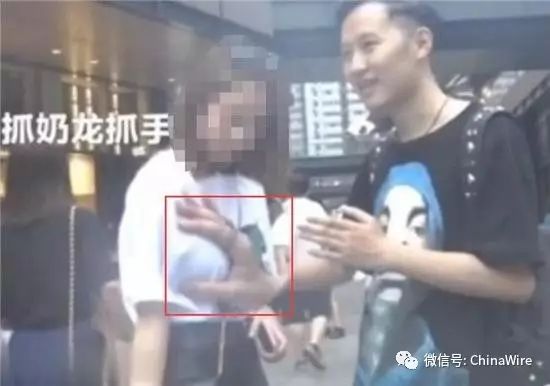 source: thesun.co.uk

A STREET magician has reportedly been arrested on harassment charges after he used his tricks as an excuse to fondle women's breasts in public.
The suspect, whose name has not been reported, is said to have been caught after a bystander surnamed Yang spotted the inappropriate behaviour and announced a reward for his capture.
It wasn't long before locals in Chengdu, the capital of south-western China's Sichuan Province, tracked down the magician, according to the Chongqing Evening Post.
The alleged perv was reportedly widely known in the city after posting his sick videos online.
Clips show the man approaching young and attractive women on the streets and offering to show them his trick.
He then "makes a coin disappear" from the palm of his hand – before appearing to make it reappear inside their bra.
The magician can be seen explaining the trick to his victims before placing his right hand – with the coin in it – on their breasts.
Many of the women appear too shocked to respond and do not bat his hand away.
Chengdu residents are eventually said to have apprehended the culprit and brought him to local police – although it is not believed anyone claimed the reward money.
The magician later made a video offering a public apology for his actions.
He said he was "sorry for the inconvenience" caused to his victims and their families.
Check out www.echinawire.com for more content!
---
Subscribe by scanning below QR codes to get started.


A convenient way for foreigners and Chinese to buy real foreign imported products while living in China. Stay with ShopWire as we expand our products range. You can use either WeChat wallet or PayPal to purchase our products!
---

ChinaWire is the largest English WeChat Official account in China with over 150k subscribers. We post articles related to china and around the world as well as a survival mandarin section to help foreigners improve their Chinese skills.
---

WorldWire is a diversified account which mainly publishes breaking world news, entertainment, lifestyle, culinary and sports news from around the world.
---

Shop在線 is the Chinese version of ShopWire mainly for Chinese Customers. You can also use it if you are a foreigner with great chinese skills or introduce it to your Chinese friends. We guarantee only real imported products are sold on our shop.