PHBS First Academic Debate | Is China Still a Developing Country
Is China still a "developing" country? Statistically and domestically, the idea of China as a developing country makes sense, as both the World Bank and the International Monetary Fund classify China as a developing country, in terms of GDP per capita, poverty rate and household income. However, as China emerges as a dominant power globally, with the second largest economy and enhanced influence in international affairs, many argue that practically, the concept of China as a developing country is inaccurate.
On Wednesday, April 19, PHBS students faced off in a debate to try and answer this very question "Is China a developed country or a developing country?. " As the first academic debate held at PHBS, it is carried out as the cross-class activity among nearly 60 students from the Transitional and Institutional Economics course (taught by Prof. Gerhard Stahl ) and the China Study course ( by Prof. Huang Haifeng).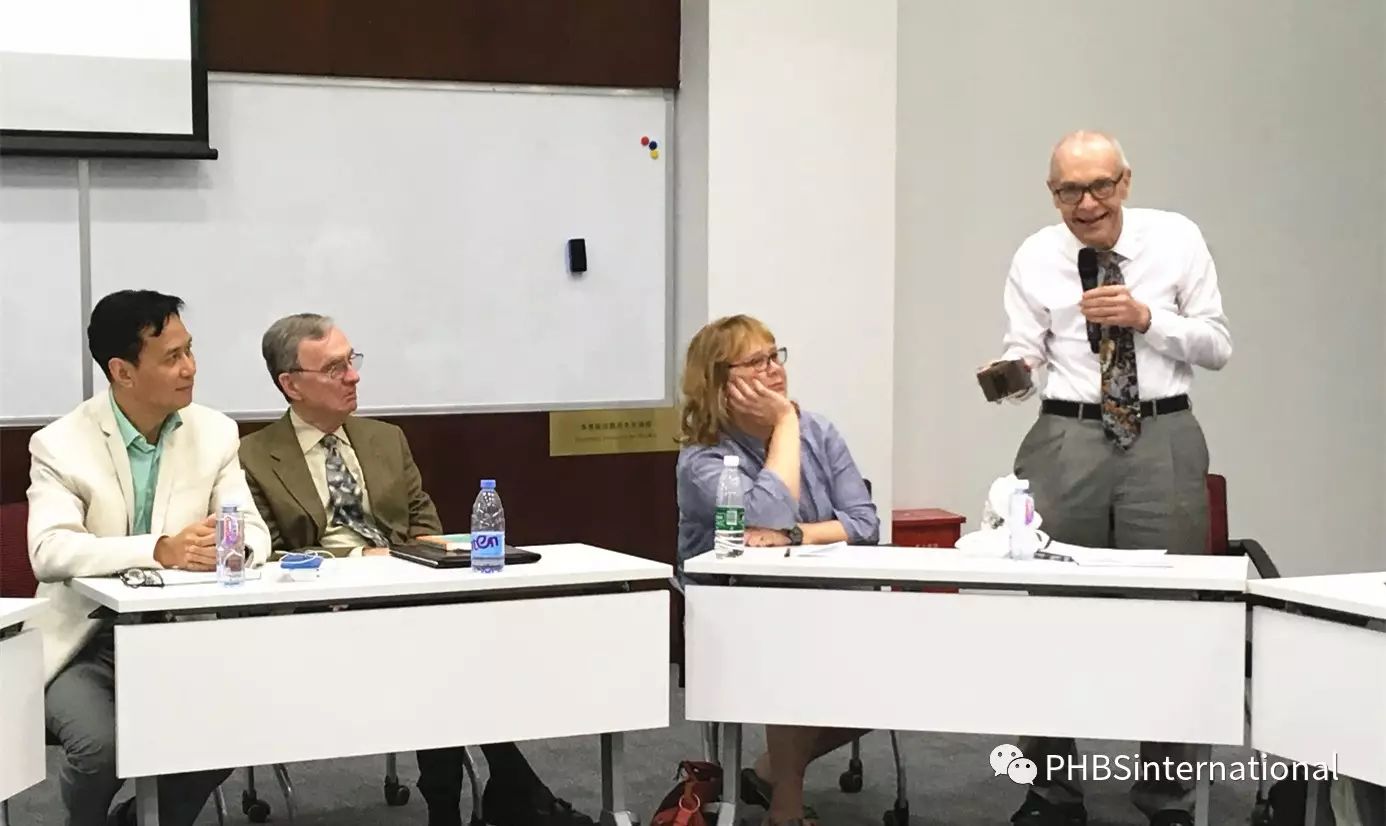 The Jury (from left to right), Professor Huang, Professor McDaniel, Ms. Young and Professor Stahl

In order to guarantee the professionalism, it has been conducted as a structured contest with a jury which evaluated the performance of both teams at the end. With Dr. Edwin McDaniel specialized in Intercultural Communications and Ms. Priscilla Young in organizational communication, the jury had also the required knowledge to evaluate the rhetorical technics of the debate participants.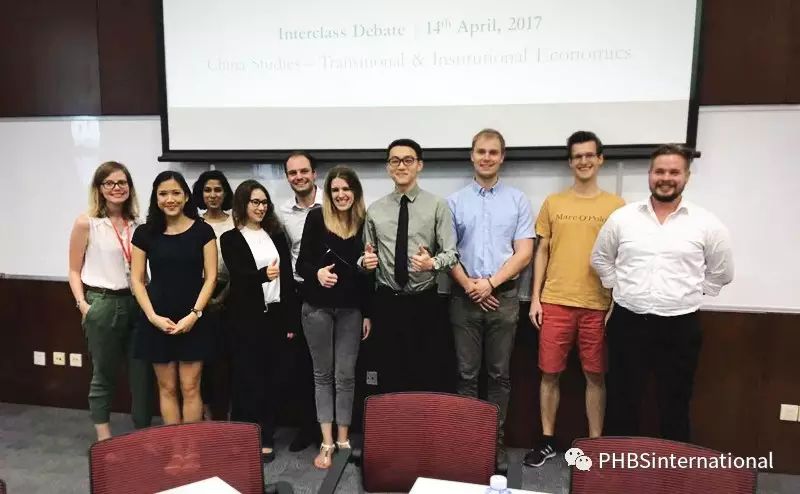 Group A, along with Gaya Jagannathan (the moderator, middle in the second row) and Lisa Masthoff (the timekeeper, left the second row)
Students of the China Studies course (Group A), namely Tamara Ta, Blanche Schwaller, Martin Roesok, Kate Macildowie, Jason Yu, Thilo Brandes, Lukas Kircher and Pascal Hodel took the view that China is a developed country.

With a population of 1.3 billion, China is the second largest economy and is increasingly playing an important and influential role in development and in the global economy. Although China's GDP growth has gradually showed since 2012, it is still impressive by current global standards. Group A argued that China has clear indicators of a developed country, in terms of GDP, infrastructure, literacy, life expectancy, R&D and gender development, etc.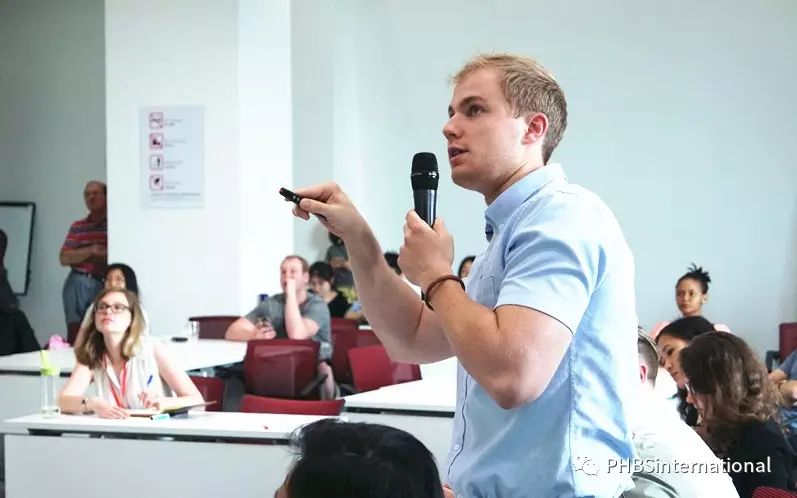 Thilo Brandes, a full-time Finance student from Germany, elaborates views using PowerPoint
Specifically, they pointed out that comparing its economic indicators with other countries, one can clearly see the strong role that China takes in the world with a GDP growth rate of 6.9%, the second higher rate following India. In addition, as China is global player in innovation, it has the most international patent applications. As regards to unemployment, China has a relatively low jobless rate (4.02%) in comparison to the European countries. They also used the high life expectancy and large-scale capacity of renewable energy as strong facts to support the argument.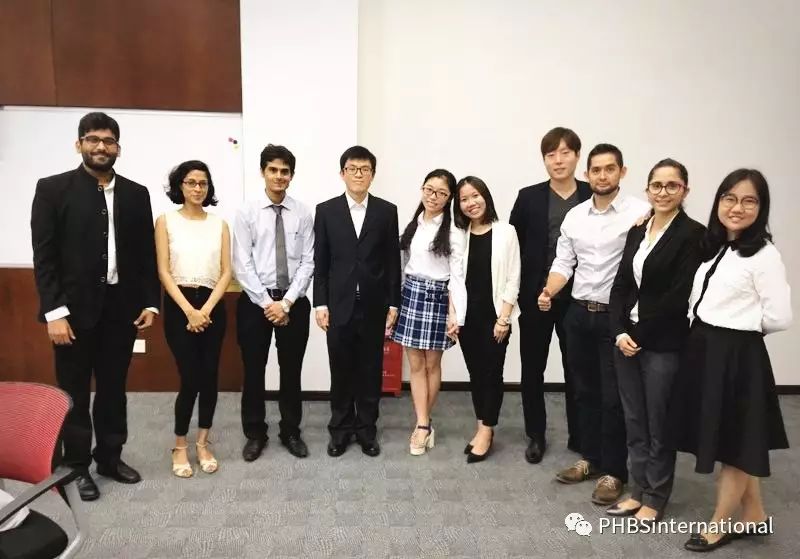 ( Group B, with Gaya; from left to right, Mahesh Reddy, Shubham Kulshreshta , Li Siyang, Huang Yuqing , Li Linxia , Terry Lim , Javier Villarreal , Lisseth Moreira, Ding Yiren)
On the other hand, Group B emphasized that China is still in transition with huge economic gaps between rich and poor. According to World Bank, China remains a developing country (its per capita income is still a fraction of that in advanced countries) and its market reforms are incomplete. And there were 55 million populations living under China's current poverty standard (per capita rural net income of RMB 2,300 per year in 2010 constant prices).

They addressed the topic, not only based on the economic facts, but also focusing on emotional side and the population's well-being. Due to the Hukou-System, a lot of migrant workers still have no access to health care, housing or education. Cities, like Shanghai, Shenzhen or Beijing might be well developed but going to western cities can disclose the poverty among population.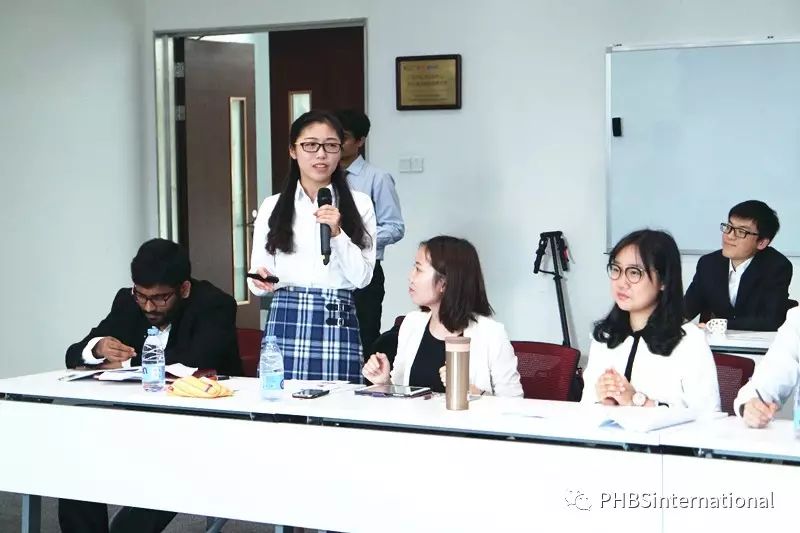 Angelina Huang, a full-time Chinese student studying Economics, fights Thilo using her own set of information and pictures, playing to the emotional side and the livelihood of the people

In addition, when it comes to education and literacy, Group B argued that China's expected years of schooling is substantially lower than countries like Bolivia, Vietnam or even Venezuela. From 1990 to 2013, the OECD (Organization for Economic Co-operation and Development) countries average expected years of schooling is 15, 33 years while China is 10, 44 years. It also faces environmental problems and demographic pressures related to an aging population. Regarding these facts, Group B concluded that it's hard to say that China is a developed country.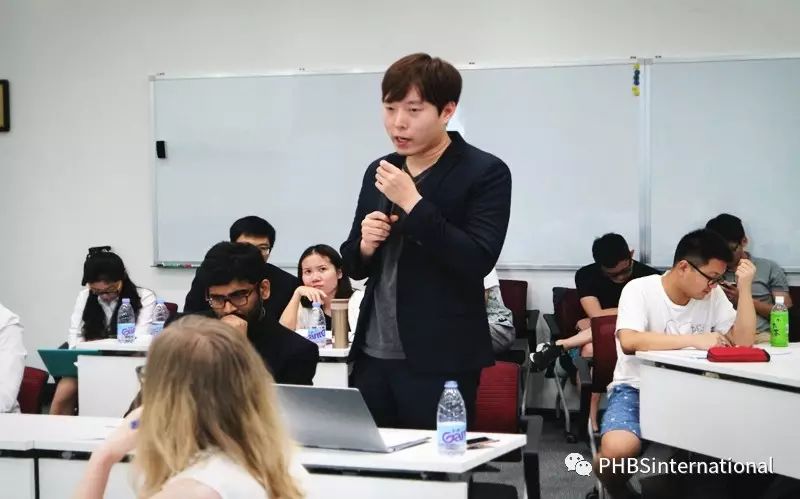 Terry Lim (Group B), a full-time economics student from South Korea, defends his position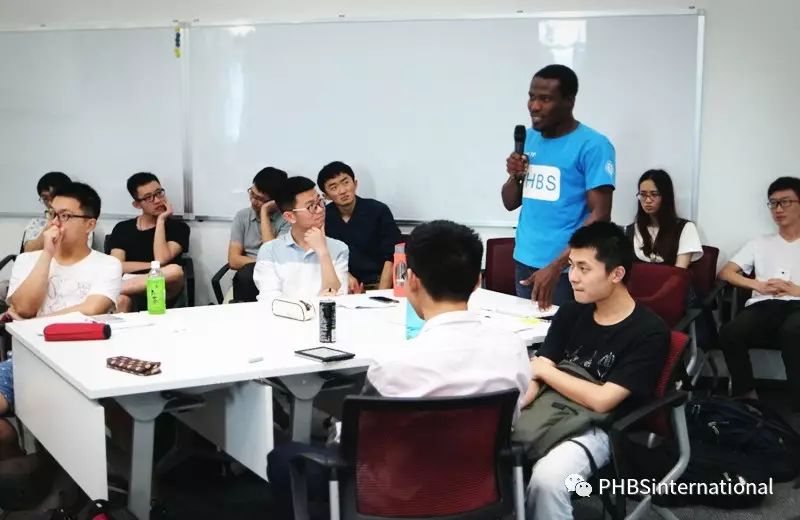 Sherif Olaleye, a full-time economics student from Nigeria, poses a question

At the end of the debate, the jury declared that both teams win the debate, because they both put forward a strong line of arguments, not only from the hard facts, but also on emotional basis with pictures and details.

As a judge, Priscilla Young commended everyone involved in the debate for their excellent work. "My bias toward students' building excellent communication skills for personal and professional success is no secret! So it was affirming to see that the students took the challenge to heart and delivered excellent research, communication and overall professionalism," remarked Young.

She further emphasized that in the work world, the actual work is the easy part, while the hard part is dealing with people. " Indeed, after speaking to some students about their experience of the entire project, it seems some key learning was around teamwork -- which requires learning how to deal with differing communication styles and conflict resolution (overlaid by differing cultures) , as well as critical thinking, doing good research, and presenting your case with confidence."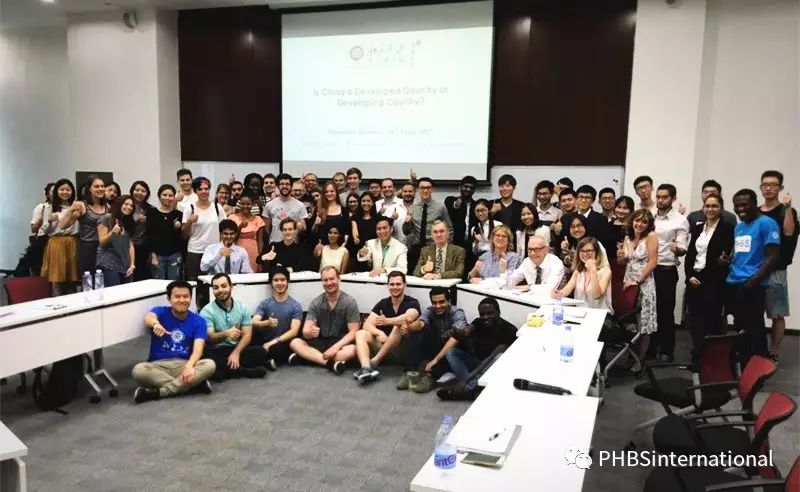 Teams, staff, and observers, pose for a picture at the end of the debate

Said Edwin McDaniel, "for me, the most salient attribute of the debate was the ability of the students to work across cultures and varied communication styles to produce a cohesive, convincing message. The students from two classes ably demonstrated that they have the talent and knowledge to assume leadership roles in today's multicultural, interdependent economy."
Terrill Frantz, assistant professor of management, regarded the debate as sort of the classroom "merger". "I was hugely impressed with the skillful organization of the administrators and the thought-provoking content of the debaters alike. And I do wish all of our courses' content could be delivered with the same spark as evident in your creativity!"

By Lisa Masthoff and Annie Jin
Photographer: Lotta Matikainen