More than 1,500 injured in panic after soccer game in Italy
Press "PandaGuidesOfficial"!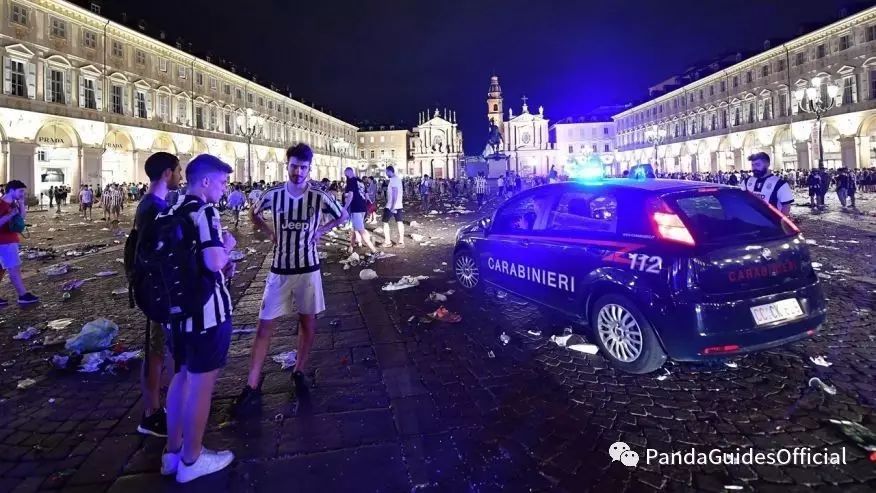 Juventus fans stand near a Carabinieri car, Italian paramilitary police, as they leave San Carlo's square at the end of the Champions League final soccer match between Juventus and Real Madrid, in Turin, Italy, Saturday, June 3, 2017
More than 1,500 people were injured when panic swept through a crowd of Juventus fans watching the Champions League final in a piazza in the northern Italian city of Turin, authorities said Sunday.
The Turin prefect said in a statement that the crowd "was taken by panic and by the psychosis of a terror attack," fearing that a loud noise was caused by attackers. The source of the loud noise that triggered the stampede remained unclear, officials said.
The noise triggered panic among thousands of fans gathered in Piazza San Carlo to watch the match pitting Juventus against Real Madrid on giant TV screens. Fans were trampled as they tried to flee.
Marco Gulini said he was pushed to the ground by the surging crowd.
"Fortunately, I managed to escape," he said. "I was so scared, very terrified, as if escaping a narrow death.
Another fan, Agnello Vietiello, said the force of people pushing created "a jostling, just like an earthquake. The ground was shaking."
Most of the injured were treated for cuts and light contusions. Three, including a young boy who suffered cranial and thoracic trauma, were in serious condition, officials said.
On Sunday, the piazza remained cordoned off by police, while sanitation workers cleaned up the debris left behind.
Local officials questioned the wisdom of allowing the party to take place in a city piazza and not in a park with more emergency exits, as well as the failure to ban glass bottles, which were the source of many injuries.
Source: http://www.foxnews.com
Editor's Picks
25 most difficult languages to learn in the world


Top 10 countries with the most beautiful girls in the world


Fake US embassy shut down after 10 years


Japan's porn industry is in crisis

Seven websites to learn Chinese for free


Premarital sex in China: new survey paints surprising picture


Fake alcohol in China and how to avoid it


China to be hit with coldest winter in 4 years


Those with work visas can skip the line at immigration


7 of the best websites to watch Chinese and foreign movies

Love is in the little things


15 sentences that will change your life
☞ Below is a paid advertisement
We are an English teacher supplier who sends native experienced English teachers to Chinese homes for private tutoring.

Please note that we recruit the teachers from the following countries ONLY: USA, UK, Canada, Australia, New Zealand, Ireland and South Africa.
If you are a native teacher now based in any city in China, please don't hesitate to add WeChat: 12753351 for inquiry.