2017 Q1 PMDI Customs Data

PUdaily, Shanghai-According to PUdaily, China PMDI export stands about 121.8 kt in the first quarter, up by 34.28% over the same period in 2016. Meanwhile, China PMDI import registers about 68.6 kt, a year-on-year growth of 19.30%. The difference is 53.2 kt, while the figure records 33.2 kt last year, suggesting a rise of 20 kt, or a rise of 60.24%.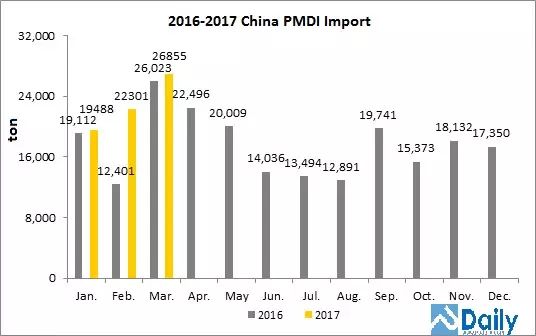 Domestic PMDI export sees a stable growth. The prosperity is mainly ascribed to the increasing number of channels for export. Also, Chinese producers prefer to sell MDI overseas amidst RMB depreciation and sluggish economy growth in China, especially when the prices are much higher in the international market. When it comes into April, domestic PMDI price slumps from RMB 24,000/ton to RMB 19,500/ton, down by RMB 4,500/ton. Currently, USD price stands at USD 2,300/ton in China, while USD 2,700/ton in India, Thailand and Vietnam. The huge price gap promotes the domestic suppliers to raising their export in the pursuit of profits.