PUdaily, Shanghai-Currently, Sadara MDI acts as a highlight. Notwithstanding the suspended shipment posed by Ramadan, market players are still eyeing its movement.
Sadara, established in 2011, is co-founded by Dow and Saudi Aramco, with the capital contribution proportions of 70% and 30% respectively. Located in the industry zone,Jubail, Saudi Arabia, the plant is the ever-first chemical complex employing naphtha as its feedstocks in the region involved in the Gulf Cooperation Council. It is equipped with a set of 1.5 million tons per year cracker and 26 sets of new equipment, 14 of which, such as polyolefin elastomer equipment, isocyanate equipment and polyols equipment, are first to be built in Saudi Arabia. The projectin includes the production of amines, ethylene glycol monomethylether, polyethylene and Propylene glycol, also.
In 2012, Dow announced to have reached an agreement with Sadara that Dow would be in charge of the sales of most Sadara products.
The year of 2017 is the time Sadara declared to start. In the middle April, Dow Chemical's commercial director for PU in EMEA announced that Sadara was to start isocyanate and polyols production by the third quarter of 2017. Entering into May, it started up its MDI plant and shipped test material to Europe. Recently, Sadara announced the production of commercial quantities of on-specification liquid PMDI at its plant, just five months after the completion of its mechanical phase.
Whatever the movement of Sadara is, the impact of its supply is of the topmost concern. According to the market resource, Sadara will prioritize the Asia-Pacific region, and 49% supply will be there. Mideast, Africa and India take up of 28% supply, and Europe 23%. In Asia, most supply will be offered to China, in that Japan and South Korea with weak demand can satisfy themselves and export most. PUdaily gives a bold guess that 30% of Sadara's productions will be sold in China, which means 6-7 kt black PMDI will flow into China monthly, sharing 8-9% of the market. In other words, its supply to China will surpass that of Tosoh Rui'an and catch up with Chongqing BASF.
Previously, a cheap source from America accelerated the downtrend of MDI. Likewise, the coming Mideast source makes both upstream and downstream of MDI in China panic stricken, considering that the integrated production facility will permit it a huge advantage for costs.
As a part of the petrochemical project of Dow, Sadara enjoys the direct supply of natural gas and naphtha from Saudi Aramco. Moreover, it improves the formula to make PMDI only, which removes the rectification proceeding and saves the costs. MDI production flowchart is as followed for your reference.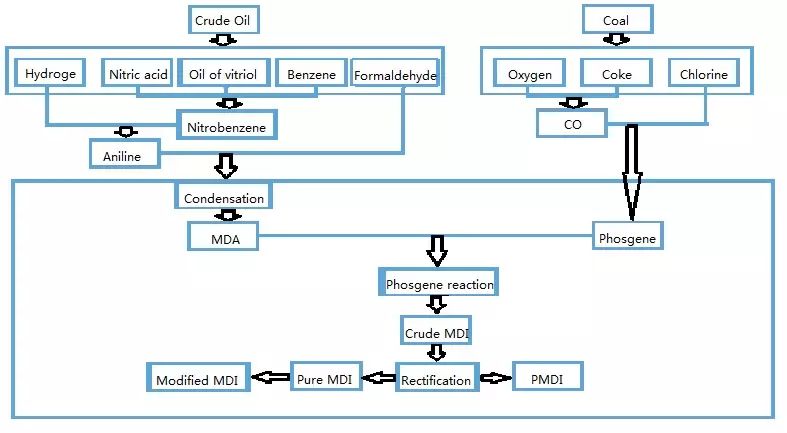 All these lower its costs to a certain extent and lay much burden on European producers. Given Dow's distribution channel and downstream market, Sadara source is believed to enter China at a low price.