5-Ingredient Dinners the Whole Family Will Love!
Let's face it, we don't always have time to cook up a family meal for everyone to enjoy around the dinner table. But check out some of these amazing meals below, each of them with only five ingredients! Little prep, minimal clean up – these are perfect for those nights when you're really pressed for time!
Sage Butter Roasted Chicken with Crispy Potatoes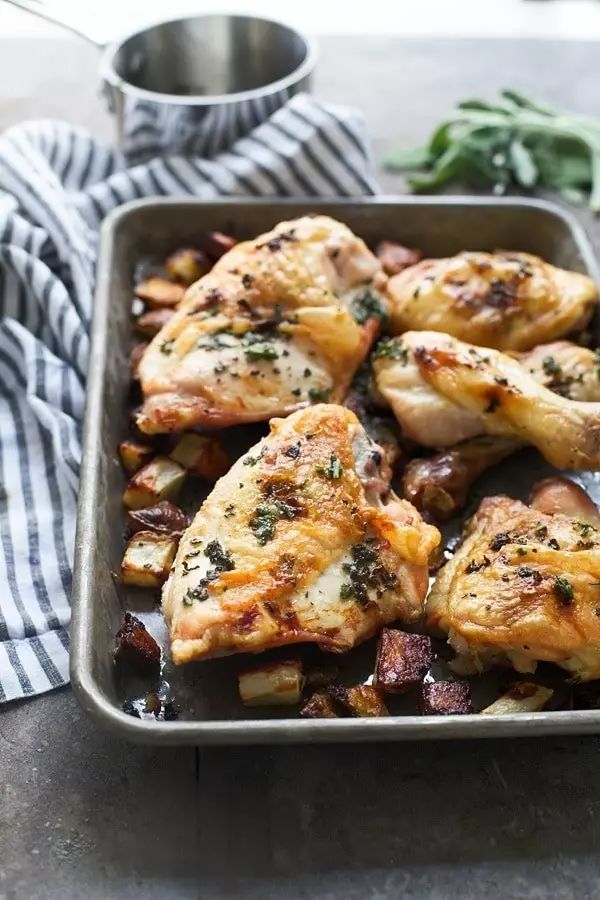 INGREDIENTS
6 bone-in, skin-on chicken breasts
4 tbsp softened unsalted butter
1 tbsp + 2 tsp sage
1½ lbs russet potatoes cut into a ¼-inch dice
1 tsp olive oil
INSTRUCTIONS
1. Preheat oven to 300 degrees.
2. In a small bowl, combine butter and 1 tablespoon of sage. Use your hands to run half of the butter under the skin of the breasts and thighs.
3. Spread the other half of the butter on the outside of all the chicken pieces.
4. In a bowl, toss the remaining sage with potatoes, oil and a liberal amount of salt
5. Spread the potatoes on a large sheet pan and place the chicken pieces on top
6. Cook in the oven for 25 minutes. Turn the heat up to 450 degrees fahrenheit. Roast until skin is golden brown and crispy, another 15 minutes.
Sweet Potato Zucchini Tots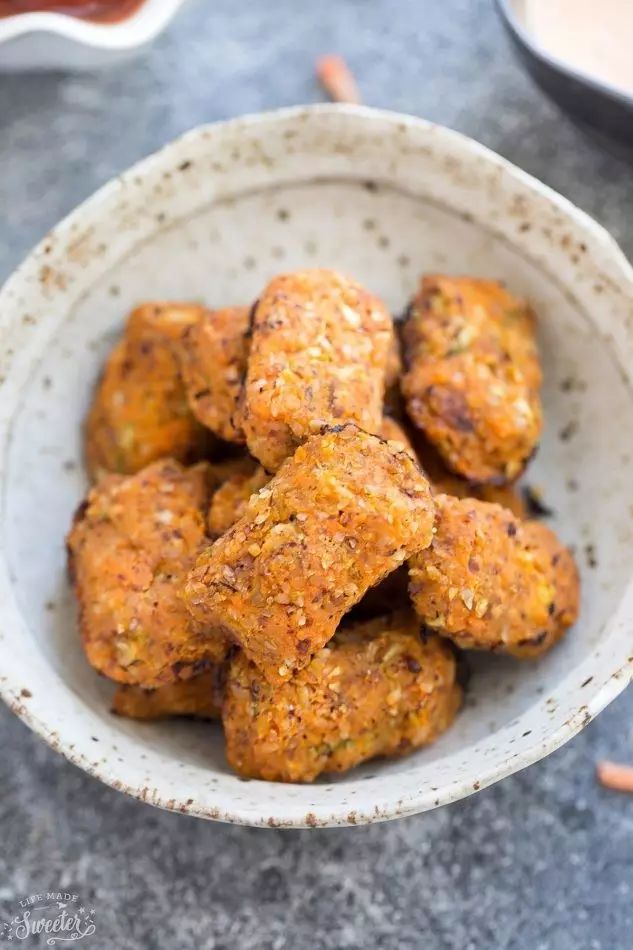 INGREDIENTS

1 large sweet potato, peeled
2 medium zucchini
1/2 tsp garlic powder
1/2 -1 tsp Cajun spice mix
1/4 - 1/3 cup almond meal / flour, plus more as needed
INSTRUCTIONS
1. Preheat the oven to 400 degrees fahrenheit while boiling the sweet potato.
2. Mash the sweet potato once it is cooked and mix with grated zucchini, salt, black pepper and cajun seasoning.
3. Add almond meal or flour, 1/4 cup at a time, while using your hand to form tot-like shapes.
4. Bake for 15 minutes, flip and return to the oven for another 10-15 minutes.
5. Serve with your favorite dipping sauce and enjoy!
Sausage-Potato Pie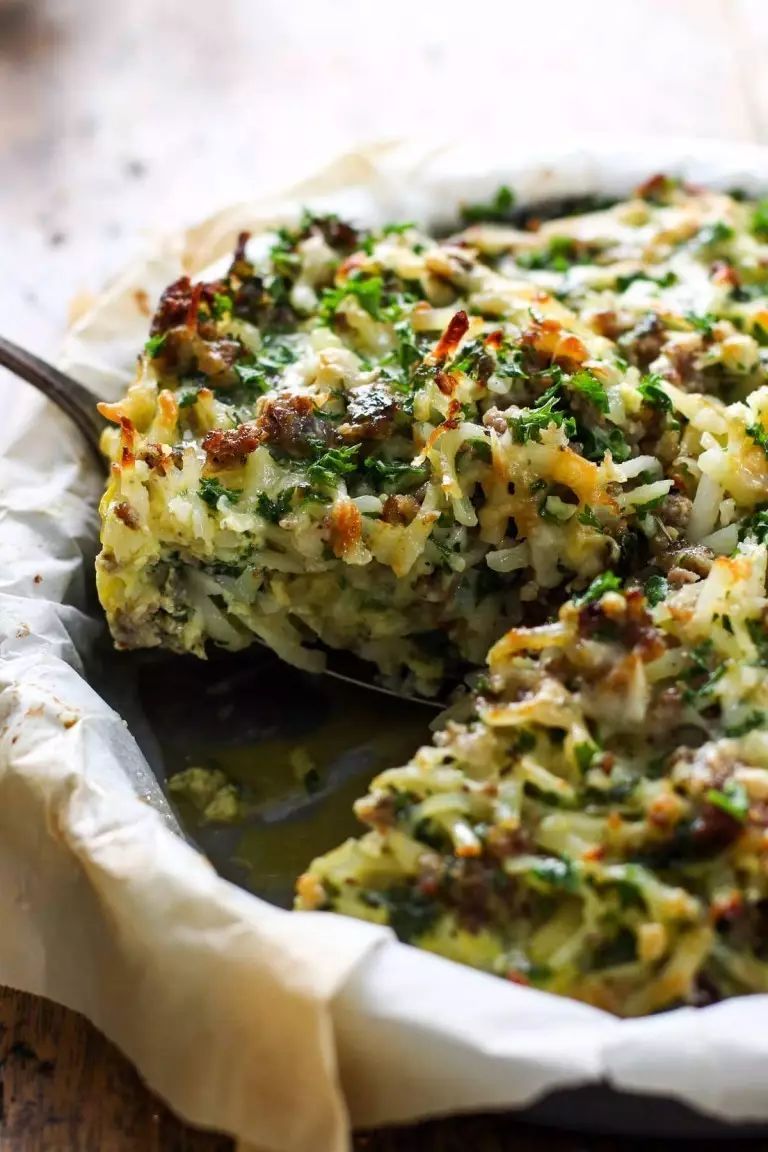 INGREDIENTS
12 ounces ground sausage

6-8 eggs
1/2 cup milk
1 pound raw shredded potatos (you can used refrigerated uncooked hashbrowns)
1 cup shredded cheese
2 cups shredded kale
INSTRUCTIONS
1. Preheat the oven to 350 degrees fahrenheit and line a pie pan with parchment paper.
2. In a large bowl, combine all ingredients, including the cooked and crumbled sausage and only 2/3 of the cheese.
3. Transfer to the pie pan and top with the remaining cheese.
4. Cover loosely with foil and bake for 30 minutes.
5. Remove the foil, turn heat to 400 degrees fahrenheit and bake for an additional 10 minutes until golden brown on top.
6. Let it stand for 10 minutes to allow excess moisture to absorb.
7. Cut into slices and serve.
Healthy Cauliflower Fritters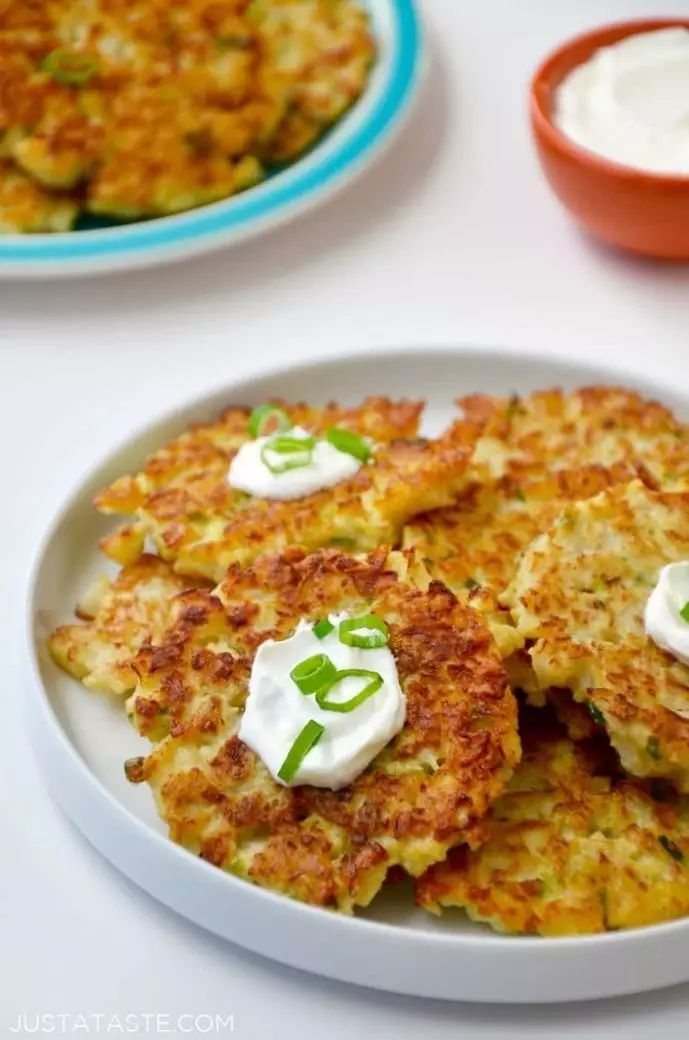 INGREDIENTS

1 large cauliflower head, cut into florets

1/2 cup whole wheat, or all-purpose flour
2 large eggs, lightly beaten
3 cloves of garlic, minced
3 tbsp minced scallions, plus more for garnishing
Olive oil
INSTRUCTIONS
1. Bring a large pot of salted water to boil. Add the cauliflower and cook it just until fork tender – usually around 3-5 minutes.
2. Transfer it to a cutting board and, using a sharp knife, cut into very small pieces.
3. Combine the cauliflower, flour, eggs, garlic, scallions, 1/2 teaspoon of salt and 1/4 teaspoon of pepper in a bowl and stir until well combined.
4. Scoop out 2-3 tablesoon mounds of the cauliflower mixture into a pan, flattening the mounds slightly with a spatula and spacing them at least 1-inch apart.
5. Cook the fritters for 2-3 minutes, flipping once and cooking them for an additional 1-2 minutes until they're golden brown and cooked through.
Lemon Chicken with Asparagus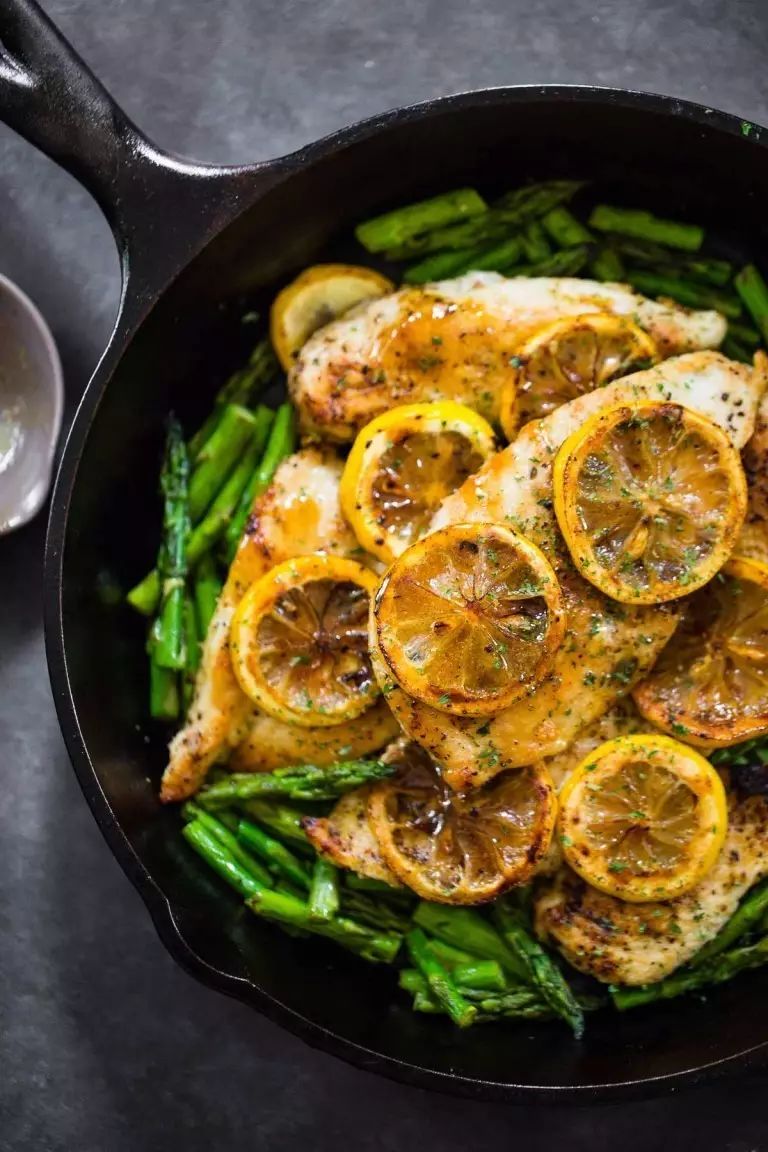 INGREDIENTS
1 Ib boneless, skinless chicken breasts

1/4 cup flour
2 tbsp butter
1 tsp lemon pepper seasoning
1-2 cups chopped asparagus
2 lemons, sliced
2 tbsp honey
INSTRUCTIONS
1. Cover the chicken breasts with plastic wrap and pound until each piece is about 3/4 of an inch thick.
2. Place the flour, salt and pepper in a shallow dish and gently toss each chicken breast in the dish to coat.
3. Melt the butter in a large skillet over medium-high heat. Add the chicken and sauté for 3-5 minutes on each side until golden brown.
4. Sprinkle each side with the lemon pepper directly into the pan and add the chopped asparagus.
5. Sauté for a few minutes until the asparagus is bright green and tender crisp.
6. Lay the lemon slices flat on the bottom of the pan and cook for a few minutes on each side, without stirring, so that they caramelize and pick up the brown bits leftover from the chicken and butter.
7. Layer all the ingredients back onto the skillet – asparagus, chicken and lemon slices on top.
8. Serve up and enjoy!