New VAT Rates in China Simplify Tax Administration
By Jake Liddle
China has simplified its value-added tax (VAT) regime as part of its efforts to cut US$55.2 billion in taxes. As of July 1, 2017, China's State Administration of Taxation (SAT) simplified its four tiered VAT system to three tiers. Previously, four brackets of 17 percent, 13 percent, 11 percent, and six percent existed. Under the new system, the 13 percent bracket has been removed.
With the update, China's VAT rates are as follows: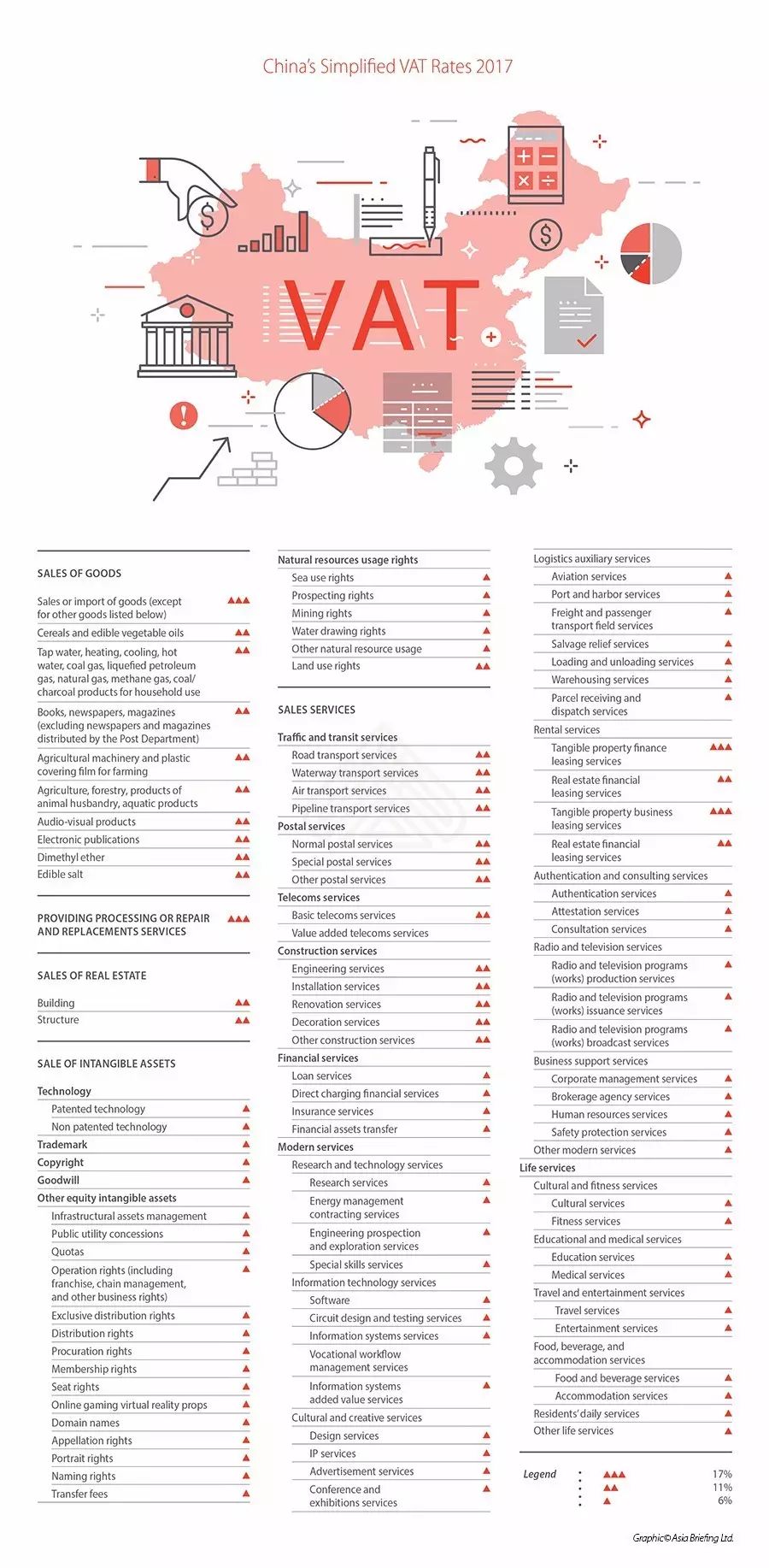 The continuation of China's business tax to VAT reform further simplifies the way VAT is levied in the country. Most noticeably, the change moves agricultural products and other such items previously contained in the 13 percent bracket to the 11 percent bracket.
The most direct effect of this will be the alleviation of tax burdens for businesses in the agricultural industry. The change will bring corporate tax savings of around RMB 1.6 million (US$237,000) each year for individual entities, and will serve to revitalize the cash flow of enterprises engage in the production of such products.
The tax reduction for agricultural products represents the government's support for the traditional agricultural sector and public livelihood. Rice, an important commodity in many people's everyday life, is one of the more critical products that will see a reduction in retail price. For instance, the retail price of one kilogram of good quality rice before the change was around RMB 22.4. After the change, the same amount will retail for around RMB 21.6.
Though the VAT reform was fully put into place in May last year, perfection and streamlining of the system is still underway. Tax authorities have said they will closely follow the implementation of the new policy, and will iron out any problems arising from the eradication of the 13 percent bracket. The general simplification of the taxation system is welcomed by businesses, and they should be aware of how the change in VAT rates affect their operations and products.
Related Reading
China's New VAT Fapiao Requirements


Understanding China's VAT Accounting Guidelines


An Overview of China's VAT Reform