ITC 67 Series IP Based PA System for Supermarket
67 Series IP Based PA System
for Supermarket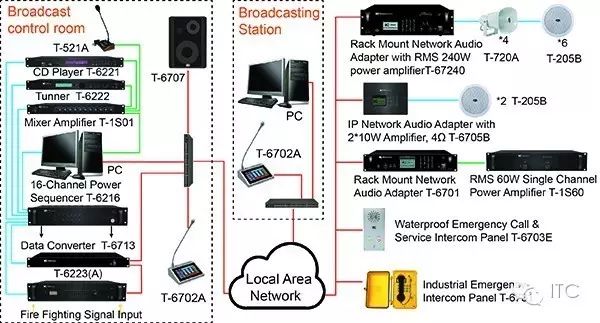 Product List
| | |
| --- | --- |
| Name | Model |
| Network Audio Adapter | T-6701 |
| Emergency Call Intercom Panel | T-6703E |
| Network Audio Adapter | T-67240 |
| IP Network Audio Adapter | T-6705B |
| Network Zone ,Paging Station | T-6702A |
| Multi-Voice Alarm & Recorder Panel | T-6223(A) |
| IP Network Active Speaker | T-6707 |
| Emergency Intercom Panel | T-6731 |
| CD Player | T-6221 |
| Tunner | T-6222 |
| Mixer Amplifier | T-1S01 |
| 16-Channel Power Sequencer | T-6216 |
| Data Converter | T-6713 |
| Single Channel Power Amplifier | T-1S60 |
| Ceiling Speaker, two way | T-205B |
| Microphone | T-521A |
| Outdoor 15W Horn Speaker | T-720A |
System Features
1. 6700 Series IP system is a system based on TCP/IP network communication protocol which audio signal transmission distance is unlimited. Then it supports separate wiring in each zones with the features of simplifying wiring and convenient maintenance.
2. The system integrates with CD Player and Tuner T-6221 &T-6222 could play different background music and promotion message to different zones.
3. T-6702A Paging Mic in the broadcasting station and control center is convenient for conveying information and broadcasting timely. With IP fire alarm interface terminal T-6223(A), the system can trigger fire linkage equipment and then play fire voice message to partition zones.
4. There are emergency intercom panel T-6703E in the cashier desk or supermarket entrance & exit. In this way, cashier receipt could press key for help in time and people could contact with the security center in the face of emergency.
5. The system of Low bandwidth cost and less than 30 milliseconds delay to satisfy the customers' requirement. Besides, its excellent expansion and simple upgrading function could ensure great functionality.
About ITC
Professional Fields:
Conference system, Pa system(IP system), Professional Sound system, HD Video conference system, EVAC system, Mutimedia Central Matrix Control System etc.
Facebook:
https://www.facebook.com/gzitc/
Linkedin:
https://www.linkedin.com/company/guangzhou-itc-electronics-technology-limited/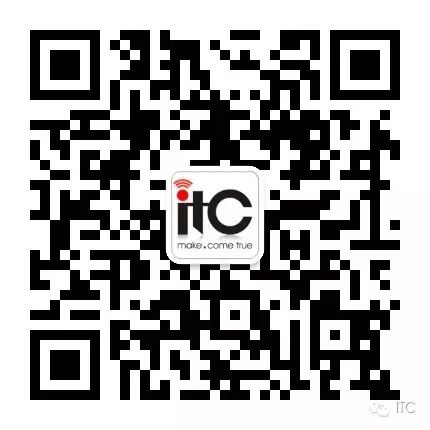 Long press and pay attention to us.