You Are Invited to the UPTA Welcome Picnic on Saturday 26 August
|

2017-08-16
Author:UISG

|

|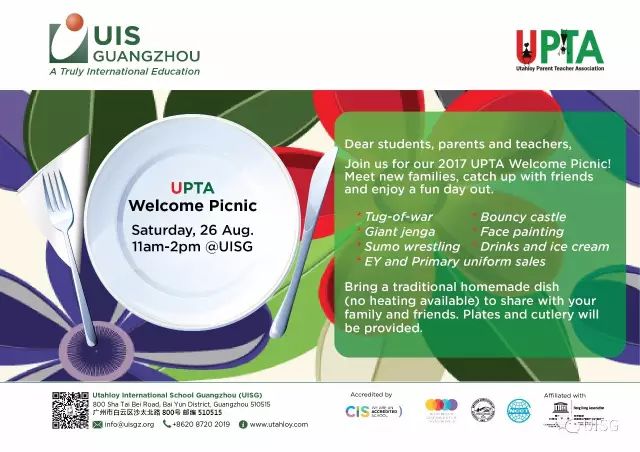 This event is a wonderful way to celebrate the beginning of the new school year. It is a great opportunity to socialise with current families, as well as warmly welcoming those new to the school community. Bring along a homemade dish to share and join in the activities and games on offer.

Above is an invitation from Utahloy Parent-Teacher Association (UPTA). Your child will receive a printed invitation soon, requesting you to RSVP and to note if you need transportation to and from School to popular stops.
Thank you, and we look forward to seeing you!
UPTA

————

您獲邀參加我們UPTA歡迎野餐,時間為8月26日(周六)的早上11點到下午2點!

這次野餐將會是一個慶祝開學很棒的方式。這給我們提供了一個很好的機會去與家庭們加深瞭解,並且熱烈歡飲新加入我們大家庭的成員。請您帶上一道自家做的菜前來參與我們組織的活動與游戲。

上圖是來自譽德萊家長老師協會 (UPTA)的一封邀請。您的孩子將會收到一封信,請您回覆並且備註您是否需要交通往返於學校與交通便利的站點。

衷心感謝您,我們期待與您相見!

UPTA

--------