The Royal Concept Live in Shenzhen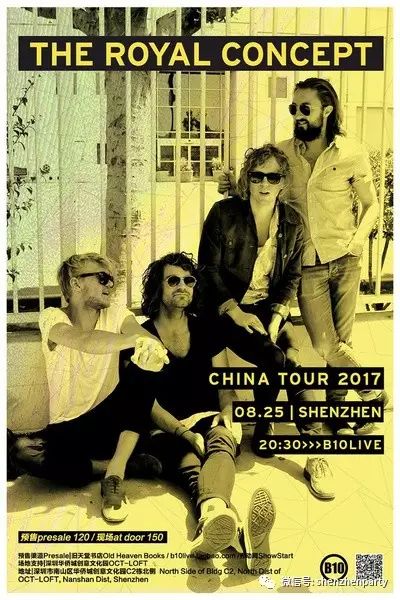 So what does a smile sound like? Well, given its sun-soaked flavor, upbeat swing, and uncontainable energy, The Royal Concept's second EP, Smile [LAVA/Republic Records], could very well answer that.

The Swedish quartet—David Larson [vocals], Filip Bekic [guitar], Magnus Robert [bass], and Frans Povel [drums]—first achieved worldwide attention with their viral hit "D-D-Dance." In 2013, the track hit #2 on Hype Machine, while its follow-ups "Gimme Twice" and "World on Fire" reached #3 and #1 respectively.
LAVA signed the group and released their debut The Royal EP as the band crisscrossed the globe to play live shows in packed venues. Simultaneously, their hit single, "On Our Way" received high-profile placements everywhere from Glee and MTV's Catfish to FIFA 14. Following that whirlwind, The Royal Concept returned home to Sweden ready and eager to do it all again. With a new batch of tunes, they traded Sweden's snow for Los Angeles's sun and entered the studio with producer Tony Hoffer [M83, Phoenix, Depeche Mode, The Kooks]. 12 days later they emerged with the EP, Smile.
"He has done some of our favorite records," admits TRC's frontman David. "When you're recording, it can be very stressful because you know that you have to live with this music for the rest of your life. But after a couple of days in the studio with Tony, we felt like we could let go of all the anxiety and just enjoy it. He brought this level of playfulness that we've always felt on stage, but never before in the studio. It really made a huge impact on this EP. We trusted his ears and he trusted our playing."
This time around, the boys used their two years on the road to infuse that live experience into the new songs. Everybody's voice is literally heard. David explains "Throughout our touring we have discovered a live sound that is us. For example, it sounded more soulful when all four of us sang together. That helped me a lot, because I truly hate the sound of my own voice!" he laughs. "I love being a front man, but I never pictured myself as a singer."
Now, the EP's first single "Fashion" struts from a funky guitar into a disco-style chant replete with sizzling falsetto and an unshakable bounce. "I just felt a tension within the word 'Fashion'," explains the group's songwriter, Filip. "It's loaded with a lot of things. You can hate it or love it. The song tells a story about a person who thinks they are the coolest person around. They wear the right clothes and go to clubs where everyone is aware of themselves and their style. But suddenly they meet this person who's from a completely different world, and they fall in love. That other person is the free, wild type and suddenly the "cool" person is beaten up by this person's personality. It's the most beautiful slap in the face that they've ever experienced. Love can be a struggle and sometimes the struggle is just keeping up with the fantastic soul you've fallen for."
Alongside "Fashion," there's the title track "Smile," which shimmies between a golden sing-a-long, 70's glam refrain and hip hop sounding beats. "'Smile' was the first song we wrote for this EP," David continues. "It really cracked the code for us with the combination of us singing choruses and that vocal riff. We quickly recorded a demo of it and when we heard it, the four of us knew 'this sounds like us.' We mostly find our inspiration in blues and rock n' roll, but we love to add that androgynous side to it. Rock can be so manly, filled with boring clichés, and we've never felt at home in that environment. The song "Smile" is exactly where we want to be right now and that's why it's the title track."
Overall, the EP serves one special purpose for The Royal Concept. As David proclaims, "I hope it makes everybody want to listen to the songs on repeat and see The Royal Concept live. We feel most alive on stage. This recording and our live shows are opportunities for us to make people happy, to make people smile."
Line-up:
Nilsson, Robert Magnus: Bass

Larsson, Pär Jonatan: Keys

Larsson, Karl David: Vocals

Bekic, Filip: Guitar
Videos: The Royal Concept - Smile
The Royal Concept - On Our Way

The Royal Concept - Fashion


Admittance starts at 20:00. Open area with several seats on both sides for resting purpose.
Event Date: Friday, August 25, 2017 - 8:30pm - 10:00pm
Pricing Info: Presale 120 RMB; At Door 150 RMB
Phone Number: 0755-86337602 (15:00-18:00, info only)
Place Name: B10 Live
Place Address: North Side of Building C2, North District, OCT-LOFT, Nanshan District, Shenzhen 深圳市南山區華僑城創意文化園北區C2棟北側
Editor's Favorites, Tap the Links Below:

Hakka Cuisine Festival

Job Fair for Foreigners in Shenzhen

Restaurant & Bar Hong Kong Exhibition
Professional Teachers @Natural Mandarin
Delicate Mooncake for Mid-Autumn Festival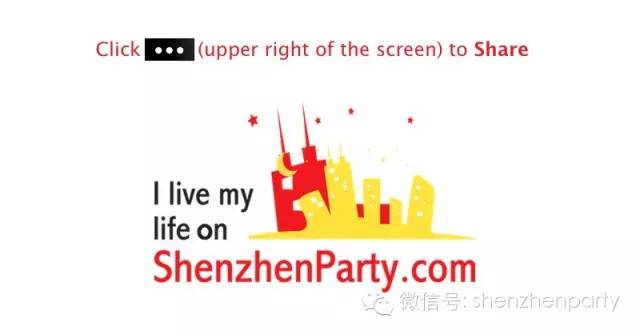 ---
Long-press the QR Code, tap "Extract QR Code" to Follow "shenzhenparty" on Wechat: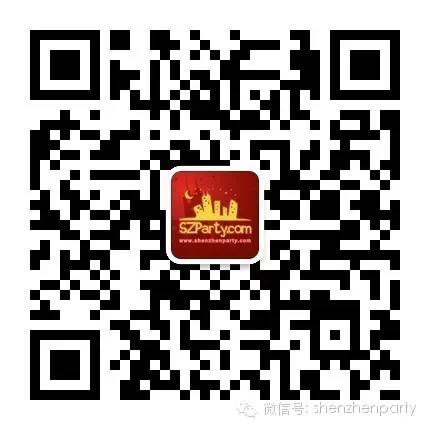 For more details, please click "Read More".