Shunyikes! A Plea for Help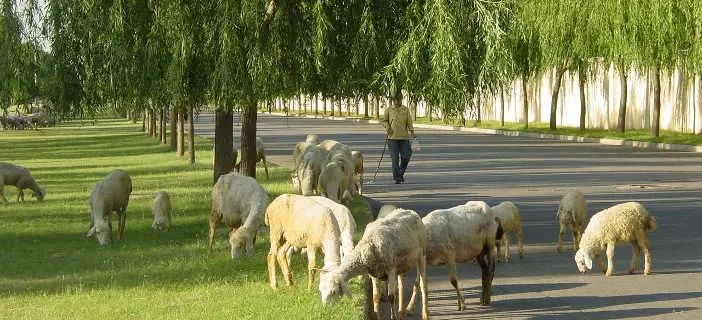 After two years in Beijing, my family and I have recently moved to Shunyi.
This wasn't a lifestyle choice we made because we wanted to get out of the city. My wife has an exciting new job in a growing, forward-thinking school, so we needed to move nearer to her work. I supported her career decision, and I'm proud of what she's achieved.
However, I had kidded myself that we might be able to live somewhere like Wangjing, as a compromise. I had underestimated how far it was out to the suburbs, how long such a commute would add to an already long school day for our kids. And so we have moved to Houshayu, 90 minutes by subway from… well, anywhere that I've made connections with in my time in China.
OK, so the picture at the top of the page was taken in 2004, and you're not likely to see herds of sheep grazing around Shunyi now. And where we lived previously was hardly the throbbing heart of the metropolis (we were near the fifth ring road, in point of fact.) But on my 電動車 it took me 30 minutes to get to Sanlitun, where there were bars and bookshops and groups of people with whom I hung out, bonded by common interests.
I understand that what many people love about Shunyi is precisely that it isn't downtown. I get that there's cleaner air, less traffic, less crowds. I know there are great schools (that's why we're here) and gleaming shopping malls. But what I haven't found yet is the culture, the creativity, the community.
I'm a city kid at heart. I grew up in Birmingham, which with a population of around a million would be a mere village by Chinese standards, but is the second biggest city in the UK. A 20-minute bus ride would take me to theaters, concert halls, galleries and museums. Here, it was challenging enough to get to the Egg or Tianqiao for a 7.30 performance when we lived in Chaoyang, but now we'd need to set out practically the day before.
So come on, residents of Shunyi. I know there are lots of you out there who feel passionate about the place, and wouldn't live downtown if you were paid to. Help me out, please: share the love, give me the skinny, clue me what to do. I promise to follow up all suggestions and report back on my voyage of discovery.
---
Photo: kalmyket via Flickr