Man, 39, accused in murder of 2 Chinese sisters in Japan
Press "PandaGuidesOfficial"!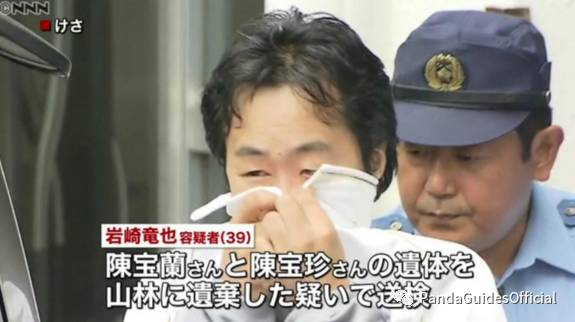 Tatsuya Iwasaki has been accused of strangling Chen Baolan (25) and Chen Baozhen (22) to death
Kanagawa Prefectural Police have applied fresh charges of murder to a 39-year-old man in custody for allegedly dumping the bodies of two Chinese sisters in Hadano City last month.
On Friday, police accused Tatsuya Iwasaki, a 39-year-old resident of Yokohama, of strangling Chen Baolan (25) and Chen Baozhen (22) to death inside the residence they shared in Yokohama's Naka Ward on around July 6.
The bodies of both women were found stuffed in two suitcases, both fastened shut, that had been dumped a few meters off a road in the Terayama area of Hadano on July 13.
Missing on July 7
The sisters went missing from their residence on July 7. On that day, a female acquaintance of the women informed police that they had dropped out of contact.
An examination of security camera footage for the building of the residence taken on July 6 and the following day showed a man, believed to be Iwasaki, repeatedly entering and exiting the unit of the women.
Customer at bar
According to a previous report, Iwasaki was a customer at bar employing Baolan. During questioning, he said that he was her former boyfriend.
Police initially arrested Iwasaki for confinement. On July 21, he was accused of corpse abandonment.
Source: http://www.tokyoreporter.com
Editor's Picks
25 most difficult languages to learn in the world


Top 10 countries with the most beautiful girls in the world


Fake US embassy shut down after 10 years


Japan's porn industry is in crisis

Seven websites to learn Chinese for free


Premarital sex in China: new survey paints surprising picture


Fake alcohol in China and how to avoid it


China to be hit with coldest winter in 4 years


Those with work visas can skip the line at immigration


7 of the best websites to watch Chinese and foreign movies

Love is in the little things


15 sentences that will change your life
☞ Below is a paid advertisement
We are an English teacher supplier who sends native experienced English teachers to Chinese homes for private tutoring.

Please note that we recruit the teachers from the following countries ONLY: USA, UK, Canada, Australia, New Zealand, Ireland and South Africa.
If you are a native teacher now based in any city in China, please don't hesitate to add WeChat: 12753351 for inquiry.