Get Your Coffee Fix With These Delicious Hacks
Coffee. Coffee. Coffee – the first thing on our minds in the morning and our go-to drink to push off the hunger pangs before lunch. Whether you're a coffee drinker or not, you'll love these scrumptious looking meal ideas!
Coffee Caramelized French Toast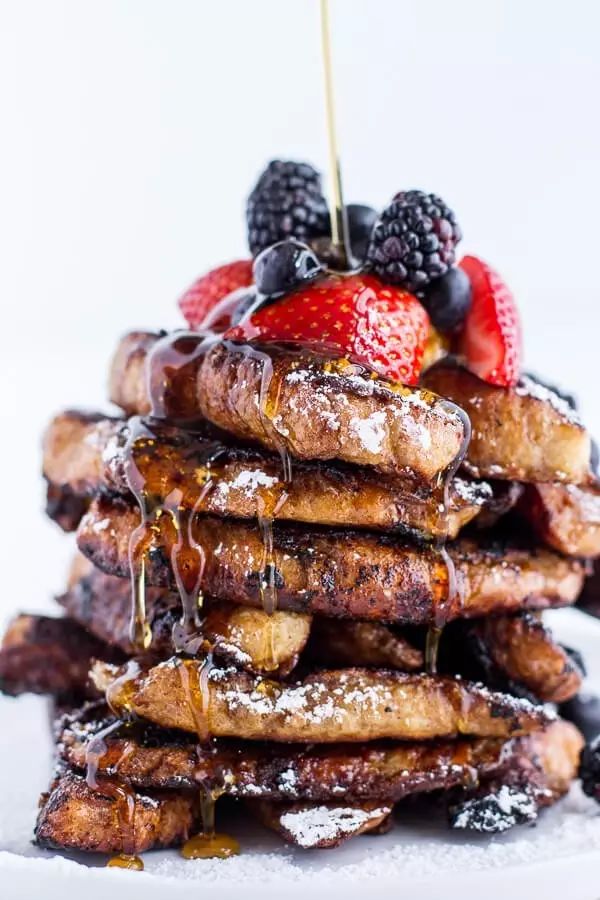 INGREDIENTS
7 tablespoons salted butter at room temperature, almost a whole stick

6 tablespoons brown sugar

2 teaspoons instant coffee

1 1/2 cups canned coconut milk or whole milk

3 large eggs

1 tablespoon vanilla extract

1 1/2 teaspoons ground cinnamon

8-12 slices of bread

fresh berries for serving
Coffee Maple Syrup
3/4 cup of pure maple syrup

1 tablespoon instant coffee
INSTRUCTIONS

Coffee Maple Syrup
1. Combine the syrup and coffee in a small saucepan and place over medium-high heat.
2. Gently cook the syrup until the mixture comes to a low boil.
3. Reduce the heat to low and simmer for five minutes. Remove from the heat and set aside.
French Toast
1. Slice the bread into 2-3 long strips.
2. Mix the butter, brown sugar and instant coffee in a small bowl to combine. Whisk the milk, eggs, vanilla and cinnamon in a large bowl to combine.
3. Melt 2 tablespoons of the brown sugar/butter mixture in a large non-stick skillet over medium-high heat. Dip the bread sticks, a few at a time, into the egg mixture to coat.
4. Add 4-6 sticks to the skillet. Cook until the bottoms are deep brown – for 2-3 minutes – turn and repeat until all sides have been caramelized. Add more of the brown sugar butter after every other flip.
Espresso Ice Cream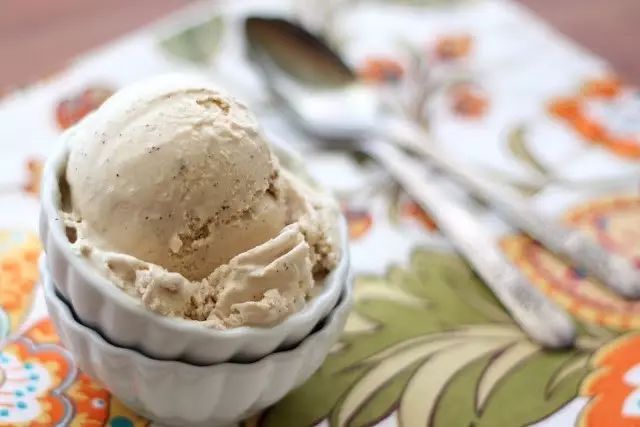 INGREDIENTS
1 cup brewed espresso

1/2 cup sugar

1/8 teaspoon fine sea salt

2 cups heavy cream

1/2 teaspoon vanilla

1 teaspoon espresso powder
INSTRUCTIONS
1. Place the sugar and salt in a small glass bowl and pour the hot espresso over it. Stir to dissolve the sugar.
2. Stir in the cream and vanilla. Add the espresso powder and stir again.
3. Chill for a couple of hours before freezing according to your machine's directions. Serve immediately for soft-serve ice cream, or transfer to an airtight container and freeze for 2-3 hours prior to serving. Enjoy!
Bacon-Onion-Coffee Jam
(perfect for burgers or biscotti)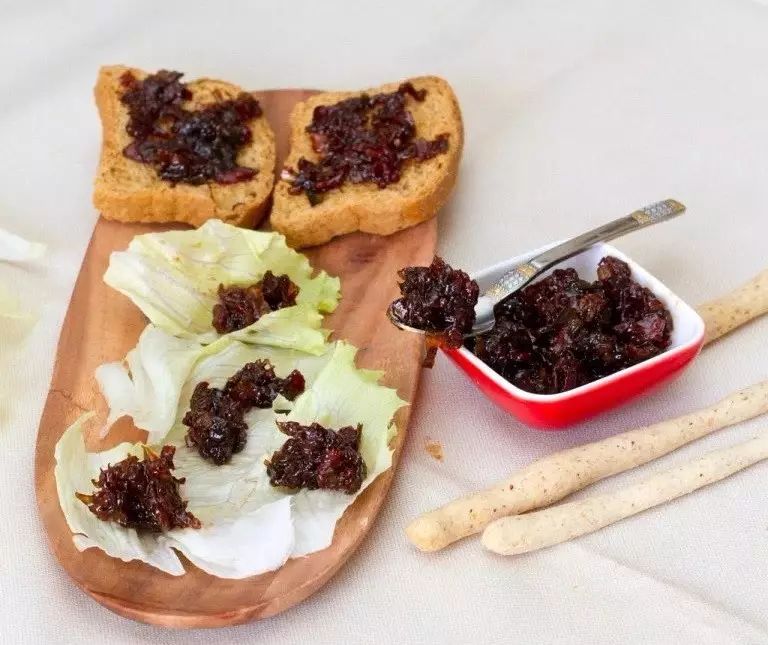 INGREDIENTS
150 grams bacon, finely chopped

2 medium size onions, diced

4 garlic cloves, peeled and finely chopped

1 teaspoon instant coffee powder

3/4 cup cider vinegar

2-3 tablespoon dark brown sugar

chili flakes to taste

1/2 jalapeño, finely chopped
INSTRUCTIONS
1. In a large skillet, over medium heat, cook the bacon. Stir occasionally until all the fat is rendered and the bacon is lightly browned. Do not overcook it at this stage, since it will have to be cooked for 45 minutes once all the ingredients are in.
2. Using a slotted spoon, transfer all the bacon to paper towel-lined plates.
3. Discard all but 1 tablespoon of bacon fat. We will use that for cooking the onions.
4. Cover and cook the onions in the bacon fat for about 5 minutes, until they are translucent.
5. Add the bacon and brown sugar. Cover and cook on medium heat for another 5 minutes until caramelized.
6. Add vinegar and bring to a boil. Cook for another 10 minutes.
7. Add the coffee powder, jalapeño, garlic and some chili flakes. Cook uncovered, stirring occasionally, until the liquid almost completely evaporates and it turns syrupy.
Coffee Bacon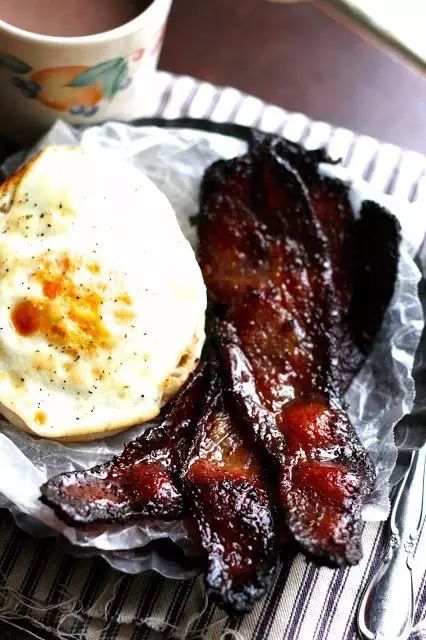 INGREDIENTS
8-12 slices uncooked bacon

1/4 cup freshly ground coffee

1/4 teaspoon chili powder

4 tablespoons packed brown sugar, divided

2 tablespoons molasses

1 tablespoon water

cracked black pepper
INSTRUCTIONS
1. Lay cascading bacon slices atop one another so that the fat is on top and the bacon slices are simply overlapping each other slightly in a row. Place the bacon on top of a piece of plastic wrap or brown butcher paper.
2. In a small bowl, combine the coffee, chili powder, 2 tablespoons of brown sugar, molasses and water. Spread the mixture over the exposed, fatty part of the bacon slices – pressing in with the back of the spoon. Wrap it in the plastic wrap or butcher paper and refrigerate overnight.
3. When ready to bake, preheat the oven to 375 degrees fahrenheit. Line a baking sheet with parchment paper. Wipe off most of the coffee grounds with a paper towel – but not all! The majority of the coffee will be on the top of the bacon slices. Lay the slices in a single layer on the parchment paper and sprinkle with the remaining 2 tablespoons of brown sugar and freshly cracked black pepper.
4. Bake until browned and crisp – for about 14-17 minutes – or until the bacon has reached your desired crispiness. Remove from the oven and allow to cool for five minutes before serving.
Chocolate Coffee Banana Muffins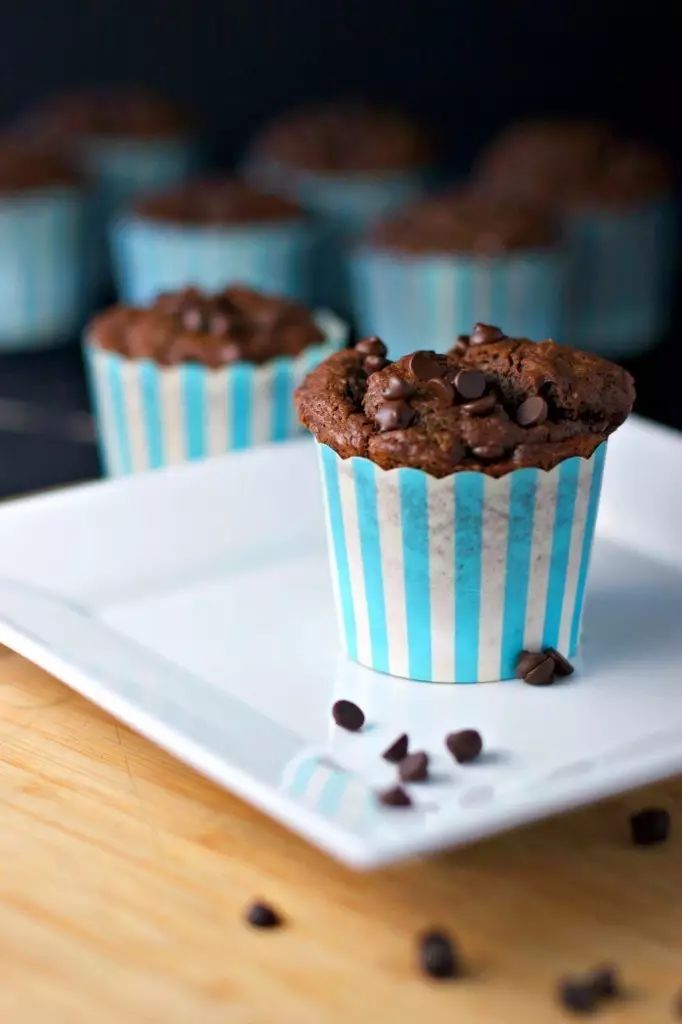 INGREDIENTS
4 ripe bananas

2/3 cup coconut oil (soft or liquid form)

1/2 cup cane sugar

1 teaspoon pure vanilla extract

1 1/2 cup flour

1/2 cup cacao powder or cocoa powder

1/2 teaspoon baking powder

1/2 teaspoon baking soda

1/4 teaspoon sea salt

1 tablespoon instant coffee grinds

3 tablespoons mini-chocolate chips
INSTRUCTIONS
1. Pre-heat the oven to 350 degrees fahrenheit. Line a muffin tin with cups or use paper baking cups.
2. Using a high-speed blender, blend together the bananas, coconut oil, sugar and vanilla until smooth. You can also mash the bananas with a fork or use a hand-held blender.
3. Sift together the flour, cocoa powder, baking powder, baking soda and sea salt. Stir in the instant coffee grounds.
4. In a large bowl, mix together wet and dry ingredients untill well combined. Pour into the muffin cups, top with mini-chocolate chips and bake for 20-25 minutes or until a toothpick inserted into the mixture comes out clean.
Happy eating!