91-year-old Thai woman earns bachelor's degree
Press "PandaGuidesOfficial"!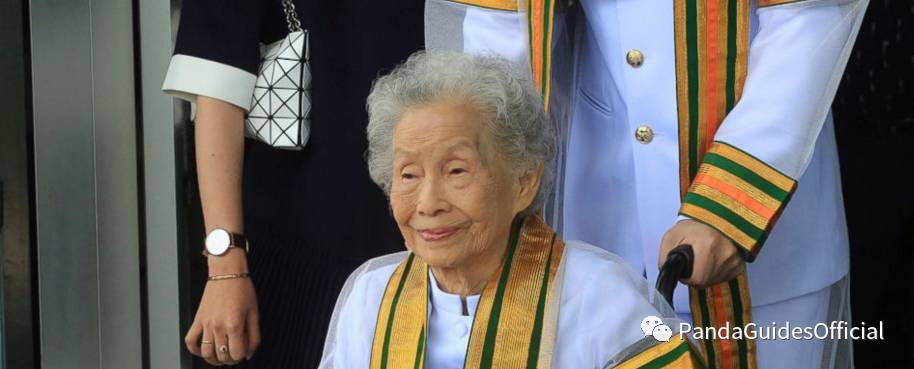 A 91-year old woman in Thailand has earned a college degree after spending more than 10 years studying for it and has received her diploma from the country's king.
Public television broadcaster Thai PBS says Kimlan Jinakul was granted the Bachelor of Arts degree in human and family development Wednesday at the government-run Sukhothai Thammathirat Open University just outside Bangkok.
"If we do not study, do not read, do not know, then we won't be able to speak and make sense," she said.
Her diploma was handed to her by King Maha Vajiralongkorn Bodindradebayavarangkun, who took the throne last year. Diplomas at Thailand's public universities are traditionally handed out by members of the royal family.
"I am happy and honored that the king has graciously shown such limitless mercy," Kimlan said, using a phrase meant to show utmost respect to Thai royalty.
Kimlan traveled with her family from their home in Phayao province, 725 kilometers (450 miles) north of Bangkok, to attend the graduation ceremony.
"Sometimes she felt weary because of her body," Kimlan's son, Mongkol Jinakul, told Thai PBS. "But we as her children tried to cheer her on and mom studied until the end and it was a success."
The Sukhothai Thammathirat Open University, which has courses catering for the elderly, this year had 199 students who are over 60 years old. It offers part-time and remote learning.
"For the elderly, we focus on practicality rather than the academic aspect," professor Panumas Kadngaongam, acting dean of the university, said. "So the subject can be studied and put to use immediately."
Source: THE ASSOCIATED PRESS
Editor's Picks
25 most difficult languages to learn in the world


Top 10 countries with the most beautiful girls in the world


Fake US embassy shut down after 10 years


Japan's porn industry is in crisis

Seven websites to learn Chinese for free


Premarital sex in China: new survey paints surprising picture


Fake alcohol in China and how to avoid it


China to be hit with coldest winter in 4 years


Those with work visas can skip the line at immigration


7 of the best websites to watch Chinese and foreign movies

Love is in the little things


15 sentences that will change your life
☞ Below is a paid advertisement
We are an English teacher supplier who sends native experienced English teachers to Chinese homes for private tutoring.

Please note that we recruit the teachers from the following countries ONLY: USA, UK, Canada, Australia, New Zealand, Ireland and South Africa.
If you are a native teacher now based in any city in China, please don't hesitate to add WeChat: 12753351 for inquiry.