Feel awesome & look flawless with Becycle's HOT SUMMER DEALS!
---
LIMITED OFFER:
Don't miss out
on any more cardio parties:
Buy 10 rides, get 3 extra;
Buy 20 rides, get 5 extra!
---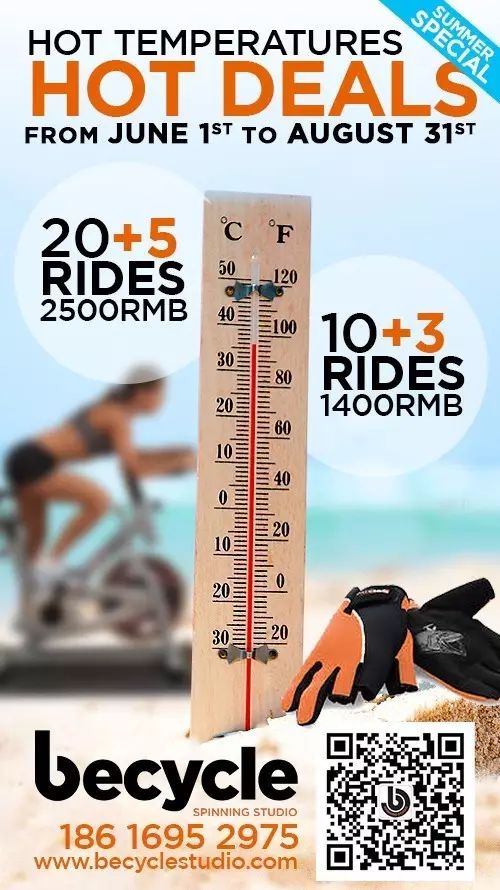 ---
MORE DEALS & OFFERS: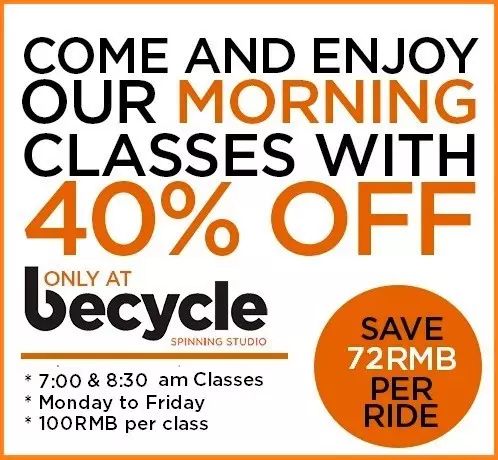 MORNING SPECIAL:
Ride for only 100RMB
at 7am & 8:30am!
And why?
Studies have shown that exercising in a fasted state (i.e. before breakfast) will kick-start your metabolism, increasing the body's ability to burn fat by up to 25% (Source: The Journal of Physiology).
By boosting your metabolism with a high-intensity cardio workout you'll also increase your Excess Post-Exercise Oxygen Consumption (EPOC), also known as the "after-burn effect", a process that will keep your body in "fat-bruning mode" for many hours after physical effort, even when you're sitting at a desk. Cool, eh?
Getting your heart pumping in the AM can also improve sleep patterns, allowing you to recover faster from physical and mental stress. A morning workout has been proven to lower blood pressure (Source: Appalachian's College of Health Sciences), and brighten your mood!
晨練對你的身體和時間規划上帶來的好處也許是其他時間段所不能達到的。開啟充滿活力的一天. 你會燃燒更多的脂肪. 能夠降低血壓. 提升新城代謝. 早晨參加單車運動後會提升你的EPOC,即運動後超量氧耗(EPOC)是健身行業的熱門辭彙,基本上,這意味著你的身體在鍛煉後保持卡路里的持續燃燒,即使是在靜止的狀態。晨練不受生活瑣事的影響. 提升你的精神面貌. 獲得更好的睡眠。
---
OPTIMIZE YOUR LUNCH BREAK
& MAXIMIZE YOUR RESULTS: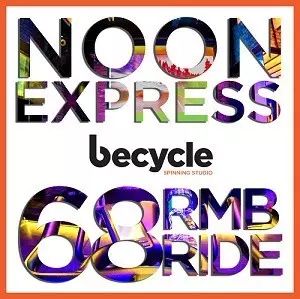 BOOK YOUR EXPRESS NOON RIDE
for only 68RMB every Wednesday 12:15pm!
Want to get your day ready with an efficient, fast workout?

想讓你的一天有一個高效、快速的訓練嗎?
With this class you will go harder & faster in less time. Monday Express Ride coming soon..

每周三12:15pm加入我們的快速騎行! 一個迅速,高效,高強度的騎行挑戰。並請期待我們周一的燃脂騎行。
In only 35 minutes you'll get the same training as a normal class at Becycle.
只要35分鐘,你就會得到和1小時課程同樣的訓練效果。

No time during lunch break?? Remember you can order WHEAT post-workouts meals at a special price, to be ready to eat after the class.
午餐怎麼辦?別忘了,你可以在一個優惠的價格下訂購WHEAT的健康午餐,併在課後享用。

Enjoy our amazing facilities perfect for this mid-day office fitness escapades
在這裡,我們將為您提供全套完善的設施,
· Male & Female Restrooms
· Fully equipped showers
· Towels
· Lockers
· Changing rooms
· Sauna
· Public areas with casual seating
衛生間

淋浴 (洗發水、沐浴露)

毛巾

儲物櫃

換衣間

桑拿

公共休閑區域
---
BOOK YOU BIKE NOW: