Current PTMEG Market Stalemate Needs More Prudence

PUdaily, Shanghai-1. Price Trend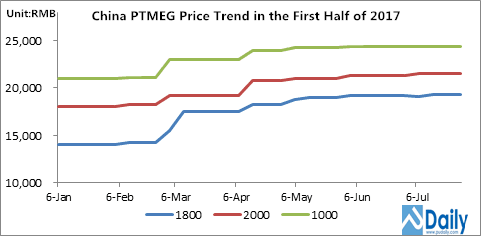 PTMEG market remains in stable-to-firm running in the first half of 2017. It can be seen from thechart that PTMEG price keeps stable from January, and then go up at the end of February and the beginning of March. Remaining stable in March, then the price go up again and remains in stable-to-firm running till today.
2. Market Analysis
At the start of this year, PTMEG market is fluctuating at high prices, and main manufacturers hike offers under tight supply. The price is at RMB 14,000-14,500/ton. Near to the Spring Festival, the market demand fall significantly and the price remains high. After the Spring Festival, the material BDO price increase provides cost support for PTMEG so the market goes well. The price rise to RMB 14,500-15,500/ton. Driven by market demand in March, traders are in the atmosphere of pushing up market prices which rise to over RMB 17,000/ton. Concluded deals are limitedly reported under high prices. Manufacturers' overhauls resulted in tight market supply, and the downstream spandex industry operated well which has formed market support for PTMEG. At this time the market is no lack of high prices of RMB 19,000/ton. The main price is at RMB 18,000-19,000/ton. After entering summer, BDO and THF markets started to go down gradually. The downstream spandex manufacturers purchase goods passively with excess inventory; the spandex market goes down and suppliers mostly purchase prudently on rigid demand. PTMEG market fluctuates at the prices of RMB 18,500-19,500/ton.
3. Imports and Exports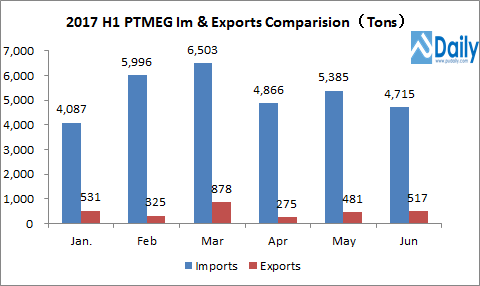 The total PTMEG exports volume in the first half of 2017 is 31,552tons, rise by 31.43% compared with the prior-year period. The total PTMEG exports volume from Jan. to Jun. is 3,007 tons, a year-on-year decrease of 39.2%.
Five main destinations are Taiwan (27,031 tons), South Korea (2,314 tons), Japan (1,661 tons), USA (775 tons) and Germany (52 tons). China main exporters are Hangzhou Sanlong (2,276 tons), Xinjiang Blue Ridge Tunhe Chemical (64 tons) and Xiaoxing Chemical (32 tons).
4. Outlook
Continued increase of Material manufacturers' offers push cost rise for downstream buyers who will benefit limitedly. It is said that some downstream manufacturers are still under inventory pressure, and the market is moving towards stalemate. At present, with limited market support, though many manufacturers control operation rate to keep prices, the downstream market remains bleak, which makes PTMEG market difficult to continue to run at high prices and it needs more prudence in market.