How Art and Theater Summer Camps Combine Learning with Fun

"School's out for summer…" But not forever, unless you're Alice Cooper. As we reported in last year's June/July issue, children are at risk of losing significant amounts of learning over the summer months, and teachers often report that much of the fall semester is spent getting students back into the swing of school.
Yet our kids are under increasing pressure to achieve academically and are at risk of missing out on their childhoods. Besides, a substantial body of scientific research shows that play is a vital aspect of a child's development. In a 2012 report titled "The Importance of Play," Dr David Whitebread of Cambridge University wrote: "There is very clear evidence that children's cognitive development and emotional well-being are related to the quality of their play, and a number of studies have shown that individuals who are not well developed in these areas are not playful."
How can parents square this circle, and prevent summer fallback, while still allowing their kids to enjoy those precious weeks of leisure? One increasingly popular approach is summer camp.
Traditionally summer camps involved kids staying away from their parents for days or even weeks at a time, sleeping in tents or dormitories, and taking part in outdoor activities. There are still plenty of these options available in and around Beijing, but many camps now offer daycare only. This is a more affordable option, as well as being more suited to younger children and parents who miss their kids being around.
However, parents will be rightly concerned about the quality as well as the affordability of their child's summer activities. To find out about the educational value of day camps, we talked to two of Beijing's most respected providers.
Marianne Daquet came to Beijing from her native France 11 years ago, having been brought here, she says, "by chance." In September 2012 she set up Atelier Art School.
"When we first opened it was like me opening a small school, giving classes myself, until I found a teacher willing to work freelance," she tells us. "We had a small offer dedicated mostly to the expat community.
"Later I spent more time thinking about what to teach and how to teach, how to make a difference here in Beijing. Now Atelier is evolving into a comprehensive educational project. We're targeting more Chinese families, and we've expanded to two branches, in Sanlitun and Shunyi.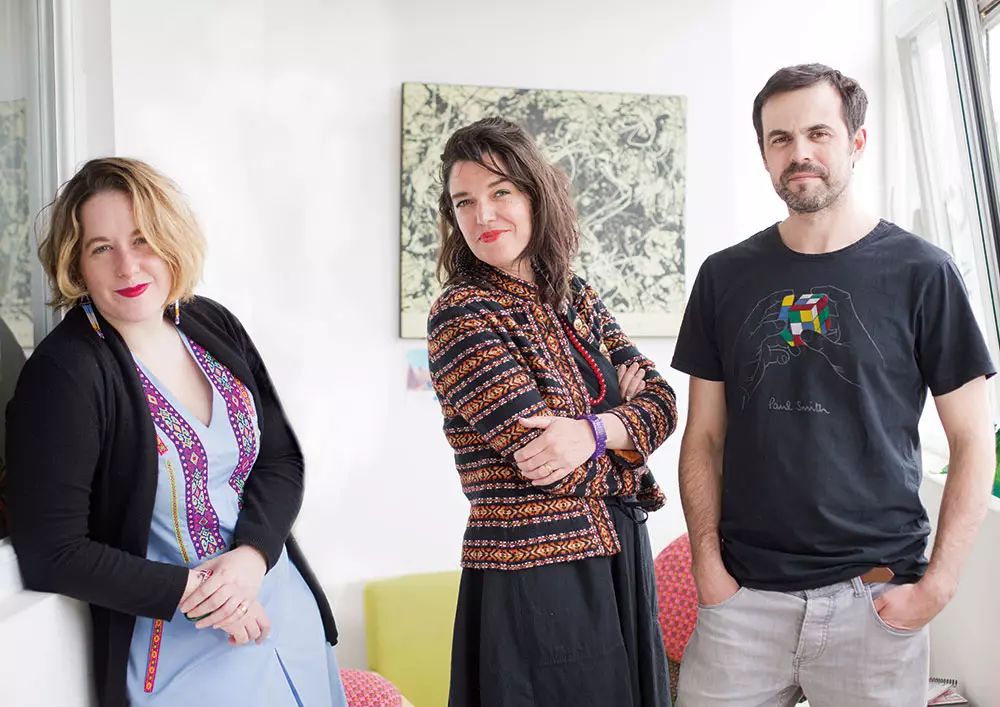 "We're passing on art education in a very specific way which is unique in Beijing, teaching children to create, to think, to be open-minded, to develop an open mind.
"We're quite passionate about it!" she laughs, and that passion is apparent when you talk to her.
We ask her what a typical day at the Atelier summer camp involves.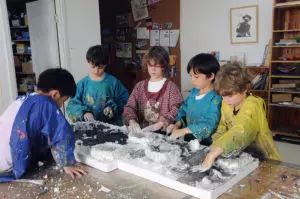 "We have two classes in the morning," she says. "The younger kids, age 5 to 8, have a two-hour art class which is thematic, with a different theme each week. Every year Adeline comes up with new ideas!"

Adeline Parrot has been working at Atelier for three years, planning the classes. Daquet tells us more about the themes she has developed for the camps.
"Last week we entered the world of David Hockney. This week it's about traveling into space. Next week it's history, going back to the Middle Ages. Sometimes we go to the jungle through the eyes of Henri Rousseau, 'Le Douanier'… The camp has a strong art basis, and a strong history basis.
"Meanwhile the older kids [age 9 to 12] are doing Fablab classes. They're working on the same subject, but the classes are oriented on engineering and science, they do experiments. The first Fablab was about Leonardo da Vinci. It got the kids trying to think about how to change things, make them move, while at the same time being an artist and staying creative.
"In the afternoon the younger kids don't have a class, and the older kids go to art class."
We ask about the profile of kids attending the camp.
"It depends on the week," Daquet tells us. "Early in the summer they're more or less all from international school, then later in the summer we have kids from public schools. We teach in English so they need a certain level to follow the classes."
Do children from different backgrounds integrate and communicate, we wonder?
"We come up with the subject," Daquet says, "but they have to work together, and think together. It's good for them because they don't all have the same experience. We guide them through the classes, but team building happens naturally. We don't do any formal icebreakers, that's not a French thing! But they all work on the same subject, and we ask them to get involved, to think, react. Soon enough they will all work together, discuss together."
But is it harder for children from Asian cultures to understand the context of western art?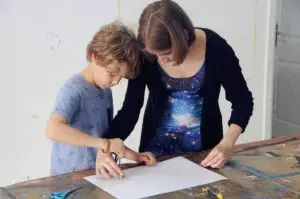 "When we did the Roman Empire with younger kids, all Chinese, they were like 'what are you talking about?' But if you talk about castles and knights, they all understand that. Then we talk to them about architecture, about Gothic and Romanesque styles, about stained glass… All the classes are planned and written. Adeline prepares a long introduction, it's really precise; like a history and art class at the beginning."

We ask Parrot how she helps children relate to art from past centuries.
"I explain it to them like a story," she says, "and try to make bridges between the art and their life. I have a lot of pictures and videos to show them and I keep it simple. I never have problems with the historical aspects."
But the children learn more than art and history, Daquet tells us.
What do kids learn from the camp, other than artistic skills?
"What they will also learn is what is at the core of all our classes: to be creative, to react to the subject, to think critically, to develop independence through the way they work which is unique here in Beijing.
"They might say 'I cannot do it' – we say 'yes you can' – and at the end, they will be so proud. One group of 5 to 7 year olds made Viking longships, and at the end, they were 'Wow, I did this,' and we say 'yes, you did it by yourself.' It's a big part of the way we teach here, getting them to do things on their own. There are the visible things that they learn, and then the invisible things which are so important."
We see the pride she talks about when we visit the class. What's your favorite artwork which you've made here, we ask 6-year-old Oliver?
"Jackson Pollock Milky Way!" he announces enthusiastically. He takes me over to a big spatter painting, with drops of paint representing the stars, and explains to me how he did it using a toothbrush.
"Some of the points can glow," he says.
Most of the art classes teach traditional, low-tech methods such as this, Dacquet tells us, but the Fablab is a different matter. Here kids get to use a 3D printer, a milling machine, and computer-aided design to produce their creations.
"For the Middle Ages theme, they made a castle. The kids worked on the design with Sebastian. They decided the shape of the castle, he added accessories like the drawbridge. He also designed a catapult, and they worked together to create it.
"We only opened Fablab in March, it's all new. Next year we will try an architecture class, that will be interesting with a 3D printer."
At Fablab we meet Finn, Oscar, Theo, and Benjamin, who are keen to show off their creation.
"We're making a rocket," they tell us. "It's actually going to launch!"
"What's the best thing about Fablab?" we ask, and they respond with a volley of different reasons.
"I like rockets!"
"I like to make new things."
"We get to ride on skateboards."
"They allow us to use tools usually only grown ups use."
However, when we ask whether Fablab is learning or fun, the answer is unanimous:
"Both!"
Fablab is only a few months old, but Chris Verrill of the Beijing Academy of Performing Arts is a veteran. Originally from San Francisco, he's been running Theater Camps for 11 years now, and has been involved in theater for "thirty-something years," he tells us, "the last 12 here in China. I've done 75 shows, a couple of thousand performances…"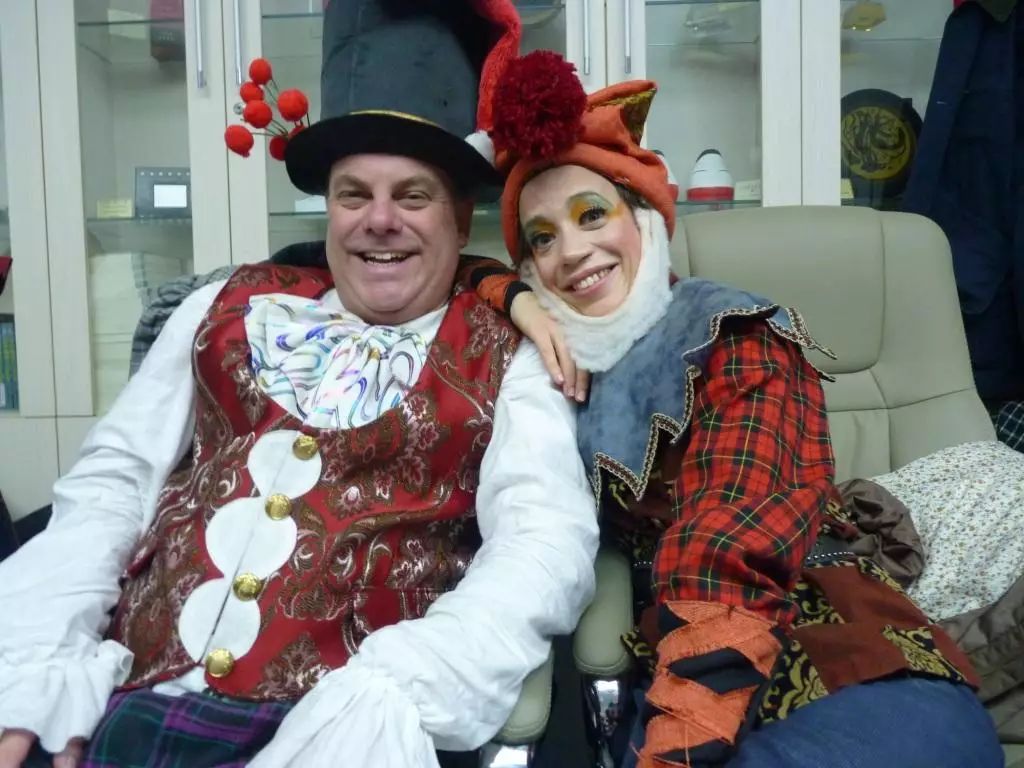 His background also helps him maintain the educational value of the camps.

"I spent time in the US working for PBS, doing educational TV," he says. "Sesame Street is the most researched show on television. They research not just how kids watch TV, but how they learn from it. All the Muppets that the kids love are designed to teach a specific lesson. So for example with Grover, the lesson is it's OK to make mistakes.
"I've taken from that experience all that thought on how to make something entertaining and also educational. I love entertaining kids then sneaking in the education so they don't even notice. It's also true that kids learn through music, which is why music is an important part of educational theater, and language learning."
And for Verrill education is the driving purpose of the summer camps.
"The show at the end of the week is not the point; the point is the educational process. We could buy sets and they'd look prettier, but we like the kids to be invested and then they learn."
He sees this as being what makes his approach unique in Beijing.
"In the US there would nothing unique about what we do, or in the UK. These are programs we have lifted lock, stock, and barrel from ones I did in the US. But the mere fact that we've brought it here is cutting edge. When we did our first show no one else was doing this.
"I've been to other drama programs and you walk in and the sets are beautiful, but the children didn't do it themselves. They have no vested interest in the creation of the sets. We're focused on the learning process and not on making kids look pretty on stage.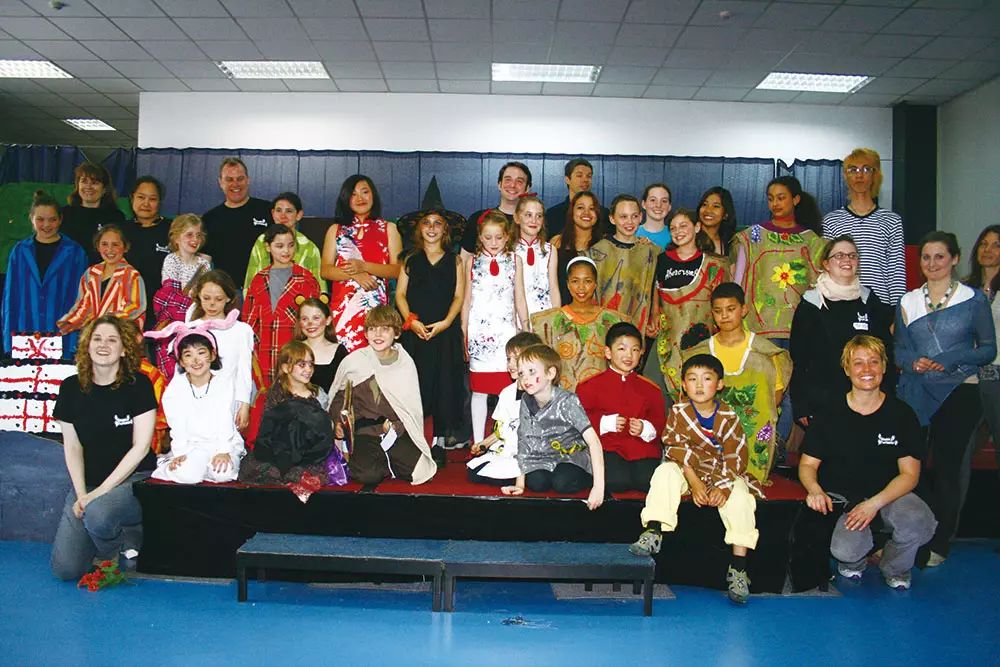 "In each show, we have six song and dance numbers, so that's 12 items all together. Chinese schools will put the same time into just one dance. Our musical directors come with four songs done, the other two the kids write. Is it good? Sometimes it is! But even when it's not the kids learn. Every morning we have the kids come in and we say, what do you want to learn today?"
He shows us the board where they have written their goals for the camp on Post-its. "My camp goal," one child has written, "is to have fun, make new friends and speak more loudly!" The theme of fun is a recurring one, and is encouraged by the camp organizers.
"We want them to be learning and having fun," Verrill says. "This is their summer vacation, so we want to make sure they come to us and have fun for a while because they deserve it."
The children spend their day in eight classes lasting 30-45 minutes each, learning not only performance skills but also set design, costume, lighting and stage management. We ask Verrill about the wider educational benefits of the camp.
"They learn typical theater things," he says, "like teamwork and confidence building. Imagine if you're 8 years old standing on that stage [the camp takes place at Harrow School]and trying to get your voice to the back of the room. You can give them a microphone and they'll sound better, but they don't learn.
"They spend a fair amount of time learning how to project. 99 percent are not going on to become actors, but the fundamental skills they've learned will help them. They'll be able to walk into any room and project confidence."
The children also help each other to build that confidence, Verrill tells us.
"One of the things we do is we assign an older child to be the mentor of a younger child. The older learns by teaching, the younger gets individual attention. The teaching assistants are frequently doing one on one work, if at 6 the kids are having difficulty reading or remembering their lines. We love taking the shy children and making them less shy."
As well as confidence, the children are developing their creativity.
"On the first day of costumes we ask the kids, 'what's it supposed to look like? What color is the tree?' Then we say, 'What about a purple and blue tree?' There are no wrong answers; it's art, so be creative."
Verrill sees a cultural difference in children's response to this challenge.
"When we tell children they can paint a blue tree, westerners go for it straight away. The Chinese kids take a bit longer, but by the end of a two, four, or six-week program they're on board. It's inherent in human nature and the kids get it… and their parents love it."
He's also seen significant changes in the profile of children attending the camp.
"It's open to children aged 6 to 14, but for this camp, we don't have a single 14 year old. It skews lower, we have lots of 6, 7, and 8 year olds. Educational theater is like that everywhere, and it always skews more toward girls than boys. It's true for adults too: in the main stage shows women out number men two to one.
"Our kids come from all around the world. We did a late audition for kids coming in from the US and Hong Kong, who are spending their summer here. When we first started it was all expat kids. Now, with the dynamic and makeup of expats in Beijing changing, the kids and audience are overwhelmingly Chinese."
They haven't changed the fundamentals of their approach though, but pitch it at a level appropriate to the children's ability.
"We have beginner programs and intermediate, and we hope to launch an advanced program," Verrill says. "Everything's in English, the production, the teaching, and so on. If there's something they're not understanding, we'd have put them in beginning camp. Which is good, because I can't speak Chinese!
"We try to choose shows which are pretty accessible. Everybody knows the story of Snow White, and the next camp we're doing The Three Musketeers; people know that too."
But Verrill is optimistic about the future of theater in China.
"When we first started this 12 years ago people didn't even know that this was an art form. They didn't understand the whole concept of what theater was. So for many of the kids, this is their first experience, their parents had to research and find us. But one of the wonderful things that are happening in China is that in the past two or three years, the government has really changed fast how they value performing arts in education.
"As China does, when it embraces something, it usually does it full throttle."
Photos: Courtesy of Atelier Art School and Beijing Playhouse
---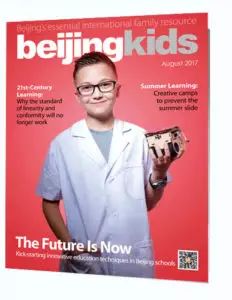 This article originally appeared on p 28-31 of beijingkids August 2017 issue.