PO Operating Rate Summary in Late- Jul. and Market Assessment
News
PUdaily, Shanghai-Recently, the news of environmental protection and safety inspections have been reported frequently. Environment Minister Li Ganjie, after his coming office, immediately put forward the "Five-step" environment inspection new idea and the environment supervision intensity has been strengthened. The Ministry reported recently that the strict governance to enterprises of "messy, scattered and dirty" will be regarded as one of the key contents of strengthening supervision. Enterprises that are unable to upgrade and meet the emission standard will be shut down before the end of September 2017.
More importantly, the 19th National Congress of the Communist Party of China will be convened in the second half of this year. To strengthen environmental and dangerous chemicals inspection is also a significant measure to make sure the congress will be held successfully.
After PO has been stalemated for half a month, finally some domestic PO manufacturers raise concluded deals price, while which is not strange. What's going on behind this?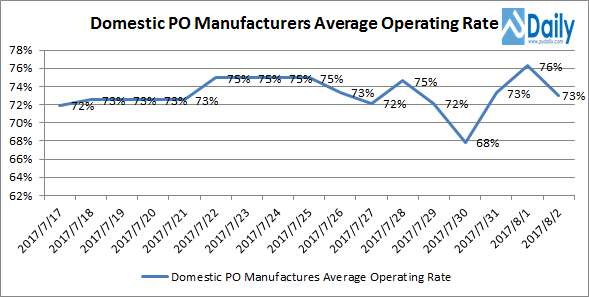 From thechart, it can be seen that domestic PO manufacturers' operating rate is not stable in the past half month. The lowest rate is 68%, the highest is 76% and the average rate is 73%.
Specifically:
Northeast manufacturers are stable recently with normal operation, or maintenance has not been opened.
Manufacturers in South China and East China are stable recently and basically keep normal operation.
Manufacturers' maintenance dynamics have been frequent in North China and Shandong, mainly in Yantai, Binzhou, and Dongying in Shandong.
Though 100kt facilities will be reopened next week, inventory shortage situation will not be improved in short time. Polyether polyols manufacturers still need stable PO supply in order to offer firmly and PO is expected to be stable or up slightly.