Hiking in Jiangxia, reconnecting with nature
On October 7, the last day of Golden Week, a number of readers took part in a hiking activity organized by the Changjiang Daily and the Changjiang Weekly. This activity was one of the events of the China Forest Tour Festival, which was held in Wuhan this year.
At 7:30 A.M. on October 7, the hikers boarded a bus at the Changjiang Daily Press Group and set out on a journey to Dahua Hill and Qinglong Hill in Jiangxia District. After about an hour on the road, they arrived at the foot of Dahua Hill. Layers of mist and fog obscured the tops of the hills, which collectively look like the back of a great dragon crawling towards the horizon. The fresh air and pleasant, unspoiled scenery allowed the hikers to forget life in the city and reconnect with nature.
The steps leading up Dahua Hill were steep, but that didn't slow down the enthusiastic group of hikers. After climbing up several hundred steps, the group found the greenway which winds through the hills. This path is often referred to as one of the most beautiful greenways in Wuhan by hikers. On the day of the event, the greenway was surrounded by blooming flowers and tall, green trees. After around two hours, the hikers reached the end of the Dahua Hill section of the greenway. The group walked over 12 kilometers, and each participant experienced and gained far more than they ever expected along the way.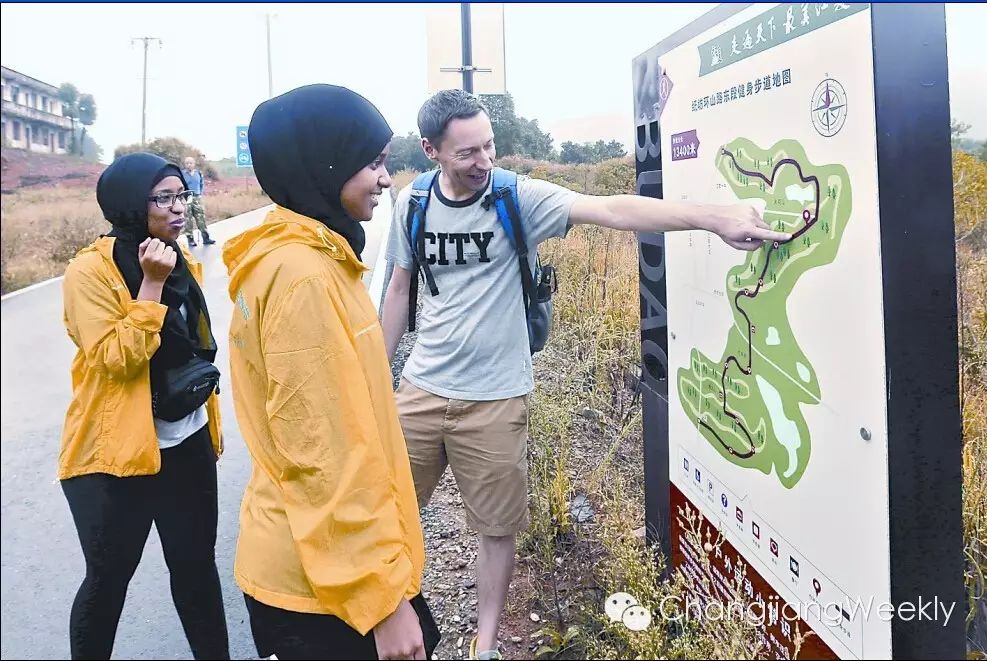 Expats fascinated with the greeway Photo by Li Wei
Chris Butland, a hiking enthusiast, has climbed Mount Huangshan and Mount Hengshan. As the Trade and Investment Consul at the British Consulate General in Wuhan, he once attended a meeting in Jiangxia. He decided to take part in this activity to learn more about Wuhan and its natural beauty. Two students from Tongji Medical College of Huazhong University of Science and Technology, Amal Jama and Ayan Hashi, took a number of selfies while hiking. "Even though hiking is challenging, the beautiful scenery along the greenway makes it all worth it," they explained.
The hike received a lot of positive feedback from the participants. The Changjiang Daily Press Group plans to host more activities like this in the future. Please read this newspaper and follow the Changjiang Weekly on WeChat to stay up to date on activities and events. We have lots of good things in store for our readers. Make sure you don't miss out!