Baseball World Series Start Tomorrow, Cu Guys & Pies
The 2015 World Series: Kansas City Royals vs New York Mets
The 2015 World Series will be the 111th edition of Major League Baseball's championship series, a best-of-seven playoff between the National League (NL) champion New York Mets and the American League (AL) champion, the Kansas City Royals.
The start date is October 28 (in Beijing), with Game 7 (if necessary) scheduled for November 5. If Game 5 is necessary, since it is played on November 2, it will be the first time since 2010 that a World Series game is played in November.
This will be the first ever World Series in which both teams will be expansion teams (teams that were formed after 1960). The New York Mets began play in 1962. Their opponent will be either the Kansas City Royals or the Toronto Blue Jays who began play in 1969 and 1977, respectively. The Mets were the first expansion team to not only reach the World Series, but win it as well.
The only place to catch the world series live in Beijing is of cource Cu Ju! So see you bright and early for some bloody pirates, pies, coffees and more.

---
Cu Guys & Pies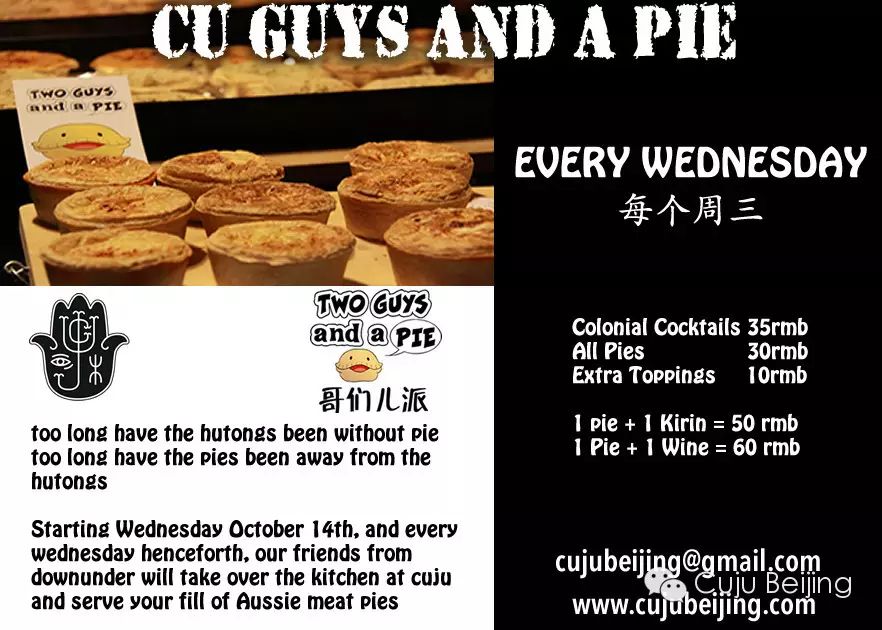 Every Wednesday, our buddies from 2 Guys and a Pie will be taking over the Cuju Kitchen every wednesday bringing you some of their sweet and savory baked goodness. How about that?

For the occasion, we bring out the good deals for you guys:

Colonial Cocktails 35rmb
All Pies 30rmb
Extra Toppings 10rmb

1 pie + 1 Kirin = 50rmb
1 Pie + 1 Wine = 60rmb