4 spots to escape from the holiday crowds


1. Meditation at Jade Buddha Temple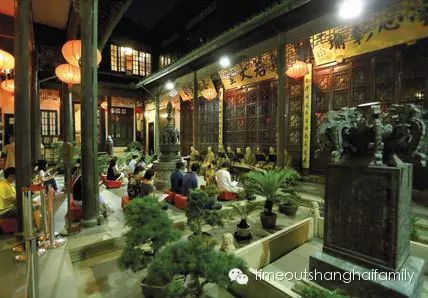 Meditation is one of the oldest tricks in the book for blocking out the din of a hardcore metropolis such as Shanghai. At Jade Buddha Temple in Putuo district, there are no tanned blonde girls on yoga mats in sight – this is Buddhist meditation led by monks in a worship hall, and not all of it is stationary.
You begin the 90-minute session by walking quickly in a circle for half an hour, followed by a master talking you through the rules and a brief history of meditation in Buddhism (all in Mandarin, so you should have some language basics down if you want to really benefit from the class). Everyone else, though, is forbidden to speak and, unsurprisingly, mobile phones aren't allowed either.

Afterwards, it's time to grab a set of cushions to sit on and start the meditation. Individuals are advised to put their minds at ease and think about questions such as 'Who is Buddha?' 'Who are you?' and'Where are you from?' Heavy stuff, yet you feel remarkably light after wards. The temple is quiet and beautiful at night, mostly attracting local office workers, or those who practice Buddhism. Bring along your passport for registration – and if you decide you'd like to pursue more of it, you can sign up for a two-day meditation course that also includes meals, chanting and transcribing (plus some nice Muji-style grey linen robes).

Jade Buddha Temple is at 170 Anyuan Lu, near Jiangning Lu, Putuo district. Meditation is free, and runs between 7-8.30pm on Wednesdays and Thursdays, but pre-registration is advised.

2. Bibliotheca Zikawei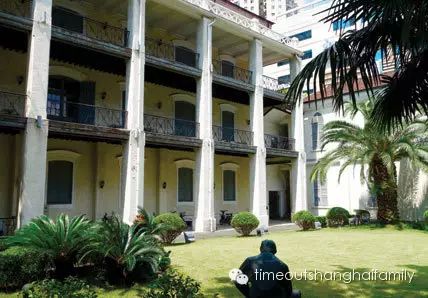 Kept watch by cardigan-wearing, bespectacled mistresses of silence, the library is a place where you can be guaranteed a few moments of peace. The oldest, most resplendent one in Shanghai is the Bibliotheca Zikawei at Xujiahui.
You do need to be a member, but thanks to a mass merging of libraries back in 1957, you can sign up for free at Shanghai Library – just turn up with your passport to register and you'll receive a card which will grant you additional access to the Bibliotheca. It's comprised of two buildings: the north – a beautiful, two storey European-style building founded in 1847; and the south – a four storey mansion known as the Jesuit Residence. The second floor of the nor the building holds the old western collection, dating back to the 15th century, with a layout that mimics the Vatican library and classification system (and thus some of its content includes rare materials on Catholic theology), while the first is home to the Chinese collection. Note that non-members can still access on-site exhibitions, which are regularly held on the ground floor.

For a double whammy of peacable Bibliotheca Zikawei reflection, you can head next door to the Xujiahui Cathedral, or the St Ignatius Cathedral of Shanghai, which was built in the early 1900s. While the cathedral itself is closed for the year for restoration, the front gardens make for a nice low-key spot to enjoy the sunshine, and you can even (gasp!) sit on the grass.

Bibliotheca Zikawei (Xujiahui Library) is at 158 Puxi Lu, near Caoxi Bei Lu, Xuhui district.
3. Flotation Tank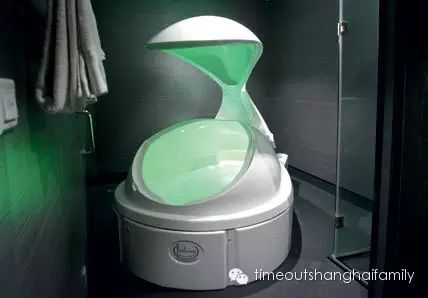 Sometimes the stress of adult life can have you yearning for the innocence of childhood, where all you had to worry about was back-to-school stationary and eating your greens. Taking this one step further is the current trend of floatation tank therapy – a treatment which involves lying naked inside a pitch dark, egg-shaped tank filled with saline fluid at body temperature; like a great big womb, basically. Anyone wishing to return to a foetus-like existence can do so at Floatessence in Changning district.
Tank door shut, earplugs in, the idea is to experience total sensor y deprivation. In other words, you can't hear or see a thing; enabling a sort of intense meditation that some have claimed is the equivalent of eight hours' sleep. The process has been credited with alleviating all sorts of different health-related conditions, including stress, insomnia, anxiety, muscle pain, and even weight loss (the water that you float in is 40 percent Epsom salt, which is also very good for the skin). Some people have got more than they've bargained for; there've been some rare reports of people who began to hallucinate while in the pod.

The inner doors are replete with speckled lights to resemble stars – although it's recommended you switch these off as soon as you're settled. It's a disembodying experience for sure, but if you're looking for some 'you' time, you probably can't do much better than this. Unless you go for the 'twin' experience, where you're deaf, blind and naked with a friend. Only joking, that doesn't exist (at least, we don't think it does anyway).

Floatessence is at 96 Ronghua Dong Dao, near Gubei Lu, Changning district. One hour long session costs 380RMB.

4. Factory 54's rooftop garden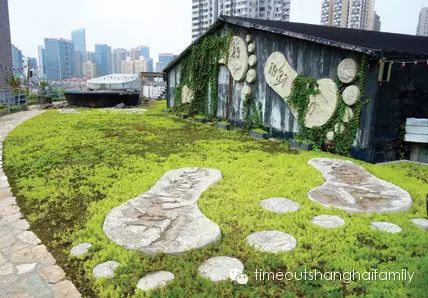 Just across the Wusong River (colloquially known as Suzhou Creek) to the north of People's Square lies an old warehouse indistinguishable from its neighbouring goods and service counterparts. Some hipsters, however, got their hands on one floor of it, and as hipsters like to do, converted part of the upper level into an arts space. On the weekends, it becomes Warhol-era throwback space Factory 54, playing host to all manner of gigs (ranging from experimental hip hop to '80s revival styles) and fashion events, transforming into a silver-clad whirlpool of revelry.

Come daytime, however, the building is so quiet that it's slightly unnerving – but there's a reason we're here in this deserted part of town, and it's not just to hang around in a car park (albeit one that leads to uber swanky restaurant Ultraviolet). On top of this building is something that nobody knows about – but secrets don't hold long in this city, and we're blowing this one wide open. Once you enter the building, take the elevator to the fifth floor and then follow the outdoor path around to the left and up the wooden steps and you'll find yourself in a kooky and impossibly verdant rooftop garden.
The space is mesmerising, with boardwalks that lead into nooks flanked by flower beds and greener y. The rooftop is sub-divided into numerous tiered platforms, littered with points of interest (like a pair of grassy footprints). Other than some remarkably well-kept flower beds, the garden seems to have been largely abandoned, meaning that you can normally get it all to yourself (though it also means maintenance is poor so be careful where you tread on the decking). If you have a penchant for labyrinth-like gardens, you could spend a good 20 minutes wandering through. We almost felt tempted to whip out a yoga mat and bust out sun salutations right there and then.
Factory 54's rooftop garden is at Fifth Floor, 195 Guangfu Lu, near Wuzhen Lu, Zhabei district.