Second Apple "spaceship" to land in Sunnyvale
Apple Inc. has landed its second spaceship — this time, in Sunnyvale — in a massive deal that exemplifies a new era in Silicon Valley real estate and crystalizes Apple's enormous growth trajectory outside of its Cupertino stronghold.
The iPhone maker has sealed a deal for Landbank Investments LLC's planned Central & Wolfe campus — a curvaceous, 777,000-square-foot project at Central Expressway and Wolfe Road that's expected to look like nothing else ever attempted in Silicon Valley. Its marketing web address? Notanotherbox.com, and for good reason.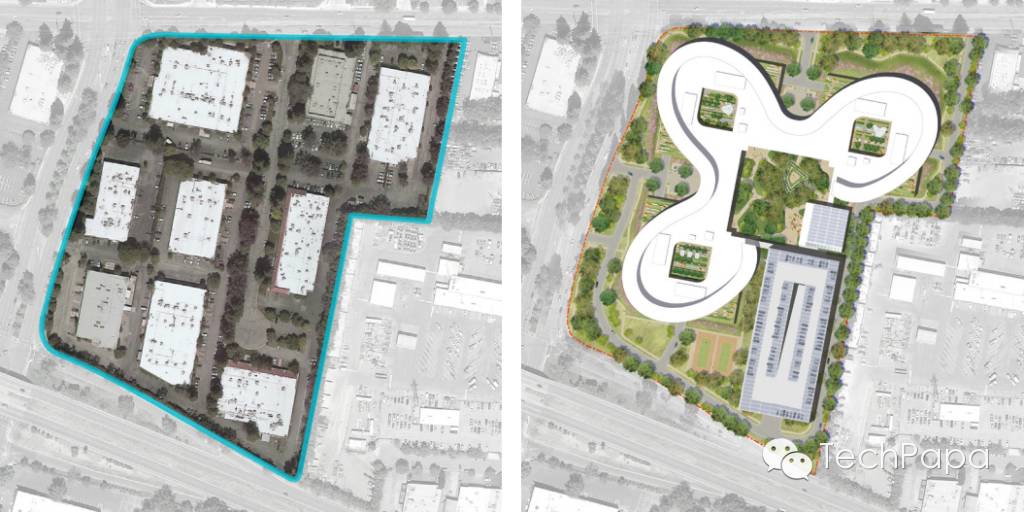 The Silicon Valley Business Journal and The Registry both reported last month that the developer and tech giant were in negotiations. But this week, sources with knowledge of the transaction confirmed to me that the deal is completed. Terms of the deal couldn't immediately be learned, but I'm led to believe that Apple has leased, not purchased, the project. It's unknown when it could start construction.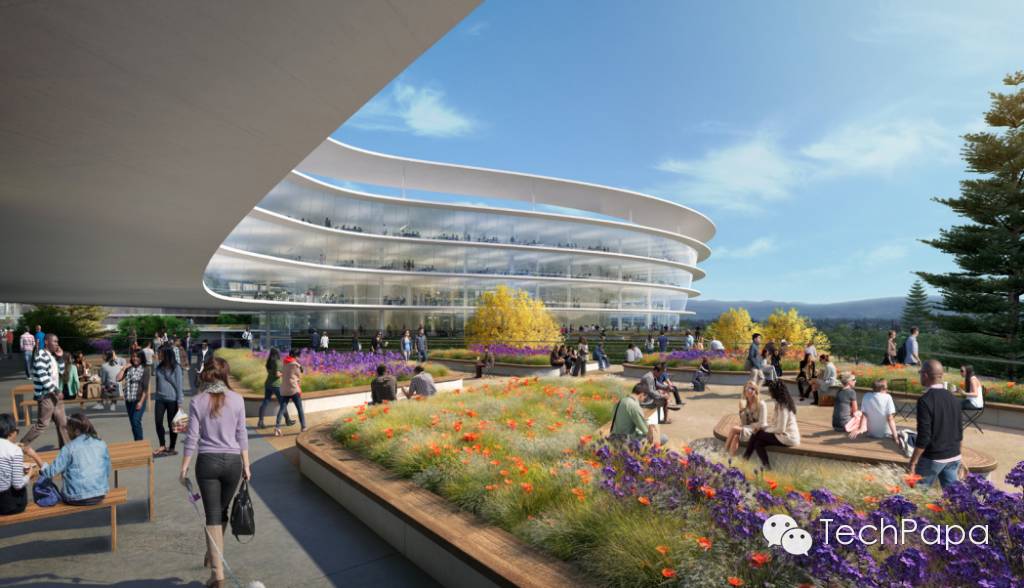 The transaction is another sign — as if you need any more — of Apple's tremendous expansion, potentially providing enough room for more than 3,000 workers. The deal comes as Apple has made a huge land-grab in recent months in parts of Sunnyvale, Santa Clara and, more recently, north San Jose, where it has spent $300 million to assemble nearly 70 acres. The expansion dovetails with the growth of Apple's product pipeline, with the next big category rumored to be the electric automobile.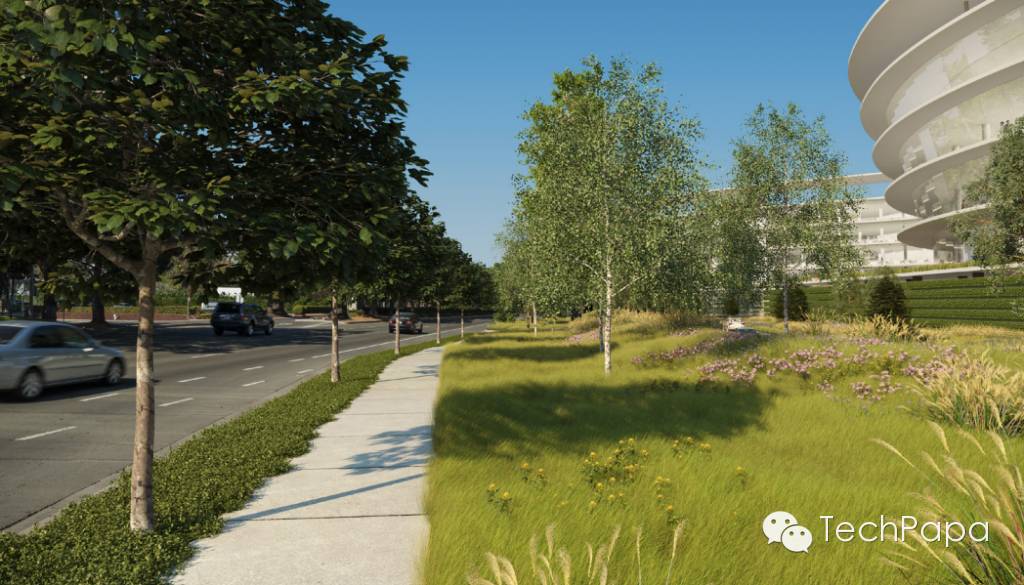 Just as important, the project exemplifies new approaches to development and workplace design: The 18-acre campus, approved last year, is slated to transform a collection of nine buildings erected in the 1960s and '70s — the golden age of Silicon Valley's tilt-up construction era — into a striking structure that defies easy description. Indeed, the project seems perhaps a perfect fit for Apple, recalling some of the curvy design cues on its under-construction "spaceship" Apple Campus 2, about five miles south.


The campus also promises to dramatically alter this part of Sunnyvale, a neighborhood dominated by single-story industrial and R&D buildings. While Apple has been snapping up existing buildings all over the neighborhood, the massive new campus could become a new icon for the region.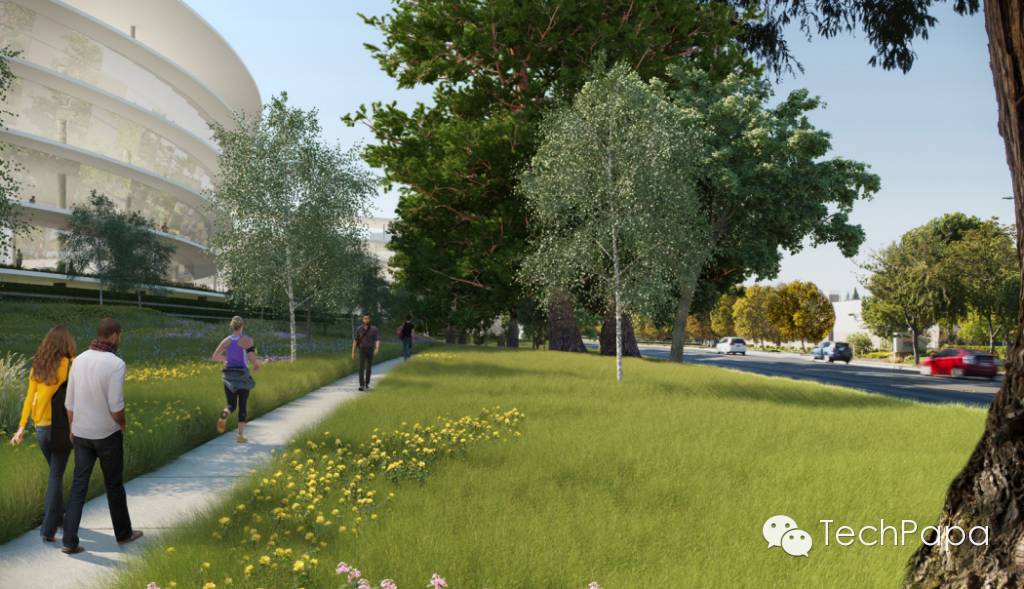 "It looks pretty cool — definitely like an innovative building," said Robert LaBouff, co-founder of Off the Stick Kabob Grill at 927 E. Arques Ave., across the street from the planned development.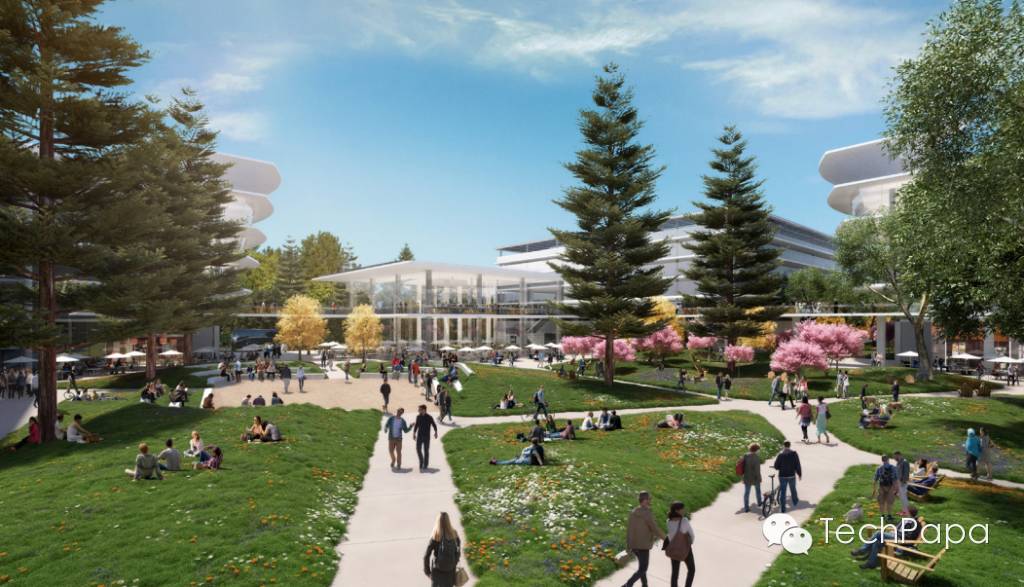 Under the approved design, the campus's three connected main buildings will protrude from a central courtyard almost like flower petals, wrapped in a sweeping, curvilinear glass skin that appears to billow in and out. Park-like greenery rings the site rather than parking, with cars shunted either underground or to a parking garage tucked out of sight.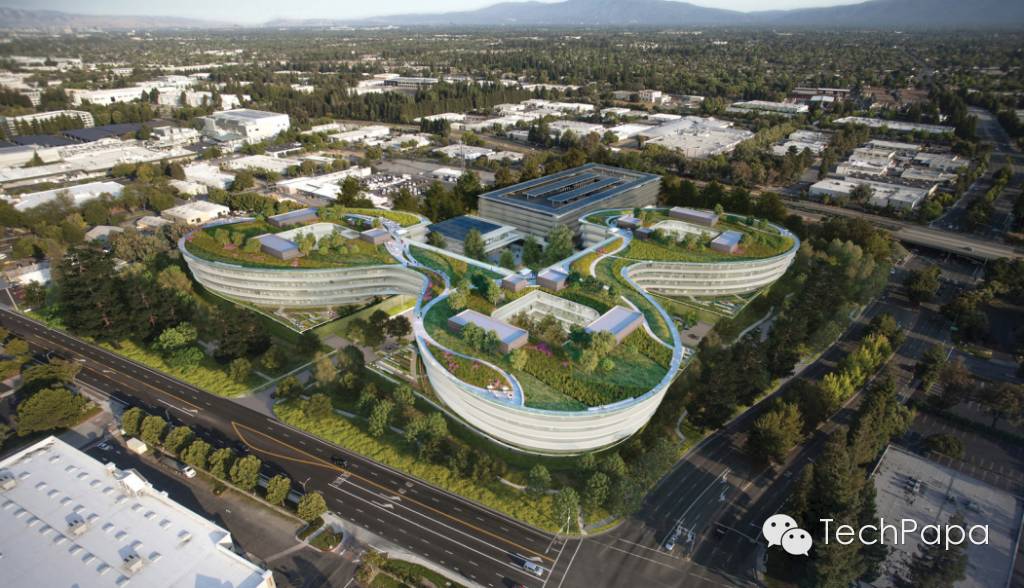 One caveat: It's unclear whether the project will be built according to that design, from architecture firm HOK, or if Apple and Landbank will want to modify it in some way. At this time there's no indication it will change substantially, and indeed Landbank has made the signature look a key selling point, with a website that highlights the out-of-the-box design. (That same website also features a quote from Walter Isaacson, Apple co-founder Steve Jobs's biographer.)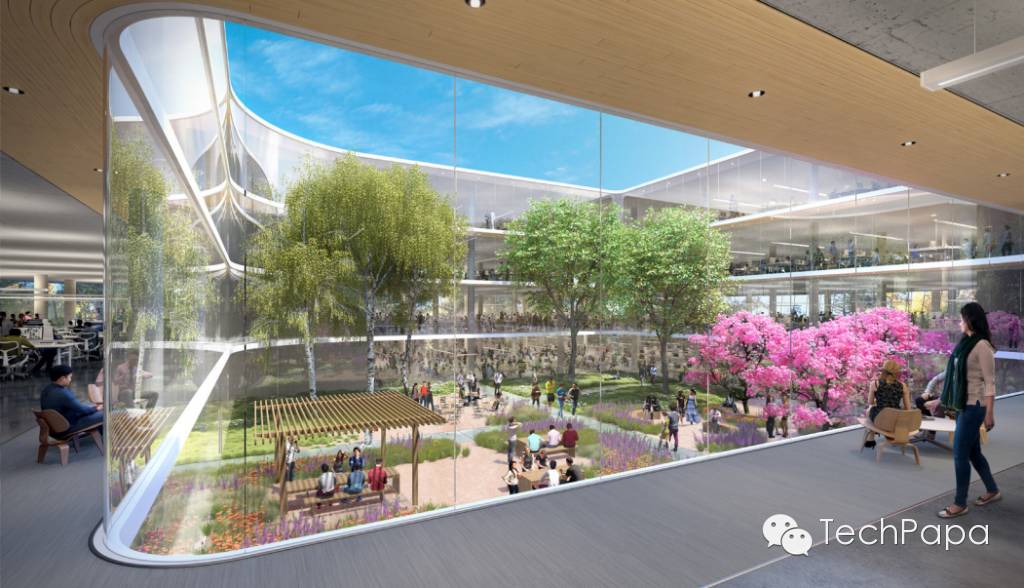 The deal is a major score for Menlo Park-based Landbank, a family-run real estate firm whose roots stretch back decades in Silicon Valley (indeed, Landbank built the existing buildings that will be torn down to make way for the new campus). While Silicon Valley tech giants, led by Apple, have been experimenting with cutting-edge design for their new campuses, the Landbank project is arguably the first developer-driven proposal in the region to take the approach.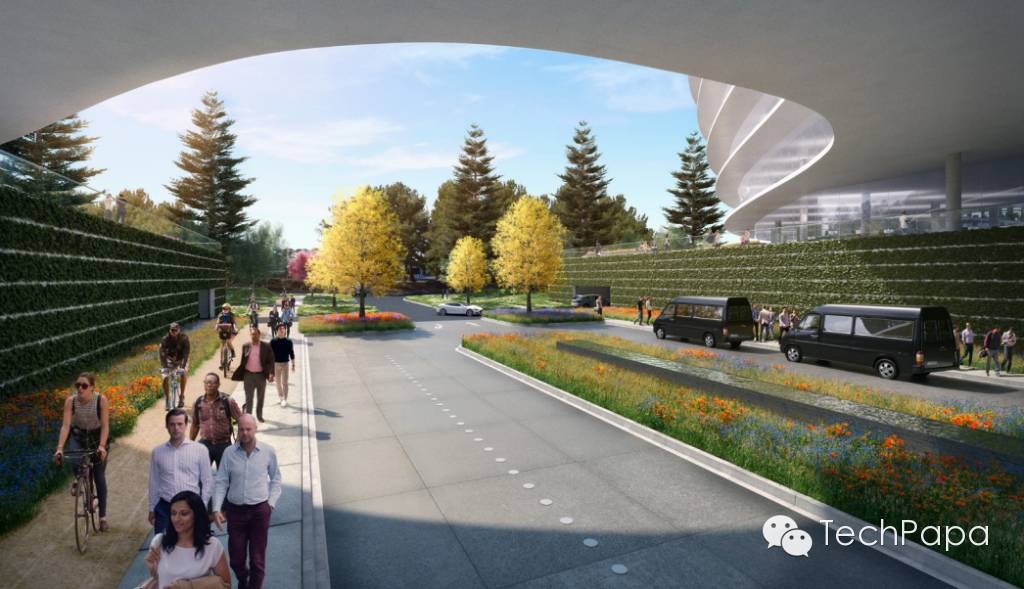 But Landbank CEO Scott Jacobs bet that tech companies would be drawn to something different than the Valley's usual building typology. The notion wasn't without skeptics, but in the end Jacobs' bet paid off. (For my 2013 profile on the project and Landbank, click here.)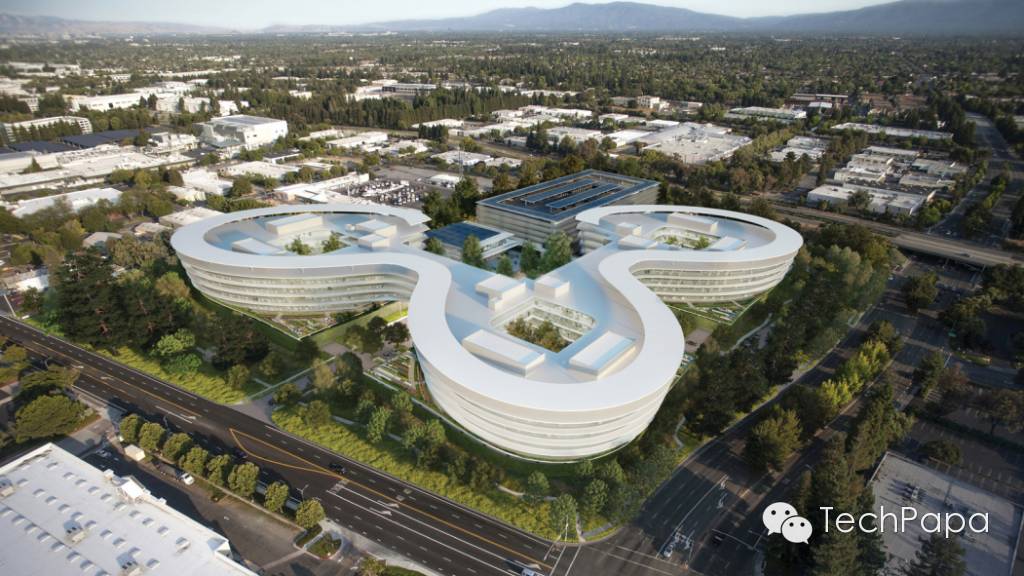 "We wanted something that was really different, lasting and interesting," Jacobs told me in 2013, when the project was first proposed. He declined to comment this week. The project was marketed by Steve Horton and Kelly Yoder of Cushman & Wakefield in partnership with Jeff Houston and Mike Charters of CBRE. The brokerage teams declined to comment when I reached out to them this week.


Two business owners in the neighborhood told me on Thursday they largely welcomed the new Apple campus. LaBouff, who opened Off the Stick in early 2013 in a brand-new retail center, said he primarily caters to tech workers who don't always want to eat in their office cafeterias.


"Honestly, we're hoping it's going to be great for us," he said of the new Apple project. "On the other hand, if Apple is feeding employees filet mignons every day, I don't know. But I still feel like people like to get out of the office for lunch, though maybe not every day. In the end, it will improve business, but it's hard to say at this point how much."


Evan Walsh, owner of Sweet Doggies dog daycare and boarding at 910 E. California Ave., said he's noticed neighborhood businesses have been booming since Apple and other tech companies started filling empty office and R&D buildings several years ago. "I'd say it's always exciting when there's increased use in the neighborhood and you see some vacancies going away," Walsh said.


The Central & Wolfe project is not the only change agent in the area. A short distance away on the old Spansion campus where developer Watt Companies is working to develop more than 500 residential units on about 24.5 acres.


Also in the vicinity, both Sunnyvale and Santa Clara are undertaking major land-use changes designed to spur transit-friendly development in the area around the underused Lawrence Caltrain Station.


Traffic was a concern of city council members during the approval process, but Landbank agreed to a "transportation demand management" program designed to curb drive-alone car trips by 35 percent. Apple, with its fleet of buses, already operates among the largest private transit systems in the region.


Click and hold, then select [Extract QR code] to follow TechPapa!