Uber hosts TOP SECRET Sin City 'team building'



Thousands of Uber workers stayed at the Paris, Planet Hollywood, Flamingo, Bally's and LINQ hotels on the company's dime

Free t-shirts, water bottles and $50 VISA vouchers greeted employees as they arrived to Las Vegas
'It's been fantastic, I haven't spent a penny, Uber has paid for everything,' one worker speaks highly of the hush-hush event thrown in Las Vegas
Happy hours were hosted poolside for staff to drink for free while mingling with their co-workers
Uber's logo was replaced with two X's on signs for the private parties and security made sure no one without a wristband got in
Controversial US tech corporation Uber - the mobile car service app - has thrown a lavish top secret extravaganza in Las Vegas for its entire staff, Daily Mail Online can reveal.
Cocktails were aplenty at the hush-hush multimillion dollar five-day event, which saw 4,800 employees flown in from around the world. The tech firm took over several hotels along the famous Las Vegas strip.
Workers stayed at the Paris, Planet Hollywood, Flamingo, Bally's and LINQ hotels and were treated to a series of glitzy events and boozy parties in Sin City.
The secretive event, dubbed 'private tech conference' on handout material, was held amid tight security.
All Uber employees had to sign in and were given special wrist bands to access each event.
Event locations were marked with two X's on a sign – one large and one small - rather than the famous Uber logo and several burly security guards checked wrist bands at the doors.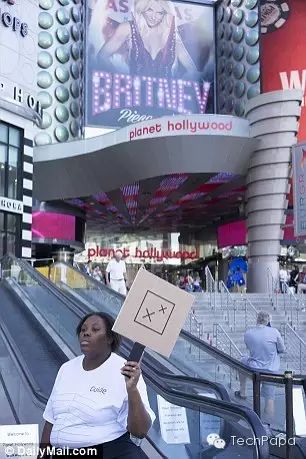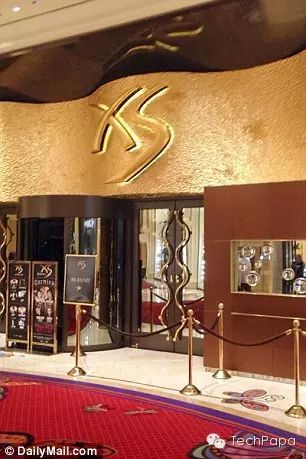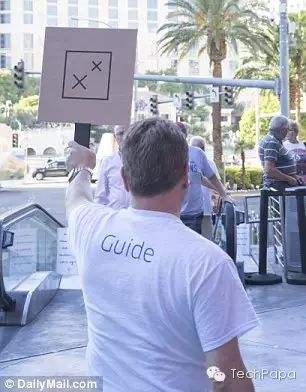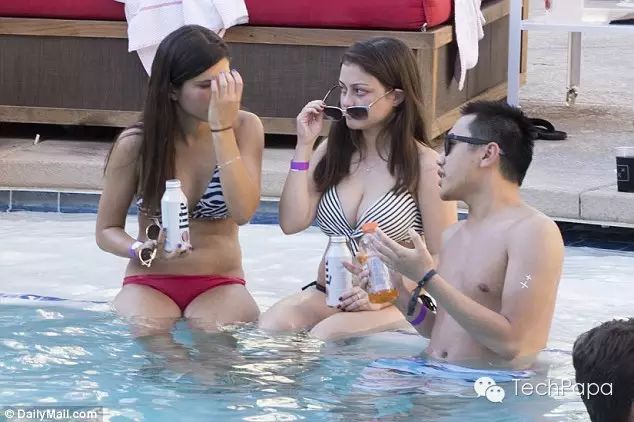 Poolside party: Thousands of Uber employees attend top secret meeting filled with free booze and goodies. The guy has the secret Uber doublke x's tattooed on his arm.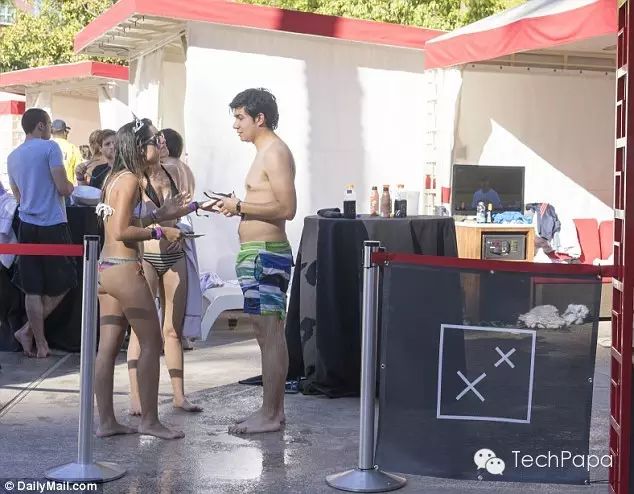 Private party: Uber workers attend extravagant 'team-building' meeting in Las Vegas, but there was more play than work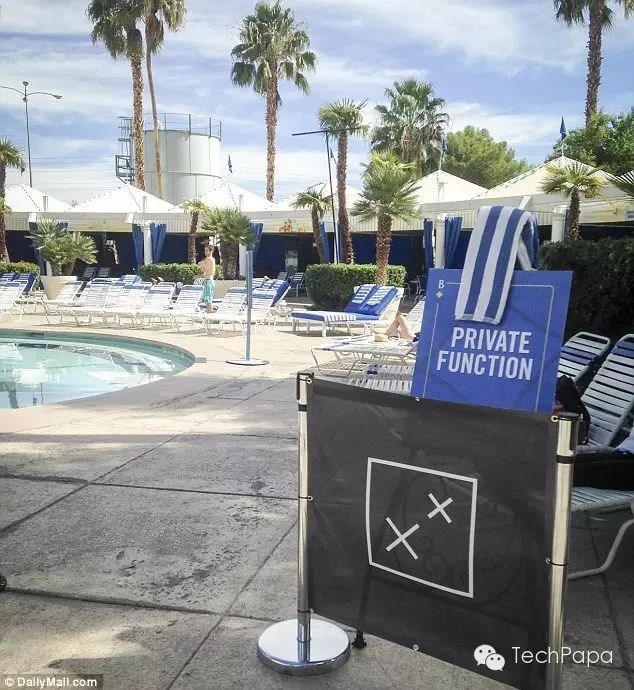 'X' marks the spot: Uber's logo was nowhere to be found, only signs with a double 'X' directed employees where to go while in Sin City.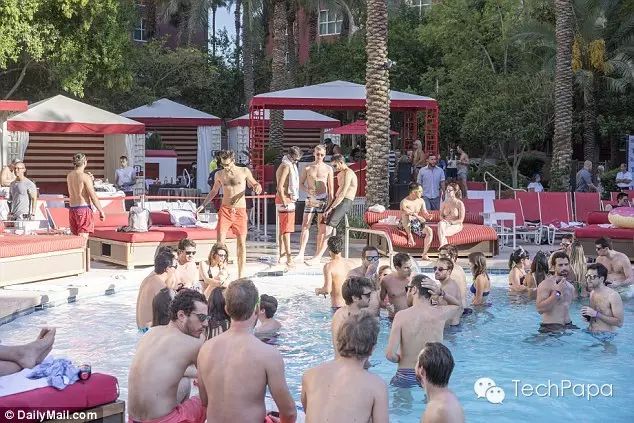 Top secret: Uber throws a multimillion dollar five-day extravaganza in Las Vegas with 'happy hours', telling workers no pictures please.
A spokeswoman for Uber said: 'We get together as a company every two years or so to discuss strategy, what's next and yes, let our hair down in the evenings. First it was Tahoe, then Miami and this time Las Vegas -- where the team has done two days of meetings and an afternoon with local community projects like the Three Square Food Bank. 1,500 employees volunteered over 5,000 hours'.
Daily Mail Online spoke to workers from across the globe, including Asia and Europe.
One staffer, who was flown in from Europe, told Daily Mail Online: 'It's been fantastic, I haven't spent a penny, Uber has paid for everything.
'They flew us out here and have paid for all the food, drink and transport.
'There has been a little work, but also a lot of partying. It's been an amazing few days and must have cost the company a fortune.'
It's believed 95 percent of Uber staff attended the conference and were flown in Sunday to start the conference Monday morning.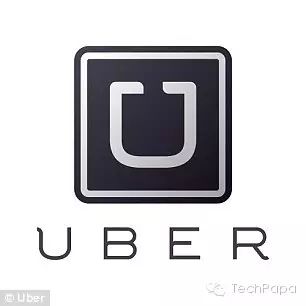 The newly designed Uber logo
The invitation didn't extend to Uber drivers.
Uber's estimated $50 billion valuation is based on its ability to pocket 20 percent of drivers' fares while landing them with almost all the expenses of providing service and controlling the terms of their work.
Drivers pay for their gas, vehicle acquisition, maintenance and much of their insurance.
Daily Mail Online caught a glimpse of the 'conference' itinerary for the first day with events centered at the Flamingo, Paris, Bally's and LINQ hotels.
At 8:30 a.m. PT a 'Run Club' encouraged workers to meet outside the LINQ for an early morning jog or, for the more nimble, a YOGA session was organized at the Paris.
Free breakfast was then put on at the BLOQ inside the LINQ hotel, at the Vista in the Flamingo, the Grand Salon at Bally's and the Champagne floors at the Paris hotel.
Conference meetings throughout the day included topics such as 'supply growth', 'biz dev', 'finance' and 'growth data'.
But workers who weren't too stretched had access to private VIP areas at each of the hotels.
At the Flamingo a roped off area bore the double X symbol and a security guard stood watch.
Inside staff chilled out in several private cabanas and bikini clad workers relaxed on sun loungers next to the pool.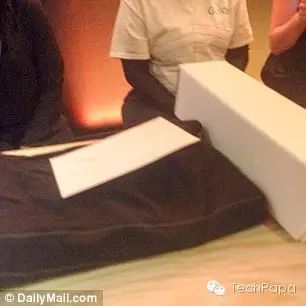 Free t-shirts, water bottles and $50 VISA vouchers were given to the 4,800 Uber workers
Free tubes of Banana Boat sunscreen were on hand to cover up in the 95 degree heat.
And a DJ spun dance music to keep the crowds entertained.
Around three o'clock on Tuesday and Wednesday the pool area was rammed with Uber staff, many downing cocktails from the free bar, ordering pitchers of beer or playing ball games in the water.
One Uber worker was seen in the pool sporting a temporary tattoo bearing the event's symbol - two X's – on his arm.
VIP areas were also set up poolside at Bally's hotel and the Paris.
After a tough afternoon by the pool on Monday, staff were corralled in to a large event space at the LINQ hotel called Vortex for 'Happy Hour'.
Uber 'Guides' holding up double X placards directed smartly dressed workers along the hotel corridors to the venue.
Once there an Uber guide held up a sign saying 'Happy Hour'.
Daily Mail Online asked one guide whether 'Happy Hour' meant cheaper drinks, he laughed and said, 'oh no all drinks are free in there.'
Loud dance music pumped through the sound system and Uber workers made the most of the free bar, which was open from 7 p.m. to 11 p.m.
Workers checking in to the conference for the first time were given a free t-shirt, branded water bottle and a $50 Visa voucher.
If Uber employees wanted to keep the party going they could head to a private area around the Bally's pool which was open until 2 a.m.
On Tuesday all 4,800 staff were sent to the glitzy AXIS theater at the famous Planet Hollywood Resort and Casino – the biggest theater on the Las Vegas strip and the largest of its kind in the US.
The plush venue, which underwent a massive $20 million renovation in 2013, has hosted several high profile events including Britney Spears's long-running Piece of Me residency and the Miss USA, Miss America and Miss Universe beauty pageants.
Other big-name stars that have performed at the auditorium include Bob Dylan, Dolly Parton and Justin Bieber.
Miami rapper Pitbull started a seven-date residency at the venue the week of the Uber extravaganza, but it is not believed he performed as part of the company's event.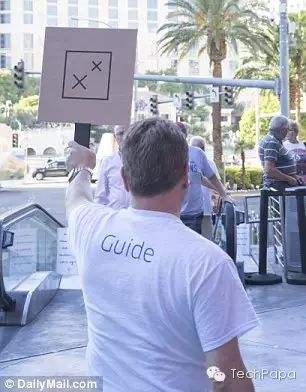 +11
A guide hangs out along the Vegas strip to help guests arriving for Uber's lavish affair
After a two-hour presentation by top Uber execs the army of workers filed on to waiting luxury coaches which ferried them to the five-star Encore hotel.
Once there guests were guided to celebrity hangout the XS nightclub, which Uber had taken over.
The lavish, gold accented super-club features an illuminated pool, a large-capacity dance floor and VIP cabanas and regularly hosts top DJs from around the world.
The venue, which claims to be one of the 'most sophisticated nightclubs in the world' with décor inspired by the 'sexy curves of the human body', is a favorite with A-listers such as Beyonce and Usher.
Amazingly, not one mention of the XS nightclub or any element of the extravagant 'tech conference' can be found on Twitter or Instagram – that's because Uber bosses imposed a strict black out on social media.
Every itinerary given to staff was also marked in black capital letters: 'NO PHOTOS OR CELL PHOTOS ALLOWED PRIVATE' and 'NO SOCIAL MEDIA POSTING'.
Many of the Uber workers were coy about discussing the conference when quizzed by Daily Mail Online.
When asked what the conference was all about, one worker simply told us: 'It's a private conference for a tech company, all top secret.'
Another said: 'Just a business meeting, can't talk about it.'
One tech insider said: 'These kinds of internal company events are typically kept under the radar because they involve commercially sensitive information and large numbers of people -- often thousands. So you don't want outsiders or competitors getting into the room'.
Others were a little more loose-lipped, one worker from the UK said: 'It's been great fun, I'd say it's 50/50 work and play.
'It's a great chance to meet all our counterparts from around the world, from all the different Uber offices, and who doesn't want to come to Vegas for a blow out.'
But in Paris taxi drivers went on strike smashing car windows, setting tires on fire and blocking traffic to express their displeasure at Uber.
Then there were violent anti-Uber protests in Sao Paolo, Guangzhou, Rio de Janeiro and Mexico City.
Mexico City was among the worst hit, seeing weeks of protests, with cab drivers demanding a complete halt of the app-based car service, questioning its legality and claiming unfair competition.
Several video clips emerged showing drivers assaulting Uber vehicles with rocks and clubs.
And throngs of cab drivers, flanked by supporters, vandalized cars near Mexico City International Airport.
Drivers of London's famous black cabs have argued Uber bypasses local licensing and safety laws and amounts to unfair competition.
They have staged a number of high profile protests, including go-slow demonstrations that have brought traffic in the center of the capital city to a standstill.
And earlier this month an anti-Uber protest was held in Rome, Italy, which saw hundreds of Italian taxi drivers take to the streets to protest against a law proposal in favor of UberPOP.
Similar protests have been seen in Madrid, Berlin, Warsaw, Brussels, and Melbourne in the past couple of years.


Click and hold, then select [Extract QR code] to follow TechPapa!