Eat tasty noodles at this cheerful new spot
Baobei Noodle Bar is Charles Zeng's latest venture on the strip of Changshu Lu that's also home to his established outlet Captain Rooster and new burger joint Charlie's. Shiny and well-designed, Baobei has had a pretty low key opening period, but it's gradually amassing a following, and for good reason. Offering fat and juicy wontons, noodles and quality broths (using what they term 'real ingredients'), we've been quite impressed by this newcomer that's simultaneously serious about food, but relaxed in atmosphere.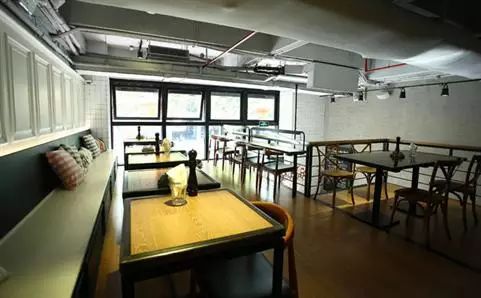 Start things off with a chashu bun (15RMB). Stuffed with succulent pork, drizzled with a rich and salty Peking duck sauce and nestled among some cucumber and roasted spring onion, this little pocket of goodness is delicious; you may well find yourself going for repeat orders.

The 'Dan Dan' noodle soup (45RMB) is made using a tonkotsu-style broth. Although not as spicy as the Sichuanese dish that its name nods to, Baobei's version holds its own. The pork and chicken broth is rich and thick from having spent 16 hours boiling away on the stove with Sichuan spices and peanut butter, and the minced pork is salty and flavoursome. A sprinkle of corn kernels adds refreshing pops of sweetness. Overall it's good value, especially considering that for the same price you can have your pick between 100g or 150g of slippery, springy egg noodles.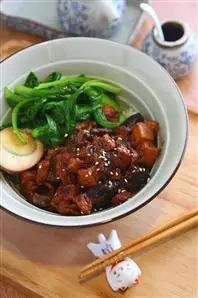 Soup wontons are available in small or large bowls, with or without noodles. A bowl of 'Mom's Special' wonton noodle soup (45RMB) dishes up rich and hearty chicken broth topped with a half soft-boiled egg and slivers of ginger. The dumplings themselves are plump and substantial, stuffed with pork, wood ear mushrooms, tofu, shrimp and shepherd's purse (a popular local green vegetable). It sounds like a complicated mix, but the result is light, simple and moreish; it's the perfect dish for those who'd rather not choose between noodles and dumplings.
It may not be a lengthy-dinner-worthy venue (the bright lights and clean design make it feel more like a diner than a restaurant), Baobei is serving up wholesome and tasty meals that make for good value filler. With winter on the way, it's a welcome addition to the Changshu Lu F&B strip.
is at 87 Changshu Lu, near Julu Lu, Jingan district. Phone number: 6403 5121