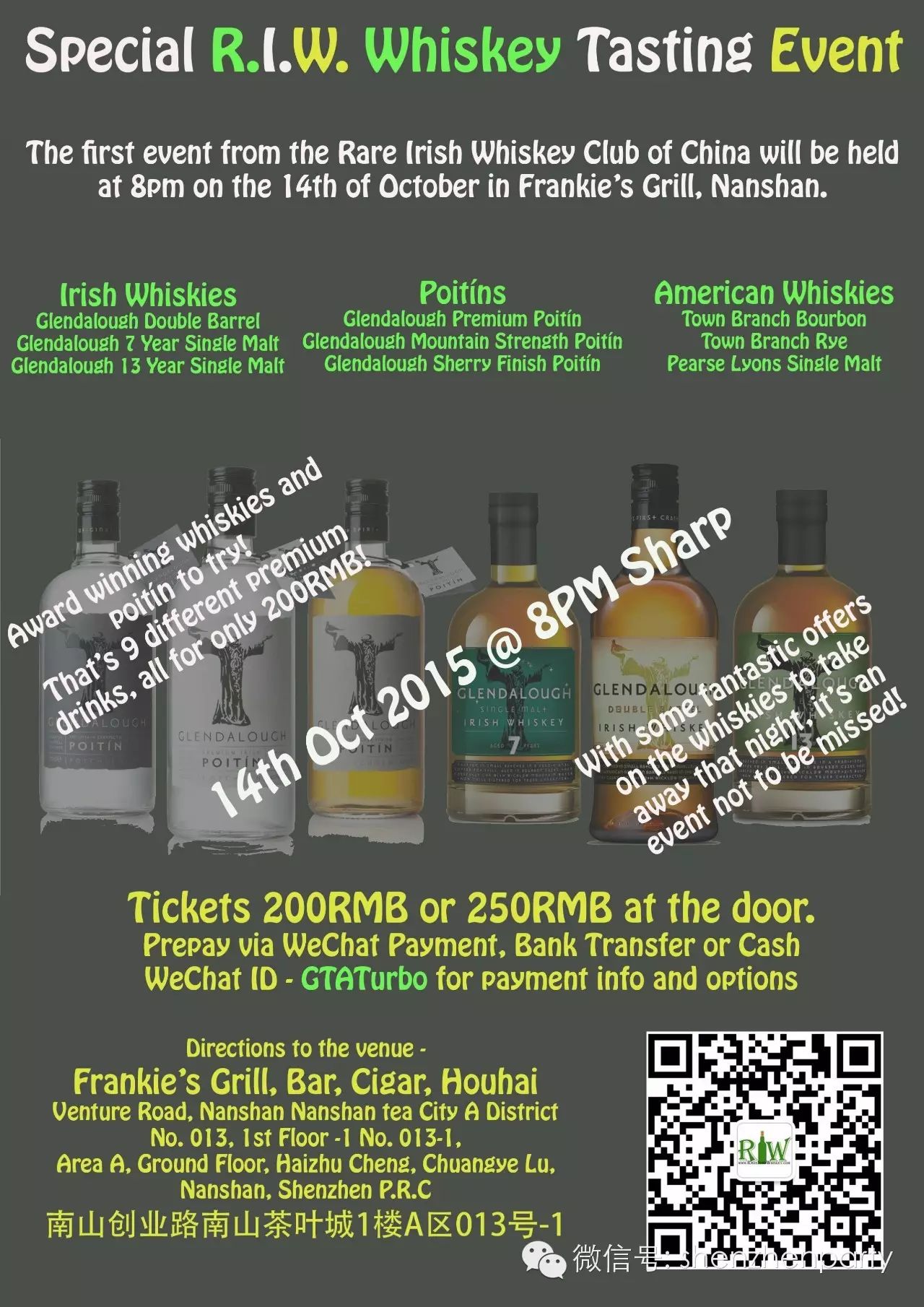 R.I.W. Rare Irish Whiskey Club China
The Rare Irish Whiskey Club of China is pleased to announce the first of many Whiskey Tasting Events. We have a selection of the finest craft Irish Whiskies and Poitins to taste, and 3 special guest American Whiskies will be available at this event.
Irish Whiskies
Glendalough Double Barrel
This single grain will blast the cobwebs off the Irish whiskey category. A new and unique style of light and floral whiskey distilled in a Coffey still (like whiskey, another great Irish invention!) from a mash bill of Irish malted barley and corn. It spends three and a half years in American oak first-fill Bourbon barrels before being finished for six months in Spanish Oloroso sherry casks. The Bourbon barrels impart deep, robust chocolate and caramel notes, while the Oloroso casks lighten the palate with fruitier notes and touches of nutty tones. With both barrels being oak, you get that beautiful vanilla thread you'd expect to run through an Irish whiskey. Both barrels are porous too, allowing Ireland's temperate, maritime air through to make its impression.
Winner of Double Gold at the San Francisco World Spirits Challenge 2015 will only help to strengthen this young brand's image in the whiskey world.
Glendalough 7 Year Single Malt
The original whiskey from Glendalough, the 7 Year Single Malt is a quality dram of whiskey at a reasonable price. The first single malt whiskey from the distillery has cut through the crowd to show that you don't have to be the oldest company to produce a fine dram. Crafted in small batches from specially selected casks, and non chill filtered to retain its character, this is a delicious sipping whiskey. Beaten by it's older brother into a Silver Award in the San Francisco World Spirits Challenge 2015, it can hold its head high!
Glendalough 13 Year Single Malt
Building on from the success of the 7 Year Single Malt, here we present the 13 Year Single Malt from Glendalough Distillery. Sitting at the top of the Glendalough Whiskey Range, this smooth and characterful malt is crafted in a copper pot still then aged in bourbon casks to produce a wonderfully complex dram of aqua vitae. A limited edition bottling from specially selected casks, non chill filtered and cut with Wicklow mountain water, you can be guaranteed a high quality whiskey. In fact, it was awarded Double Gold at the San Francisco World Spirits Competition 2015 in the Irish Single Malt category!
Irish Poitín
Glendalough Premium Poitín
The Glendalough Premium Poitín is exactly what you expect a poitín to be like. Produced in the traditional way, carefully crafted from an old poitín recipe with respect to craft, heritage and tradition, and from a malted barley and sugar beet mash, you can see the level of dedication the guys have committed to getting it right. Matured in virgin Irish Oak casks, it has just the right combination of flavour and potency.
Glendalough Mountain Strength Poitín
The "Mountain Strength" refers to the fact that this poitín is packing a 60% ABV (120 proof) alcoholic punch! Made in the same way as the Premium Poitín, and aged in virgin Irish Oak barrels, this is the true representation of the original "uisce beatha", or "water of life", although how much life you'd have left in you after a few glasses of this stuff is up for debate! Looking for something different? This will hit the spot!
Glendalough Sherry Cask Poitín
The Sherry Finish Poitín from Glendalough starts off life just like the other varieties, made from a malted barley and sugar beet mash before being aged in virgin Irish Oak casks, but with a little twist at the end. It gets transferred into Sherry casks for a final finishing, giving it a glorious amber colour and a different character from the other varieties. Made with the same nod to craftsmanship and heritage, this poitín will turn heads for all the right reasons.
American Whiskies
Town Branch Bourbon
Aged in new, charred white oak barrels, Town Branch is infused with a golden amber honey color, which is an inviting introduction to this masterfully crafted bourbon. Pleasant woody and oaky aromas lead into caramel, toffee, brown sugar, and hints of cherry. The lavish and complex flavors are smooth and sweet with a gentle warming leading to a long finish. Named for the Town Branch waterway upon which Lexington was founded and once was the site of much bourbon production, Town Branch® Bourbon celebrates Lexington's rich distilling history.

Town Branch Rye Whiskey
Distilled by the USA's first president at Mount Vernon and the most popular whiskey until Prohibition, rye whiskey is being revived with Town Branch Rye — a style of whiskey with a history as rich as its flavor. As the original spirit in a Whiskey Sour or an Old Fashioned, rye whiskey is still chosen by the most discerning spirits connoisseurs for its spicy, robust flavor. Enjoy the spicy floral aroma, then the light, spicy rye notes of vanilla and oak finishing with a peppery, warm dry finish.
Pearse Lyons Reserve Single Malt
Pearse Lyons Reserve symbolizes the passion of its founder and master distiller, Irishman Dr. Pearse Lyons. Distilled in dual copper pot stills from Scotland, Pearse Lyons Reserve is the first malt whiskey produced in Kentucky since 1919. Pearse Lyons Reserve offers notes of molasses and brown sugar with a touch of nutmeg and vanilla. The taste is smooth and spicy, then fades to reveal tart notes of lemon crème and molasses. Aged in spent bourbon barrels that have also been used to age the brewery's flagship Kentucky Bourbon Barrel Ale®, Pearse Lyons Reserve® picks up a unique taste from these barrels.
There will be a sample of each of these premium spirits included in the entry price of 200RMB (prepay) or 250 RMB (at the door), which is outstanding value as each of them has a minimum cost per measure of 50RMB, and that's before you consider the excellent offers available on the night for bottles to take home!
Don't miss out on this very special event. Space is limited, so contact WeChat ID - GTATurbo for prepay information. Can be pre-paid via WeChat Wallet, Bank Transfer or Cash
Event Date: Wednesday, October 14, 2015 - 9:52pm - 11:52pm
Pricing Info: 200RMB Prepay or 250RMB at the door
Booking Phone Number: 13651474677
Place Name: Frankie's Houhai
Place Address: Venture Road, Nanshan Nanshan tea City A District No. 013, 1st Floor -1 No. 013-1, Area A, Ground Floor, Haizhu Cheng, Chuangye Lu, Nanshan, Shenzhen P.R.C 南山創業路南山茶葉城1樓A區013號-1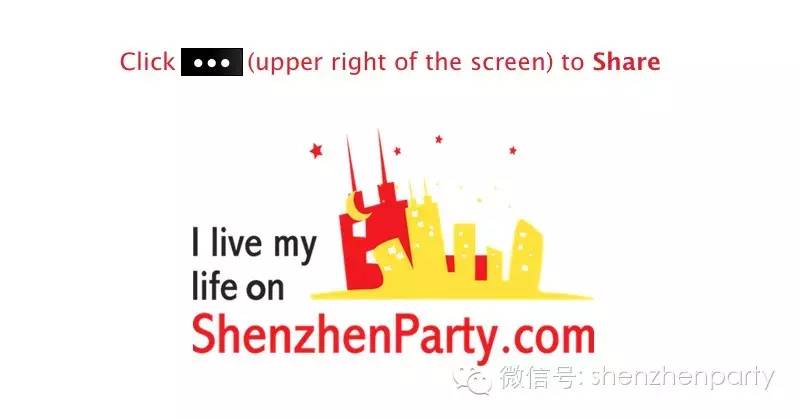 ---
Long-press the QR Code, tap "Extract QR Code" to Follow "shenzhenparty" on Wechat:
For more details, please click "Read More".